Crash Testing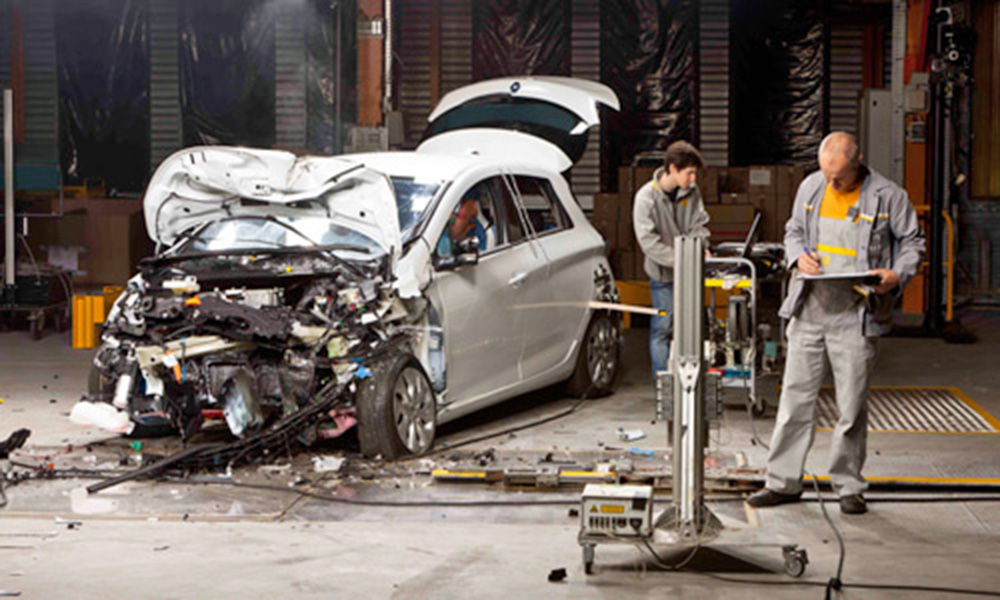 On 2 July the second instalment of the Zoe Confidential blog gave details of the Zoe crash testing undertaken at Renault's Lardy Technical Center. Lardy, which opened in 1951, handles testing of all Renault engines and gearboxes. In 2011 the centre set up an electric vehicle unit for testing the motors and batteries used in Renault's ZE line-up.
Lardy also handles the full range of passive safety tests, including front, side and rear collisions. The centre's test rigs cover most kinds of real-life accident situation, the aim being to improve vehicle resilience and minimize the risk of bodily injury to occupants. One particular test is highlighted:
"That's precisely where our visit starts, observing the installation of four dummies (two adult-sized ones at the front and two child-sized ones at the rear) in a superb white ZOE, which is set to be propelled against an obstacle at a speed of 65 km/h. Each crash test demands three days of preparation. Here we see the technicians making the final adjustments. The car's bristling with sensors. The boot's packed with electronic gear. And paint is being applied on the dummies so that the impact points on the car interior can be determined. Once everything's ready, everyone scurries off the test track. The car is ready for its last run, a sacrifice that will be everything but futile. The whirr of the engine ends just seconds later in a mighty crash… The car went from 65 km/h to standstill over a distance of 50 centimetres."

"During the design phase, close to a hundred ZOEs will have undergone all types of crash test (front, side and rear impact, pedestrian impact, etc.)."
Other tests cover watertightness, fording, road cycle simulation and endurance for the body. There is also a range of tests for the battery alone, including temperature, chemical attack, fire, electrical overload and impact.
Next Green Car Awards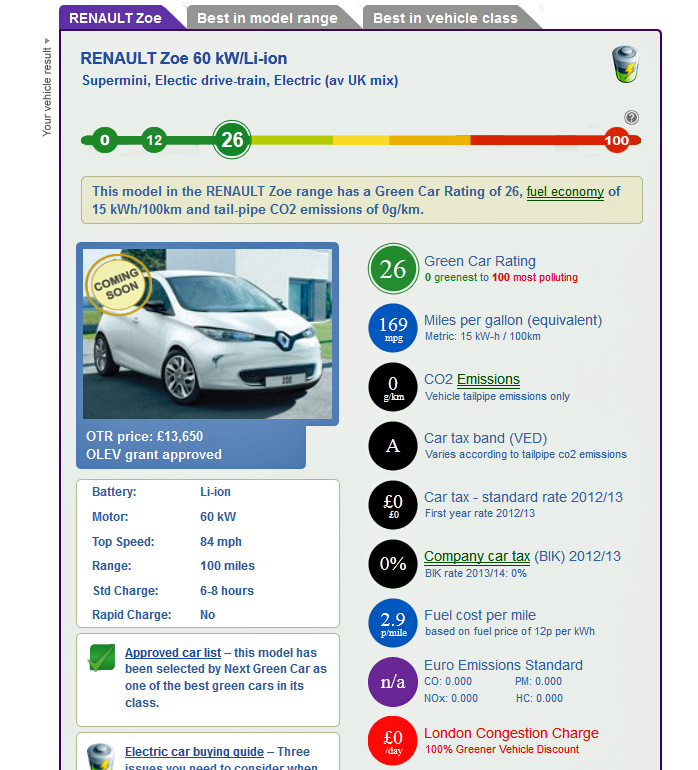 On 4 July it was announced that the Zoe had received two awards in the Next Green Car Awards 2012. Next Green Car made awards across eight vehicle categories including the 'Next Generation' Award, which includes new technology models close to market launch. An overall winner is also awarded the title of Next Green Car 'Gold Award' 2012. The nine winners were selected from shortlists of 26 of the UK's greenest new cars of 2012/13, all selected for their environmental Green Car Rating (GCR), level of innovation, value, drive experience and design.
Zoe won the award for the Supermini 2012 category, and also the overall Gold Award 2012. Dr Ben Lane, Managing Editor of Next Green Car, stated:
"The 2012 winners reflect two key elements underlying current green car development: downsizing and electrification. Three of the winners are brand new models and follow the design philosophy of 'small is beautiful'. Over half of the winners also incorporate electric drive-trains, either as pure electric cars, plug-in hybrids or with start-stop.

"Indeed, the Next Green Car Gold Award 2012 goes to the highly innovative Renault ZOE Z.E. which for the first time offers a zero-emission all-electric supermini to the UK car buyer."
In receiving the Gold Award 2012, Andy Heiron, Head of Electric Vehicle Programme, Renault UK said:
"We're delighted that ZOE has collected not just one, but two awards from Next Green Car, several months before it even launches in the UK; especially the prestigious Next Green Car Gold Award.

"With an affordable price tag, stylish design and great technology including six world premieres such as its innovative Chameleon charger with fast charge capability and the R-Link internet connected integrated touch-screen tablet, we have very high hopes for the fourth model in our electric vehicle range."
LG Chem Batteries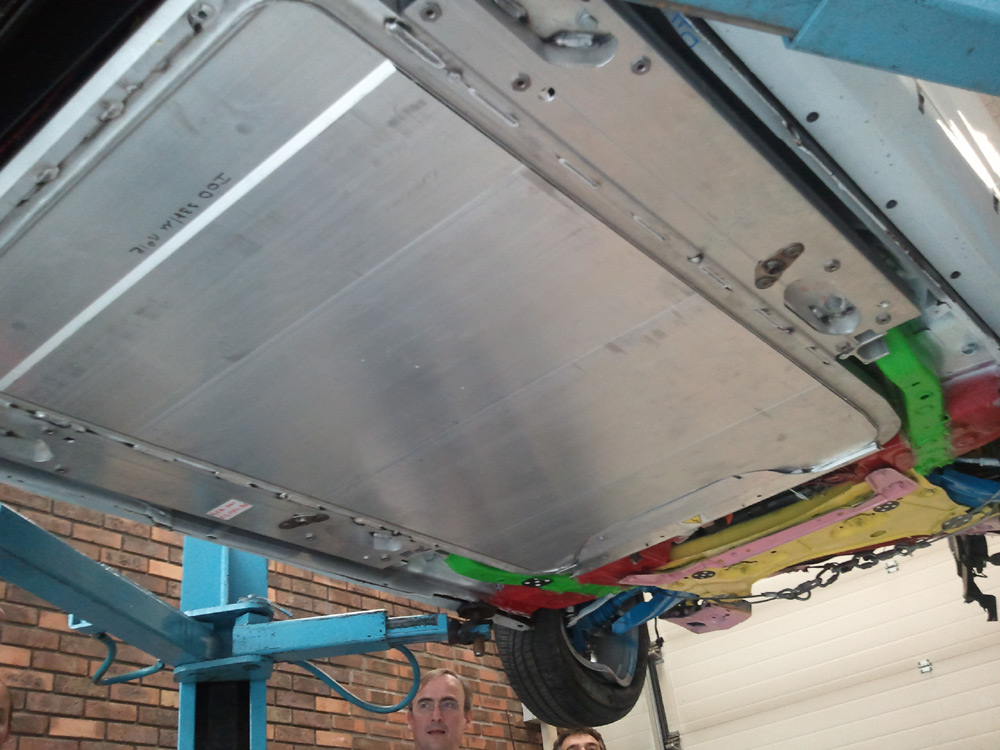 On 6 July Motor Nature reported that the Zoe would not be getting batteries from the planned battery production facility at Flins. Instead, it would be supplied directly by the South Korean company LG Chem.
Later in the month Renault reaffirmed the partnership with LG, and stated that Zoe (and also Twizy) batteries would be made by LG. Also, that it remained keen to build a dedicated battery factory in France with LG, but that its location was under review.
Zoe Show at L'Atelier Renault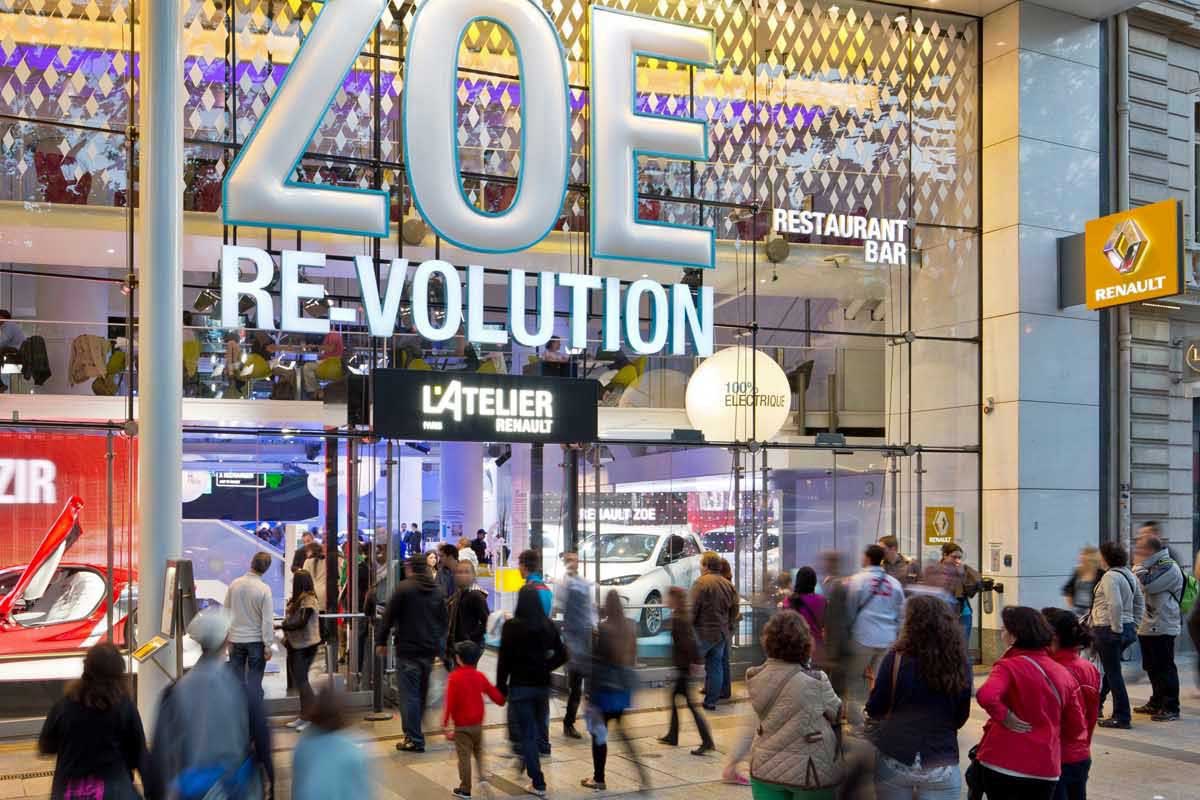 A 'ZOE RE-VOLUTION' show opened at L'Atelier Renault in Paris on 14 July, running until 21 October, 'dedicated to bringing visitors an original electric-technology experience with a show dedicated 100% to ZOE, the latest arrival in Renault's range of full-electric vehicles'. It was described by Renault as follows:
"The new all-ZOE show presents Renault's 100% electric city car in an atmosphere inspired by purity and passion. Visitors get to find out all about electric technology.

"L'Atelier Renault is displaying a life-sized ZOE split down the middle that shows how easy the car is to charge, which plugs into all types of charging stations. And for even more in-depth knowledge of ZOE and electric cars, received ideas about electric mobility are dispelled via wall-mounted screens in a continuous loop.

Cutaway Zoe at L'Atelier Renault (Photo: Renault)

"A 'Take-Care' space has been set up to give visitors an idea of the sensory experience on-board ZOE, reproducing lighting, odours and even the wind blowing through their hair, courtesy of a wall covered floor to ceiling with the latest Dyson fans!

"In addition, visitors can be the first to experience the 100% electric experience thanks to a special area where they can reserve their ZOE. Twizy is also still on show at L'Atelier Renault, in a lounge space echoing the colors and electronic ambience of Twizy ambassadors Cathy and David Guetta."
R-Link Start-Ups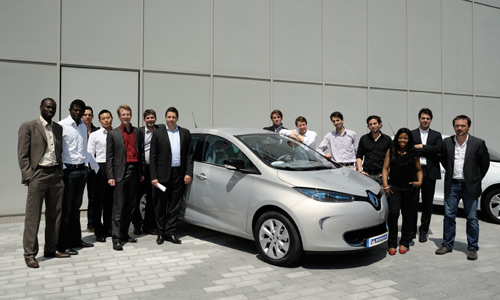 Renault announced on 20 July that, along with Paris Région Lab, it had picked five start-up companies to develop R-Link projects in a Connected Mobility and Services 'incubator' set up by the two partners. This followed a call for bids at the start of the year to select innovative start-ups working in connected services.
"Looking to open up to new technological innovations in connected mobility, Renault has joined forces with Paris Région Lab to select partner start-ups and develop working relationships as part of an approach based on dialogue, innovation and openness. The two partners have chosen five young companies, Apila, SoCloz, MobiquiThings, I-Dispo and Telepark, which have set up shop in a dedicated space at the Paris Innovation Masséna 'incubator' in the 13th arrondissement in Paris. The partnership's initial achievement is a set of new connected mobility services available on R-Link (to feature notably on New Clio and ZOE) based on the development of special apps."
The five companies/applications are:
Apila – a multi-platform, community-based mobile app used to exchange street parking spaces in real time.
MobiquiThings – a mobile operator that works with manufacturers in all sectors (automotive and transport, logistics, energy, water, health, safety, etc.) by operating fleets of communicating machines. The company supplies its own, branded SIM 2G (GSM) and 3G cards and the corresponding subscriptions, contracts and connections.
SoCloz – a 'pre-shopping assistant' that helps web users find products and the real-life stores that sell them. Users get dedicated store information (stock, prices and special deals, plus opening hours, distances and so on) updated several times per day.
I-Dispo – an original virtual concierge that provides assistance in doing simple tasks such as organizing an appointment with a local professional, comparing product and service prices and getting estimates from service providers.
Telepark – an electronic automation and parking management solution for town councils and motorists. More specifically, it helps motorists pay for parking instantly from their mobile device and brings them a range of complementary services such as reminders on parking time limits, remote reminders/deactivation, and consumption records.
Zoe Launch Delay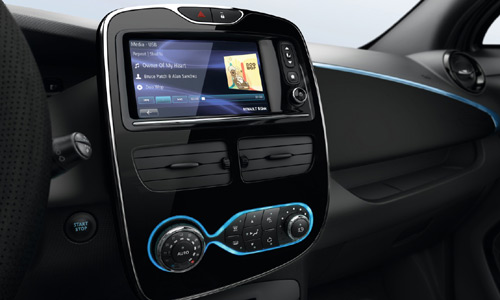 On 25 July it was reported by the Wall Street Journal that Renault was postponing the commercial launch of Zoe:
"A Renault spokeswoman said the decision to push back the launch of the ZOE to 2013 from the last quarter of this year was taken because of software bugs in the car's R-Link on-board multimedia system. She couldn't say when the commercial launch is now expected to take place. 'We need more time to carry out tests,' she said."
However, later that day, another report from WSJ said that Renault still planned to launch Zoe by the end of the year, contradicting the earlier statement:
"A spokeswoman for the French auto maker blamed 'confusion' over the timing of the launch when she told Dow Jones Newswires earlier Wednesday that the commercial launch of the car had been pushed back…"
Renault issued its own rebuttal the same day:
"Clarification on the launch of ZOE

"In response to the rumours surrounding the launch of ZOE, Renault has confirmed that the vehicle will be launched at the end of 2012 and that the first orders will be taken on the closing of the Paris Motor Show."