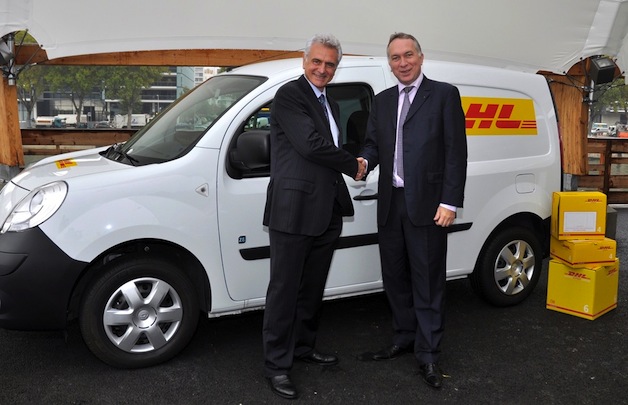 Today Renault announced that it will supply DHL France with a fleet of electric vehicles by 2015. DHL has already confirmed an order of 50 vehicles, comprising both Kangoo Z.E. and ZOE, to be delivered between now and 2015.
François Guionnet, director of Renault Parc Entreprises, said:
"Renault is particularly proud to take part in this key stage of DHL's GoGreen Program, which aims to reduce the carbon emissions of DHL by 30% by 2020."
Meanwhile Hideaki Watanabe, Managing Director of Zero Emission Vehicles, Renault-Nissan BV, has been busy giving presentations at the Paris Motor Show. A week ago, while promoting the Zoe, he gave an upbeat interview where he stated the Alliance's ambitious plans to have 1.5 million electric vehicles on the road by 2016. This has been reported as a significant increase in the target.
A couple of days later, he was advocating the development of a large charging infrastructure, with particular emphasis on fast chargers:
"Owners of electric vehicles are very positive about the cars, saying the cars are changing their mobility habits. But they are expecting a greatly expanded infrastructure. Put simply, the more quick chargers you have, the more EV users there will be… and the lower the levels of CO2 there will be in the atmosphere."
In parallel Béatrice Foucher called for a joint effort to install more chargers:
"There are currently 20,000 charging points across Europe… but this is insufficient. At this stage of EV development there needs to be at least 50,000 points in place. Increasing this number is a collaborative project. Everyone – car makers, local authorities, utility companies – must work together if Europe is to be truly EV ready."