On Wednesday, November 21, actress Diane Kruger, arrived in an electric Renault ZOE to switch on the Christmas lights that will illuminate the world's most beautiful avenue until January 9, 2013.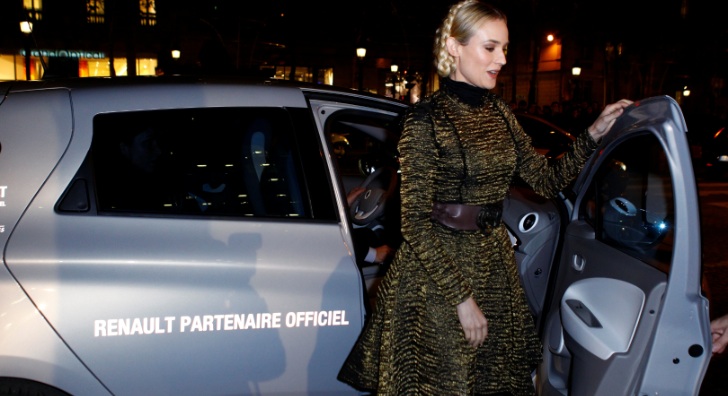 Renault has been official partner of the Champs-Elysées Christmas lights since 2012.
New, more environmentally friendly lights
From November 21, 2012, the lights will adorn 200 trees along more than a mile of the Champs-Elysées. This year again will see more environmentally friendly third-generation LED lights, reflecting Renault's priorities. The new technology will also reduce the energy bill. Some of the 38,000 kWh that will be consumed during the operation will be supplied by the Thémis solar farm in the eastern Pyrénées.
Renault, the "natural" partner of the Christmas lights
Renault was the first carmaker to open premises on the world's most beautiful avenue, 100 years ago.
Innovative electric lights? Renault has innovation in its genes and develops affordable technologies in anticipation of customers' expectations. Renault is the only carmaker to sell a full range of electric vehicles at affordable retail prices: Kangoo Z.E, Fluence Z.E. Twizy and ZOE.
Environmentally-aware Christmas lights? Renault launched a strong environmental approach in 1995, which takes into account the environmental impacts of all the company's activities, at every stage in the life cycle of a car. The Renault eco2 label represents that commitment.
In the middle of the Champs-Elysées : L'Atelier Renault
For the second year in a row, visitors to the illuminated Champs-Elysées are welcome to drop in at L'Atelier Renault to prolong the magical experience. L'Atelier Renault Café has even designed an "Illuminations" ("Christmas Lights") cocktail, which can be enjoyed at any time of the day.
About L'Atelier Renault
Open daily from 10:30 am to 11:30 pm (and to 1:30 am on Fridays and Saturdays), L'Atelier Renault organizes special events year-round themed on Renault and the latest Renault news. With its suspended walkways and mezzanine overlooking the exhibition space, the L'Atelier Renault Café restaurant and bar is open from 12:00 pm-4:00 pm for lunch and from 4:00 pm until closing for dinner or simply to unwind for a moment on the most beautiful avenue in the world. The venue also features a vehicle sales outlet, a Renault shop where visitors can find brand merchandising, and a free WiFi hot spot.