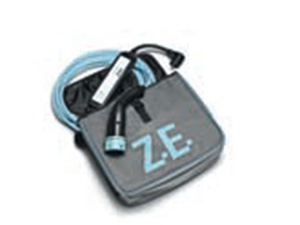 There have been discussions on the French Zoe forum about the occasional use charging cable that is available for the Zoe, similar to that for the Fluence and Kangoo. This type of cable is not the one that is used to connect to a dedicated wallbox EVSE. Instead it is for charging away from home by plugging directly into a domestic socket, for example when visiting relatives (and is therefore sometimes known as a 'granny cable').
In particular there have been complaints at the suggestion that it might not come free automatically with the car. A recent article now indicates that it won't even be available as an option when the Zoe is first delivered, but it may become available at an unspecified later date. The reason given is that it has not passed long term testing.
Meanwhile another French site has given the revised date for the first Zoe deliveries as June.