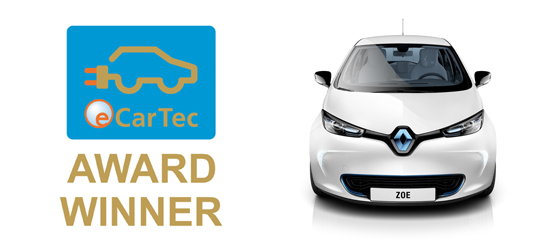 The Zoe has received or been nominated for more than its fair share of awards, mostly related to its environmental potential.
It was recently reported that it had received the 'Oxygen Award' in the category 'mobility and air quality' at 'Les Respirations'. This is an annual conference on how the atmosphere, climate and ecosystems can be protected and the opportunities to breathe clean air in cities, at work and on the road. The award was granted not just for the Zoe's zero emission ability, but also because of its advanced air filtration and 'Zen' aromatherapy system.
In October last year Renault received two of the prestigious eCarTec awards for electric mobility, one for the Zoe and another for its Zero Emission strategy. This took place on 23 October at the 4th International eCarTec trade fair for electric and hybrid mobility on the grounds of Messe München. Over 60 international companies and institutions had applied for the competition in eight categories.
These awards follow two Next Green Car Awards 2012 last July and 'Best Green Car' at the 2012 Paris Motor Show in October.
Currently Zoe is a finalist for the 2013 World Car Awards in the 2013 World Green Car category. The winner will be announced at a press conference hosted by the New York International Auto Show and Bridgestone Corporation on Thursday, March 28.