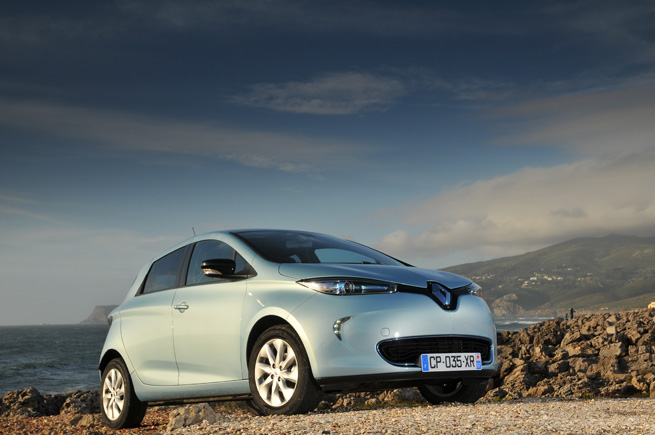 The last fortnight has been a very important and busy time in the life of the young ZOE. As the dust settles it is clear that the test drives in Lisbon were part of a major PR event and push by Renault to launch the ZOE onto the international market.
There appears to have been a news embargo in place to restrict reporting on the event, but curiously this seems to have applied with different dates for different press nationalities. For example, there were many reports in the Australian press early on, followed by a smattering of Italian and other items. This week the UK and German reports have begun to appear en masse (a selection is given below).
It's very encouraging to see that the reviews are mostly very complimentary, even from those organisations that are well known for being home to petrolheads. I remain confident that ZOE really will be the game changer it promises to be.
In parallel with the test drives, Renault has issued press releases giving additional details for each market, for example pricing and specification for the UK. In summary, the launch appears to be planned as follows:
Deliveries have begun in France, though only a few ZOE have reached customers so far.
The Netherlands and Spain are next, in May.
Italy is planned for 'May-June'.
Germany gets its first ZOE from 4 June.
UK gets the ZOE in its showrooms from 7 June.
British Press Reviews
"In city traffic the Zoe makes even more sense. It waits patiently and silently at the lights, surrounded by clattery, time-served diesels that seem like relics. When the lights switch to green, the Zoe streaks ahead of dawdling hatchbacks to snick into gaps. It's a brilliant urban car."
"At last, an affordable, practical, decent looking e-car. WOOT"
"This is the best electric car we've driven so far, with neat handling and impressive grip"
"This slightly eerie, uninterrupted stream of power is matched to light and predictable steering, making the Zoe relaxing yet fun around town."
"The thing that impressed us most is that the ZOE feels just like any other supermini to drive – and in our book that makes it the best fully electric car yet"
"The car felt effortless and capable at high speed, with torque of 220Nm delivered from a standstill"
"on the road, it's a nippy little thing and feels quicker than the figures suggest. It's obviously happiest around town, where the instant hit of the electric torque is felt best, but even at motorway speeds, the Zoe keeps up with other traffic easily"
German Press Reviews
"the Renault Zoe is currently the best all-electric car on the market"
"a pleasant driving experience"
"The five-door Zoe always seems not only outwardly wholesome, and inside there is no reason to complain"
"The Zoe is an electric car in the subcompact format that goes well, a single charge is pretty far and also looks good"
"And Zoe, a five-door compact car, it might actually create a wider range of customers: For an electric car, it is not too expensive and provides a range of over 200 km"
"the Renault Zoé is likeable on the highway with a low noise level"