[MyRenaultZoe Editor's note: this press release has been edited to focus on the R-Link system (as featured in the Zoe), and the Kangoo ZE electric van]
TUESDAY 5th MARCH 2013
RENAULT AT THE GENEVA MOTOR SHOW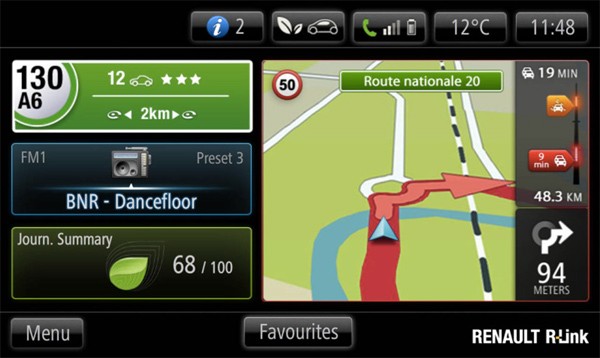 True to its strategy which seeks to make innovation available to as many motorists as possible, Renault has stolen a lead in the realm of in-car connectivity with the widespread availability of its Renault R-Link multimedia system across its range. Now available for New Clio Hatchback, New Clio Sport Tourer, New Clio Renaultsport, ZOE, Captur and New Kangoo Express, it equips all the vehicles on display on the brand's stand in Geneva.

Thanks to the combination of its Energy range of engines and its electric vehicle programme which together spearhead the brand's environmental drive, Renault is on target to go below the emissions threshold of 120g/km. Following the launch of four electric vehicles over a period of two years, Renault, which has been Europe's number one van manufacturer since 1998, takes the wraps off New Kangoo Z.E. The precursor of the brand's Z.E. range is also Europe's best-selling compact electric van and the latest version forms part of the Kangoo line-up's renewal that was announced at the end of January.
R-LINK – CARRYING OVER EXPERIENCE OF THE CONNECTED WORLD TO IN-CAR USE
Renault R-Link is now available for sale and is fast becoming a widespread feature of the Renault range
True to its undertaking to bring automotive innovations to a wider audience, Renault is in the process of making connected motoring an affordable reality for a high number of motorists. Revealed in 2012, the connected, in-dash Renault R-Link multimedia tablet can now be specified for New Clio Hatchback, New Clio Estate and New Clio  Renaultsport, ZOE and New Kangoo Van, as well as for the brand's new crossover, Captur. It comes as either a standard fitment or an option costing from £450 in the UK.
R-Link will gradually go on to become available for Renault's other models, while the Scénic XMOD, New Scénic, New Grand Scénic and New Kangoo Van Z.E. on display at the Geneva Motor Show are all equipped with the system.
R-Link users will be helped by Renault to familiarise themselves with the system thanks to an introductory selection of applications, six months' free access to the system's connected service) and three months' trial access to TomTom® LIVE .
A link between the connected and motoring worlds
The R-Link tablet sees Renault steal a lead in the world of automotive multimedia. Thanks to its connectivity, the brand's in-dash multimedia system provides a bridge between the connected and motoring worlds. It brings an exciting range of new services and applications specifically developed to make the motorist's life easier. Renault R-Link's user-friendly functions will also appeal to those who take an interest in new technologies and is easy to use for those that don't..
Information as and when it is needed, in total safety
To avoid having to carry countless portable devices or telephones when travelling in a car, Renault R-Link packs a comprehensive list of multimedia functions into a single system, from navigation and telephony, to the radio, Bluetooth® connectivity and audio streaming and connectivity for portable music players, as well as a range of vehicle-related services, plus an array of motorist friendly applications that can be downloaded directly to the system. These functions are controlled through the simple, intuitive seven-inch (18cm) touch screen display.
R-Link's Home Page can be customised to display all the information needed by the driver at the same time, which is a market first. This default page appears every time the system is switched on.
Meanwhile, the six-icon main menu provides direct access to the different functions, namely the navigation and multimedia systems, telephone use, vehicle-related services, applications and system settings.
Renault R-Link has been conceived to ensure that all its principal functions are intuitive and perfectly safe to use, without drivers having to take their eyes off the road. The system can be controlled by voice commands or by touching the screen.
– All the functions can be controlled by touching the screen display, while the audio and telephone functions can also be adjusted using the steering wheel-mounted fingertip remote control.
– Thanks to the voice command facility (nine languages1 covered), users can activate certain functions extremely easily, such as "call" (followed by a telephone number, or a number stored in the address book), "go to" (followed by a destination), "display my applications" or "e-mail", for example.
1 French, English, German, Portuguese (only in Portugal), Dutch, Italian, Russian and Turkish
Meanwhile, the Text To Speech (TTS) function will automatically read out text or the RSS feeds of certain applications if the vehicle is moving.
However, certain applications and functions can only be used at a standstill, such as the Sudoku game, R-Link Tweet, E-guide, etc.
Discover the benefits of Renault R-Link
Renault makes sure that R-Link users aren't left to their own devices as they familiarise themselves with the system's features thanks to a range of introductory offers:
– Three months free access to the connected services delivered by TomTom® LIVE2
– Four preinstalled applications which are free to use for a period of six months (E-Mail, R-Link Tweet, Weather and Renault Assistance),
– Access to the R-Link Store for a period of six months to download the more than 50 applications that are available at the time of the system's launch (depending on market).
2 Available in Germany, Austria, Belgium, Denmark, Spain, Finland, Metropolitan France (except hazard warnings), Ireland, Italy, Luxemburg, Norway, Netherlands, Poland, Portugal, United Kingdom, Czech Republic, Sweden and Switzerland (except hazard warnings).
3 Available in Belgium, Spain, Metropolitan France, Italy, Luxemburg, Netherlands and United Kingdom.
Services covered by the three-month free trial period:
TomTom®LIVE²
– HD Traffic®: the market's best real-time traffic information service allows users to avoid delays, save fuel and benefit from an estimated time of arrival at destination.
– Hazard warnings: traffic safety warnings in real time.
– TomTom Places: the most extensive real-time points of interest data base.
– Weather: five-day weather forecasts.
Four pre-installed applications free to use for a six-month trial period:
E-mail
Reading and answering e-mails from a car is possible thanks to Renault R-Link. For safety reasons, this simple, efficient application automatically takes into account whether the vehicle is at a standstill or on the move.
While stationary
– Display read and unread e-mails ,
– Read, delete or send e-mails,
– Detect an attached file or image (contents cannot be accessed with this e-mail application),
– Check previously sent e-mails,
– Answer or forward e-mails,
– Adjust how often notice of new mail is given.
While on the move:
Thanks to the TTS function (Text To Speech), e-mail messages can be read out loud, along with the sender's name, date sent and subject.
(Languages covered by speech synthesis: German, Dutch, Greek, Turkish, Danish, French, Swedish, Russian, Portuguese, Spanish, Italian, Finnish, Hungarian, Polish, Brazilian Portuguese, Slovakia and Czech).
R-Link Tweet
For safety reasons, this app may only be used while the vehicle is parked. It enables a Twitter® account to be accessed from the car to either read tweets from friends or forward comments, as well as to access personal profile information and the list of followers and accounts followed.
Weather: R-Link provides access to three-day weather forecasts for the part of Europe where the vehicle is located.
Renault Assistance : This application allows drivers, wherever they are, to contact Renault Assistance by automatically dialling the number. To facilitate interventions, the application displays the vehicle's identification number and GPS coordinates of its current position.
Renault R-Link Store: all the ingredients to become the number one store for automotive apps
With R-Link Store, Renault benefits from the creativity of the start-up incubator it has chosen to work with, as well as from the output of established providers to deliver a range of peerless, evolving applications and services. Some 50 applications are available at the time of the system's launch which means that Renault R-Link Store has all the necessary ingredients to become the benchmark store for automotive applications. These apps cover ground as varied as general or special interest news (e.g. travel, sport, culture) and vehicle-related functions (Renault Assistance, interactive e-guide vehicle manuals), as well as fuel prices, community based applications, e-mail and social networks. Meanwhile, the R-Link Store catalogue is poised to expand rapidly…
Spotlight on selected applications
General or special interest news in text or audio form (TTS readout): weather forecasts, Euronews, Foot Mercato soccer news.
Culture
Vehicle-related services
– E-guides: interactive vehicle manuals and service logbooks,
– R-Sound effect: preinstalled on certain models (see sidebar below).
Practical:
Fuel prices: this application allows motorists to compare fuel prices at the 10 nearest service stations. A colour code is used to highlight the different price levels. The display also flags up announced prices which date back more than four days. By selecting a service station (with the vehicle at a standstill), the user can compare fuel prices, check opening times and the availability of different services, and find the address and description of the service station. A click suffices to be guided to the selected service station by the navigation system.
Yellow Pages: all the expected services provided by Yellow Pages, White Pages and Quidonc now available in vehicles. Thanks to geo-positioning, it is possible to do a search for nearby restaurants, bars, florists, etc. The system displays a map showing the results, while the navigation system can guide users to them.
Entertainment
– ELLE Astro: daily horoscopes for drivers and their family or friends. Text can be displayed or read out loud thanks to the TTS function.
– Sudoku and other travel games.
– Select an engine sound to match the mood – With R-Link on New Clio and Captur, this pre-installed application allows the sound of one of several iconic engines to be played through the car's loudspeakers. The sound emitted by R-Sound Effect adapts to match the vehicle's speed and acceleration. One of six different engine sounds can be selected, ranging from a Renaultsport race car to a purring Clio V6. This fun application uses an algorithm to take into account the actual engine speed, accelerator pedal position and travelling speed to reproduce these engine sounds with startling realism.
Renault R-Link, for greater respect for the environment
Renault R-Link includes smart driver aids to help reduce the impact of journeys on the environment.
Economical, environmentally aware motoring thanks to Driving eco² functions
R-Link's Driving eco² functions allow drivers to save fuel and reduce CO2 emissions in the case of internal combustion-engined vehicles, or to benefit from additional range in the case of electric vehicles.
– "Trip Report" rates the driver's eco-driving technique,
– "Eco-coaching" function provides the driver with personalised tips on how to improve their eco-driving technique,
– "My preferred Trips" helps the driver to improve their driving style by comparing different journeys.
Connected services to optimise itineraries and reduce journey times
Connected services provide real-time information about traffic conditions to help drivers reduce journey times.
– TomTom® LIVE services help the driver to optimise their route.
R-Link optimises the use of electric vehicles
When fitted to an electric vehicle, R-Link can provide comprehensive information to help drivers optimise their route, range and remaining battery charge.
– The TomTom® Z.E. LIVE navigation system provides a graphic display of how far the vehicle can travel as a function of its remaining range. When a destination is keyed in, it tells the driver whether the vehicle  has sufficient range to reach it. If that is not the case, it can guide the driver to a nearby charging station. It is also capable of suggesting the most economical route in terms of energy (Eco Routes) or displaying the location of nearby charging stations on maps provided by TomTom® (near to the vehicle's actual location or at destination).
Thanks to a connection with the car's electronic control units, the driver can view a histogram of their energy consumption in real time, as well as the flow of electricity between the battery and the engine, climate control system, heater, etc.
Thanks to the My Z.E. Connect services pack (standard equipment for ZOE), drivers can use their computer or smart phone, wherever they are, to check information ahead of their journey: remaining battery charge, estimated remaining range, charging status, time remaining before battery is fully charged, location of charging stations in a given place, etc.
? If they benefit from My Z.E. Inter@ctive (optional or standard equipment for ZOE, depending on version), they can interact remotely with their vehicle while its battery is charging to switch on the pre-conditioning of the cabin, start the battery charge or programme the weekly charge schedule as a function of electricity rates or the CO2 emissions resulting from the production of the necessary electricity.
Renault R-Link – in keeping with the 'Driving eco²' philosophy
To encourage drivers to perfect their eco-driving techniques, Renault R-Link combines with other aids, including:
– Dashboard information while on the move: indication of driving style  (green, yellow, orange), gear shift indicator, rev-counter and display of real-time/average fuel consumption. This information is used to help make eco-driving second nature in the case of an internal combustion-engined vehicle.
– The ECO1 mode can be activated by a button to reduce fuel consumption by up to 10 per cent by modifying certain vehicle-, performance- and/or comfort-related parameters.
Applying all the eco-driving features can reduce fuel consumption and CO2 emissions by up to 25 per cent in the case of internal combustion engines.
New Kangoo Van Z.E., a renewed version of the Z.E. range's first model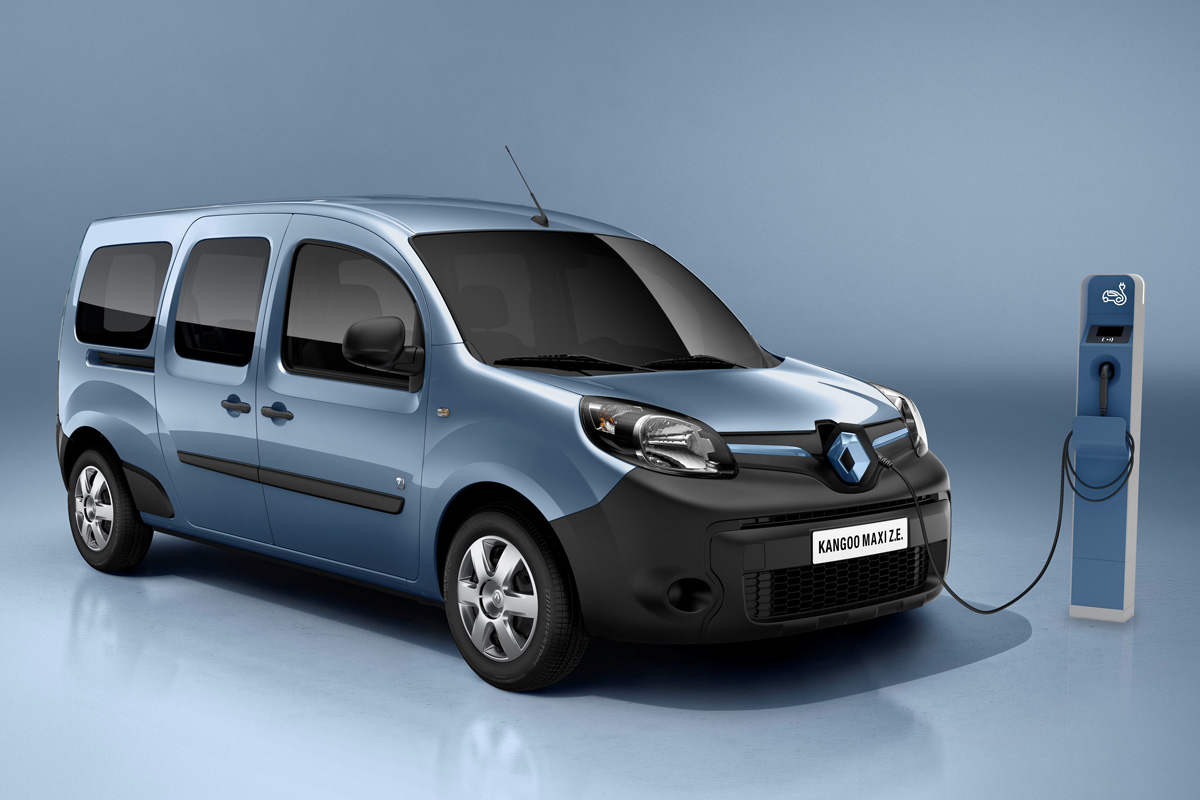 Renault, Europe's number one van manufacturer since 1998, has profited from the 2013 Geneva Motor Show to reveal New Kangoo Van Z.E., the first model to appear in the brand's Z.E. range and Europe's best-selling small electric van. Its renewal forms part of the Kangoo range's overhaul that was announced at the end of January. New Kangoo Van Z.E.'s lines are now even easier to distinguish from those of its internal combustion-engined counterpart. It has also been made more modern, thanks notably the introduction of the connected Renault R-Link multimedia system. The electric version continues to be available in a choice of two lengths and three configurations for up to five occupants. It naturally carries over all the user-friendly features of its predecessor and delivers the level of driving comfort associated with electric vehicles.
New Kangoo Van Z.E. reasserts its electric vehicle identity
Like the internal combustion-engined New Kangoo, the Z.E. version features a new front end which embodies Renault's latest styling signature. The logo is bigger and contrasts boldly with the black background of the grille, while redesigned head lights ensure a more expressive, hi-tech gaze. The difference between the electric and internal combustion-engined versions of Renault's small van has been accentuated, too. Indeed, New Kangoo Van Z.E.'s electric vehicle breeding is highlighted by the blue-tinted logo and blue rear light trims, as well as by the incorporation of black head light masks.
The battery charger socket is now concealed behind the Renault logo at the front of New Kangoo Van Z.E. By plugging in the cable provided with the vehicle, owners can benefit from a complete charge in between six and nine hours using a Wall Box at their home or at a roadside charging station.
Another specific feature of the electric version of New Kangoo is its 'Z.E. Voice' function which emits a sound to warn pedestrians of the vehicle's approach, thereby contributing to a more relaxed driving experience in built-up areas. This system is activated at speeds of between 1 and 28mph, but switches off when the vehicle is at a standstill.
Now featuring the Renault R-Link multimedia system
There have been other significant evolutions to the latest-phase Kangoo Van Z.E. inside the cabin, too, including a new, more modern, quality centre console, while the connected Renault R-Link multimedia system is now also available. Renault R-Link provides all the multimedia functions (navigation, radio, Bluetooth® telephony, connectivity with portable devices, etc.) in a single system which comes complete with a seven-inch touch screen display.
Renault R-Link also includes tools designed to minimise the consumption of energy and running costs. The Driving eco² function, for example, contributes to more economical motoring by analysing individual driving styles and providing personalised tips. The TomTom® Z.E. LIVE navigation system can be asked to suggest the most energy-efficient routes. With 'My Z.E. inter@ctive', drivers can use their computer or smartphone to programme the charging of New Kangoo Van Z.E. remotely in order to benefit from off-peak electricity rates (for further information, see 'Renault R-Link' chapter).
Flashback to the original Kangoo Van Z.E., pioneer and Europe's number one small electric van
It was on 28th October  2011, that the very first Kangoo Van Z.E.s went on sale at Renault dealerships. The launch of the zero-emission small van marked the official beginning of Renault's electric vehicle offensive. It was the first of the four models which now make up the brand's electric vehicle range, namely Kangoo Van Z.E. and Fluence Z.E., plus Twizy and ZOE which can only be ordered with electric motors. The van was widely acclaimed by the media and soon won a long list of awards, including the highly-coveted International Van of the Year 2012 prize, a first for an electric vehicle. The jury notably hailed the newcomer's carrying capacity and driving enjoyment.
In October 2011, Kangoo Van Z.E. won a tender to supply more than 15,000 vehicles over a period of four years to 19 major businesses and administrative bodies in France.
Kangoo Van Z.E. is also Europe's best-selling electric van, with registrations totalling almost 7,000 vehicles, including approximately 4,000 in France. Of these, 1,800 were ordered by La Poste. These vehicles face a tough working life since they cover an average daily distance of 50km for the delivery of mail, involving up to 300 stops per day with the driver's door frequently open and the heater on full in cold weather, which is hardly ideal for optimising range. Yet Kangoo Van Z.E. is proving highly satisfactory in its new role. "Those who drive these vehicles say they don't want to go back to an internal combustion engine," notes one member of La Poste's staff.
Ordering for New Kangoo Van Z.E. opens in the UK at the end of March with first deliveries from May.
Christophe Cluzeau (baker/pastry chef, Bougarber, France)
"I have been completely won over. I am even considering buying an electric vehicle as my personal car. […] On top of the financial savings and driving comfort EVs bring, it is time we modified our vision. We needn't fear change. We should open our eyes and move on to a new era that simply calls for a healthier state of mind to be beneficial for the planet and ourselves."
François Lhotte (Director of Sustainable Development, Moët Hennessy Champagne)
"Our group is attentive to innovative production processes which are respectful of the products we market. Using electrical energy for short journeys is one such example. In July 2010, we acquired a second-hand electric Kangoo, which we tested in our vineyards near Epernay, France. The test was positive and we replaced it at the beginning of 2012 with a Kangoo Van Z.E. which proved even more dynamic. Driving it around town and in the vineyards is like having automatic transmission, while the lithium-ion technology means the battery charges very quickly, and at any time, so that pleases our head vigneron."
Regis Emo (Campsite Director, Saint-Etienne de Villeréal, France)
"The prime reasons for my purchase of two Kangoo Van Z.E.s were cost savings and their ecological benefits. We are a registered 'glamping' campsite, which is a new trend founded on a luxury experience that is in contact with nature, comfortable and respectful of the environment. For us, it is vital to be close to nature and protect it. Our customers appreciate the fact that we are able to bring them fresh pastries for breakfast without making any noise or polluting the air. It's a real 'plus'!"