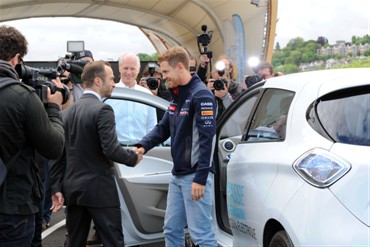 After his performance in the Spanish Grand Prix, the triple world Formula 1 champion Sebastian Vettel (Infiniti Red Bull Racing) flew to Paris to meet up with Renault's teams.
The Renault engine-equipped driver swung by the Renault Sport F1 plant, visited Ile Seguin and the Z.E. Center and made a pit stop at Renault's headquarters, which fronts the Seine River. The reigning champion tried out Renault's electric vehicle range and had fun aboard the ZOE and the natty Twizy Renault Sport F1.
Sebastian's day began with a photo and interview session at the Viry-Châtillon plant, where the Formula 1 Renault engines are built, including the V8 RS27 unit that powered him and the German team to victory in the 2010, 2011 and 2012 championships. He also chatted with his engineering team, which gave him a glimpse of Renault's F1 future in the shape of the new V6 turbo power unit, which will equip Infiniti Red Bull Racing next season.
He then took to the wheel of ZOE (see video), Renault's new full-electric compact car, and drove to Île Seguin in Boulogne-Billancourt near Paris. He got to discover the historical site, part of which is now dedicated to the Z.E. Center, where the general public can find out more about Renault's electric vehicles and even drive them on a special track.
Sebastian went for a spin in the incredible Twizy Renault Sport F1, equipped with the same KERS as his F1 car! With its extra 80 hp, the Twizy Renault Sport F1 can race from 0 to 100 km/h as fast as Mégane R.S., Renault's highest performance production model! After trying out the unique vehicle on the test track, Sebastian posed for a few photographs and gave a press conference for the French and international media.