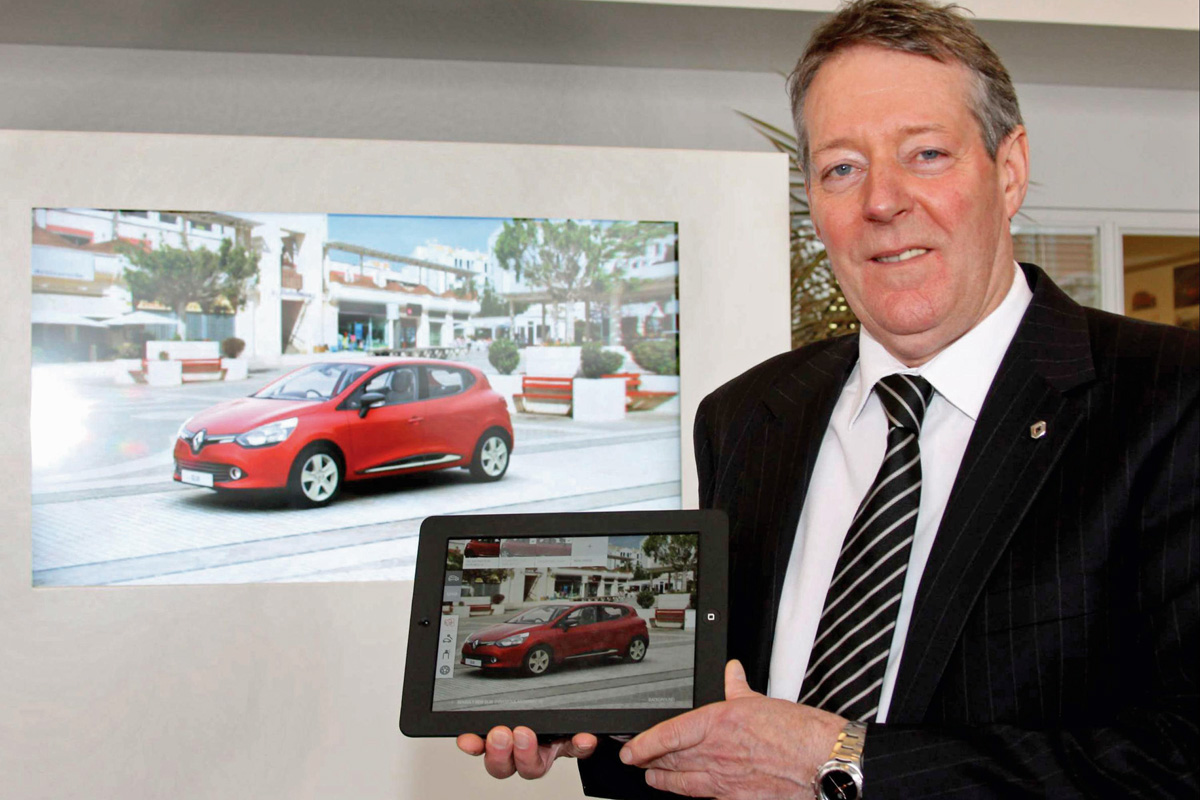 The switchover to digital TV is already complete across the UK, and similarly in recent months, Renault have been busy behind the scenes upgrading their own network.
Bringing its car showrooms bang up to date, the forward-thinking French brand has now all but completed the rollout of its new interactive system, "ConTact" (short for tactile configurator), across over 140 sites.
Enabling Renault dealers to bring the customer experience alive on screen, as well as face-to-face, the new initiative uses state-of-the-art Apple iPads and LCD HD TV screens. The main benefit being that it allows them to take existing and potential Renault owners through an innovative 3D configurator. The system is mobile too, so, sales staff can show buyers around a specific model's features, potentially next to a similar showroom display model, to help them visualise, or even alter, selections they have made, before signing on the dotted line.
Every new or facelifted Renault car within the past year, featuring the brand's new visual identity, is included in the software, meaning Twingo, Clio (including Renaultsport 200 Turbo EDC), ZOE, Captur, plus the new Scenic range, including the new XMOD which joins soon, all figure.
The beauty of the system is immediately apparent. Firstly, customers can tailor their preferred car to their exact specification. Of course, that's hardly new, buyers tend to research their shortlisted cars online before they even set foot in a physical showroom. However, what is clever is that the iPads are wirelessly connected to a 42-inch TV screen. So, customers can instantly see a more life-size view of their creation, plus 360-degree interior and exterior views of the car they've just configured. At a touch, they can simply adjust their personalised specification as they see fit, from the colour of the alloy wheel inserts on a Clio, right down to the type of roof decals they might want on a Captur. The system includes everything from core specification, options, accessories and systems such as R-Link with its innovative App Store.
While the system has been introduced principally for the benefit of customers, naturally, the clever functionalities also work in the hands of the sales staff. ConTact helps Renault's sales executives generate bespoke brochures and promotional material for sending onto the customer electronically. Plus, the more interactive approach enables them to highlight a myriad of real-time information on everything from pricing, performance and options to showroom visitors.
The new system is being made available across the brand's full UK dealer network over a three-year period, with Renault assisting dealers with a proportion of the set up costs.
Darren Payne, Renault UK's Director, Sales, said:
"We've been rapidly renewing our range over the last few months, receiving great reviews for all of them from Clio, Captur and ZOE. The style of each of them is immediately apparent, but there's never been a better time for us to showcase their other talents, plus the wealth of personalisation, options and technology on each. We felt it with our new line-up, it warranted a brand new way of engaging customers, making their showroom visit stand out even more. It's anticipated in the future that we'll be able to expand the capabilities of the iPads for even more uses, maybe even greeting customers."
Chris Norman, General Manager, Renault Wolverhampton, the first site to come on stream initially, said:
"We were delighted to have been chosen as the first dealership in the Renault UK network to get the iPads and all of the sales staff here have been excitedly showing off the system's features to our customers. Renault has always been famed for leading the way in technological innovation and ConTact will make a hugely positive contribution to the customer experience."