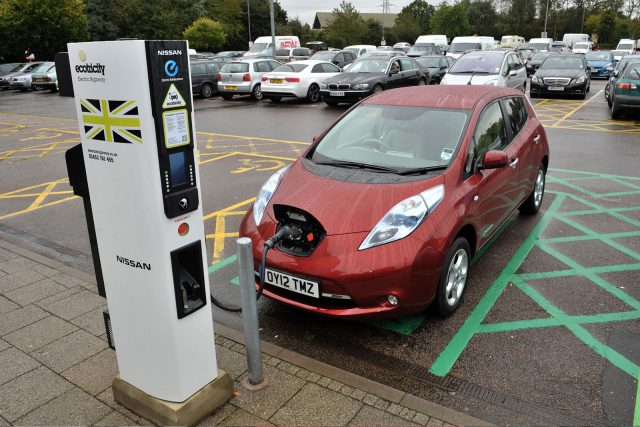 I have been closely following the development of electric cars for about 18 months and over that time have come to know and sympathise with many of the grievances felt by electric car owners. As the delivery day for my ZOE approaches, however, (it should be Tuesday this week) these issues are fast coming into focus as I will have to tackle them personally very soon.
Many of these issues revolve around the use of public charging points, including:
Charging points are very often not well located, so there isn't one where you need it.
Use of a charging point may require a dedicated access card and/or payment.
Access to the charging point may be restricted, for example many are on car dealers' premises and are restricted to the dealers' customers and/or to the dealers' opening times.
Finding charging points is difficult as there are multiple, conflicting charge point maps.
The parking place intended to be used for charging may be blocked by a combustion car.
Charging points use a multiplicity of different connectors. There are at least 5 different connectors used for electric cars, and at least 3 can be found on UK charging points (the Type 2 Mennekes used on the ZOE for slow and fast charging, the CHADEMO used on the Nissan LEAF for fast charging, as well as the standard 13 Amp socket).
It is the first three points that I want to touch on here – they are closely related. The other three issues are significant in their own right and I will cover each of them in future posts.
The first issue, that of charging point location, is a broad one. Until charging points are ubiquitous it is inevitable that there won't always be one where you need it. Unfortunately, in the UK at least, this situation is made worse than it need be.
Firstly, many charge points are equivalent to a standard domestic electrical supply – in other words, a 13 Amp socket on a post. These are nearly useless in the public arena. At home it's fine to leave your car overnight to charge but there are few times you want to leave your car unattended in a public place for 6-12 hours and certainly not during a long distance trip.
Secondly, deployment around the UK is very patchy. Some towns and cities (London, Oxford, and Manchester, for example) have had schemes that have installed large numbers of charge points within a designated area. At the same time other areas have none at all. For example, I work in Milton Keynes and it has 28 ZOE-compatible charging points (on the Open Charge Map). I live in Northampton, about half an hour's drive further north, and it has none.
Thirdly, even those regions that have many charge points often have them in the wrong place. This is a point well made by Ecotricity with its Electric Highway of charge points along the major motorways:
"We chose the motorway network for good reason. The big focus so far – with charging facilities – has been town and city centres. But we think they're needed the least here. You only need to look at car use statistics for the answer. The average car in Britain travels around 20 miles a day, a distance most modern electric cars can sustain for almost a week without needing to charge.

"Most car owners have access to off-street parking (70 per cent apparently) and are able to charge at home, at night. So most cars don't need to charge, most days. It's longer journeys where charging is most needed."
The second issue is one that I'm currently fighting with. I need to do some long distance driving soon after picking up my new ZOE. However, there is no quick and easy way to get an access card that allows you to use a public charging point. No, you can't just go into a shop or Post Office and buy one.
Not only that, but there are multiple access card schemes so that you may need to be a member of multiple schemes if you want to travel across the country. This situation is improving, however, as the schemes start to co-operate and grant access to each other's members.
This is my experience so far:
Last Wednesday I applied online for an Ecotricity Electric Highway card. It starts free, but they reserve the right to charge £10 per year in future if you're not an Ecotricity customer. The online application form requires a vehicle registration number (VRN) – which I didn't know then – so I used my ZOE's Vehicle Identification Number (VIN). I don't know if that's going to cause problems. Anyway, it takes up to 14 days to receive the card which is rather slow.
Also on Wednesday I applied for a Plugged-In Midlands card. Membership is £20, but it is not clear if this is in perpetuity or not. Again, I used the VIN instead of the registration number. The card is supposed to be sent within 5 working days.
On Saturday I applied for a Source London card, so I can visit the capital. Membership is £10 and is only guaranteed to be valid until 30 June 2014 when the scheme management is being transferred to a new operator. By this time I had been given my ZOE's VRN so was able to use that. Again posting out the card takes up to 5 working days. The difference with this scheme is that, unlike the other two, the membership is definitely for the person, not the car, so having registered you can then add multiple electric cars to your account (a forward thinking view that I appreciate).
It's looking pretty unlikely that I'll get a charge point access card in time for my first long distance trip (though, having spoken to Ecotricity and their supplier, ChargePoint Services, it's possible they can expedite me one in time). To be fair to these schemes, though, they do allow you to apply online and get a card within a reasonable amount of time (even if it's not quickly enough for particular trips I'm planning).
Much worse is the London Congestion Charging scheme which I assumed would be similar but no, that would be too much to expect. It's hard to believe but to apply for an electric car discount on the Congestion Charge you need to download a form, print it off, add a photocopy of your vehicle registration document, and a cheque for £10, and put it all in an envelope to send to the scheme address, then allow 10 days just for the document to be processed, then wait for an approval letter to be sent to you. Yes, really – in 2013! And in the meantime you must pay the charge in full. You can't make this stuff up.
Anyway, this brings me on to the third issue. Since I can't rely on having access to fully-public charging points for imminent trips I have been looking at using car dealerships as charging stations. Renault, Nissan and Toyota dealerships, for example, have charging points if they are accredited for electric car sales.
However, dealerships naturally tend to allow their charge points to only be used by their own customers, so I am limited to Renault premises (and only those that have EV facilities). More of an issue, though, is that being commercial premises there is generally only access during opening hours. While that is a general nuisance, it can be more limiting than it seems at first glance. What can actually happen – and this is likely to be the case for my first trip – is that you can have access for charging on your way to a destination. But then on the way back the same facility is unavailable because you are returning in the evening when the premises have closed.
My overall conclusion so far, therefore, is that public charge points are a pain. In fact I'm rapidly coming to a definitive but inescapable conclusion:
The various public bodies, committees and organisations that have defined, deployed and organised the UK public charge point network are staffed exclusively by people that have never owned an electric car.