A guest post by Nosig
Maximising Range in a ZOE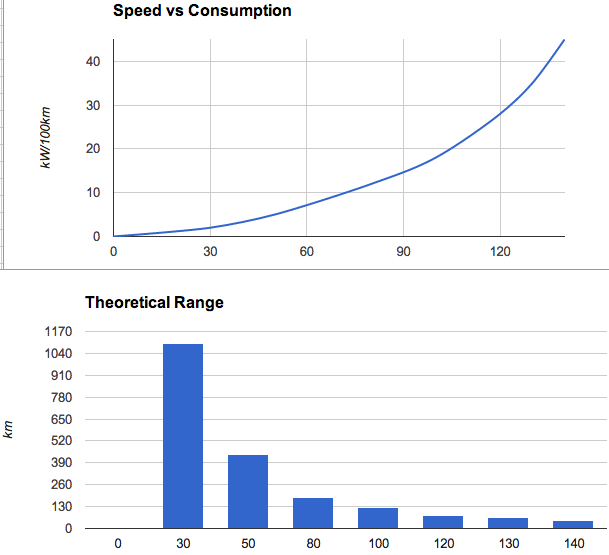 When looking to maximise range in an EV, slow speeds are very good since air drag is very low. It increases exponentially with speed. Accelerating harder is not good for efficiency, you trade energy for time. Regenerative braking is never going to be perfect, but the regen on the Zoe can actually charge up to quick-charger speed. If you want max efficiency, let it roll out as much as you can as long as possible. That will enable fewer miles driving under power while regenerating on those same miles.
For the best range ride smooth: accelerate slow and smooth, drive slowly, try to get maximum regen time (so a loooong roll out) if you know you have to slow down, and try to avoid stop and go since the acceleration (and slight loss on decel) will take extra energy. Still it might be better to have a slower route with traffic (bit stop and go), than having a smooth cruise at higher speed, since air drag will be the real killer. Smooth and slow are the keywords for max range.
I have made two graphs with some consumption numbers on the same road with identical circumstances. The absolute numbers are not that important (they change with slope, temperature and wind), but it's just to show the huge relative influence of speed (thus drag) on consumption and therefore range (in km and km/h). Theoretically, if you constantly drive at bicycle speed, you should be able to drive from the UK to the Côte d'Azur on one charge (see Figure 1).
The assumption here is that the road is constant, level, speed is constant, nothing changes and the indication is more or less accurate. I also assume the full 22 kW is used for range. In this case the air-conditioning was on, but I hardly see any difference in consumption with the airco off. I actually noticed a constant 1 kW/100km consumption at 30 km/h, which would give a theoretical range of 2200 km, but that would distort the graph too much so I changed it to 2 kW/100km.
The thing to learn is the constant exponential increase in consumption, so best speed is the slowest and the increase in range can then be huge (2200 km in theory) as can the penalty with higher speed. A constant 140 km/h would drain the battery completely in about 50 km / 30 miles (!).
A gasoline/petrol car might be able to have a range between 700 and 900 km depending on riding style and circumstances, the Zoe can in theory have a range between 50 and 2000 km. It just indicates that it's extremely hard to compare range figures with gas cars – it's a whole different game.