After much pre-event anticipation BMW finally launched its first electric car on Monday, the i3. It was revealed simultaneously in London, New York and Beijing, with the London event taking place at Billingsgate and featuring celebrities including Sienna Miller and James Franco.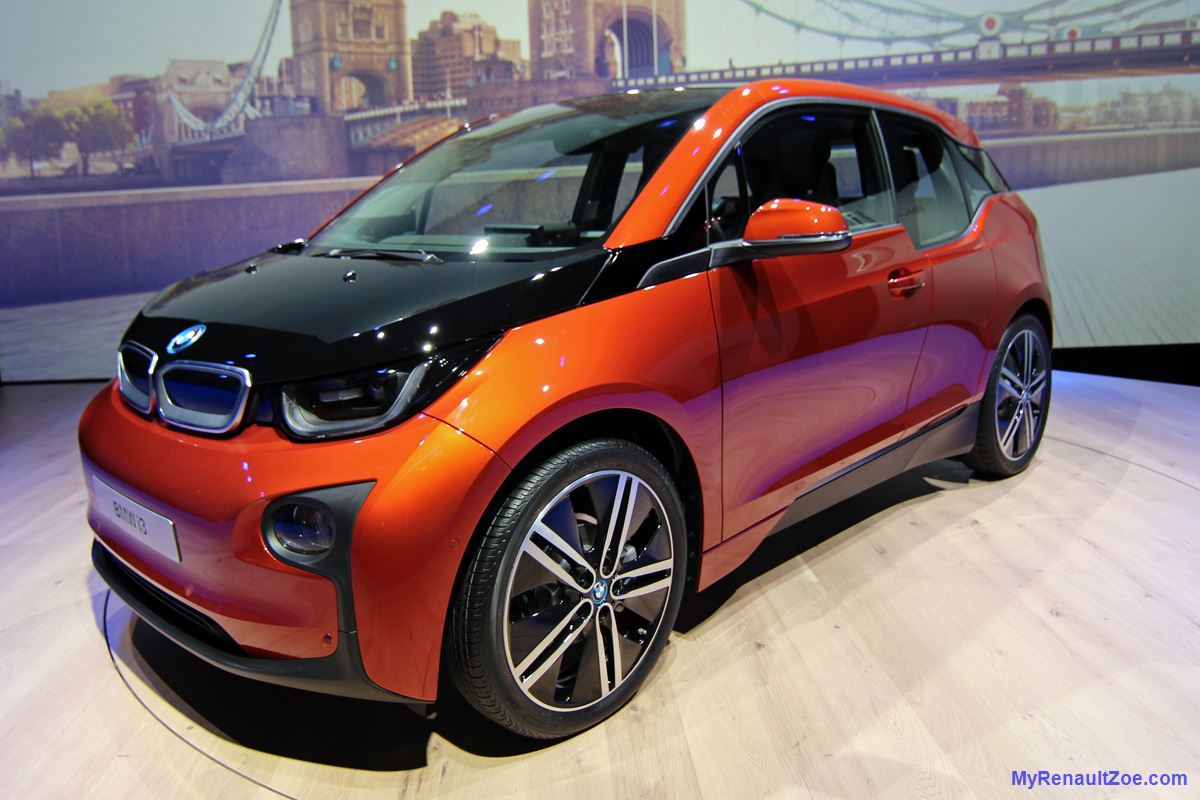 The main event was followed with smaller media shows at the same location. WhatCar magazine had a Reader Test Team event on Tuesday evening. I was invited to this as last year I had applied for the equivalent ZOE launch but had missed out.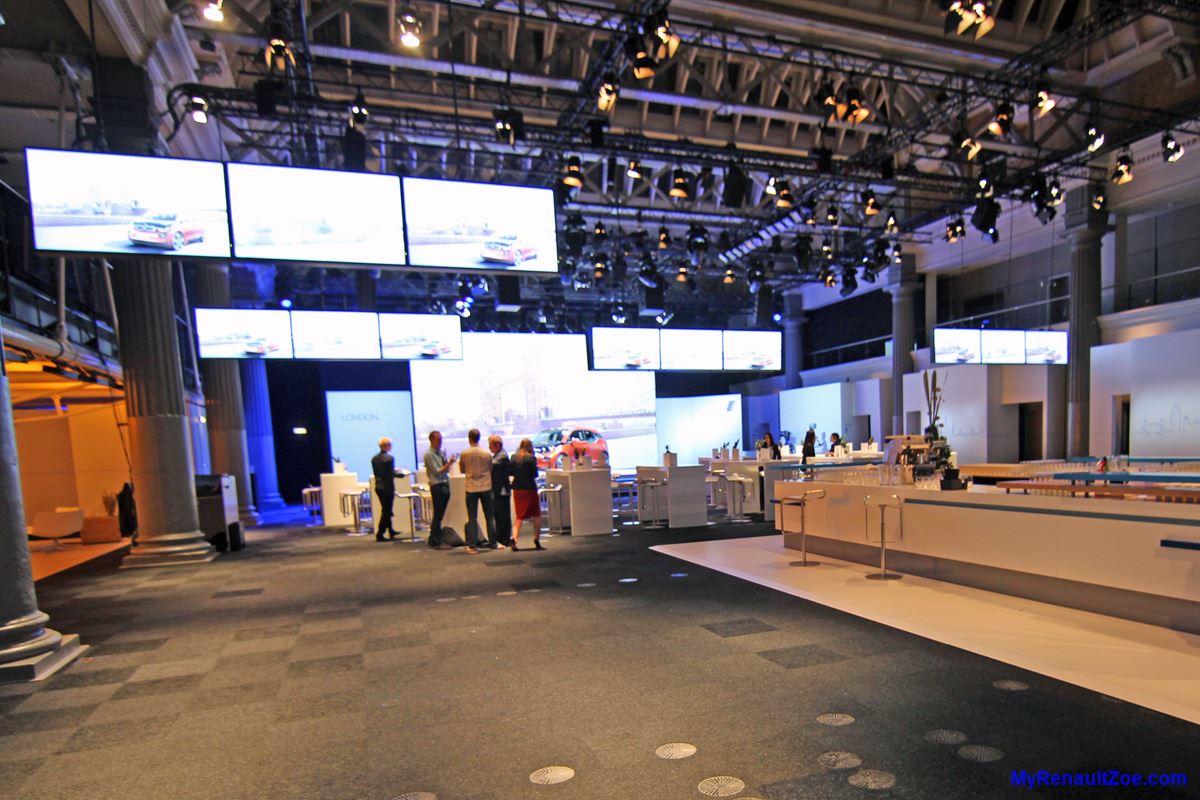 The event took place from 6.30 to 9pm but thanks to our big ZOE adventure on the way there we arrived towards the end. The location was Old Billingsgate which is a regular venue for launches – it sits right on the Thames with views across the river and along to Tower Bridge. An i3 in silver-grey sat outside on a wooden platform. Inside there was seating (plus drinks, snacks, etc.) in front of a large stage on which sat a second i3, this time in a dark orange.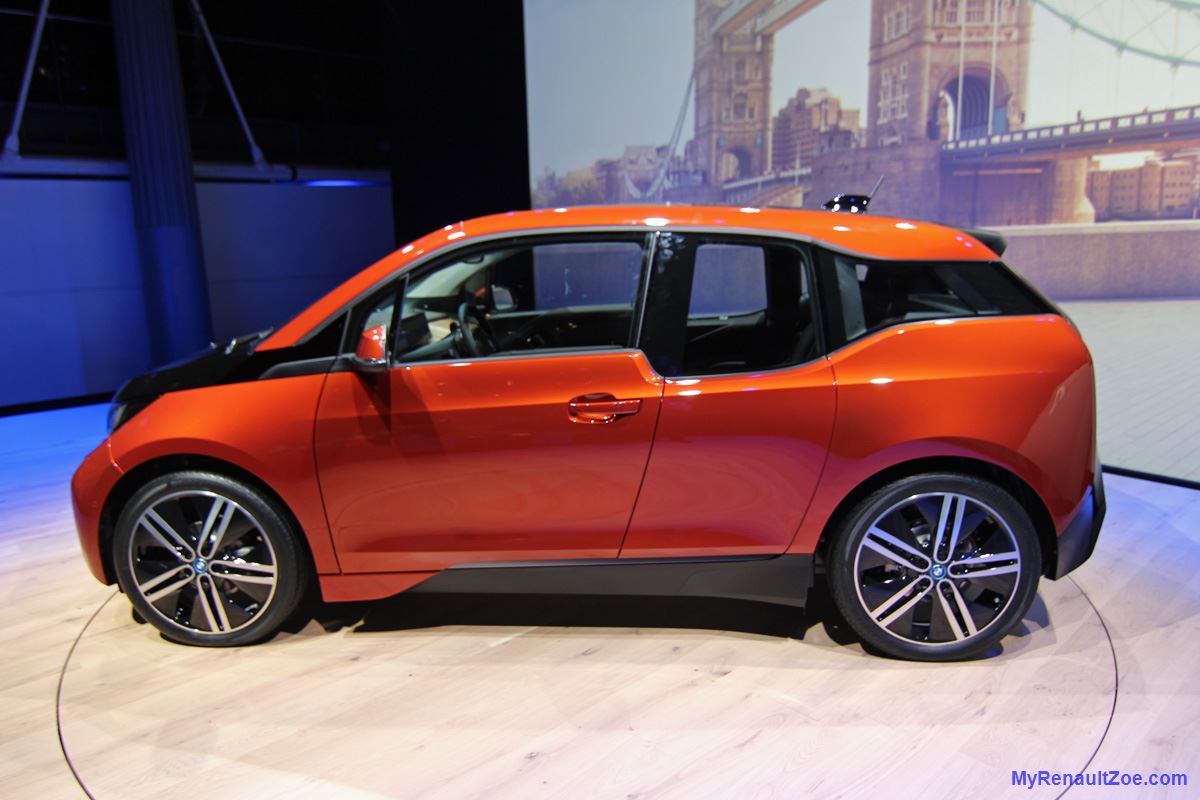 We had the opportunity to take photographs, walk around the i3 on the stage, and then sit in it. Having only just received the ZOE, and not having the chance to test drive the i3, it is hard to compare them directly. I was struck, however, by how different the i3 felt inside. It felt very wide in the front, with a broad sweeping dash broken up by two square mini-monitors.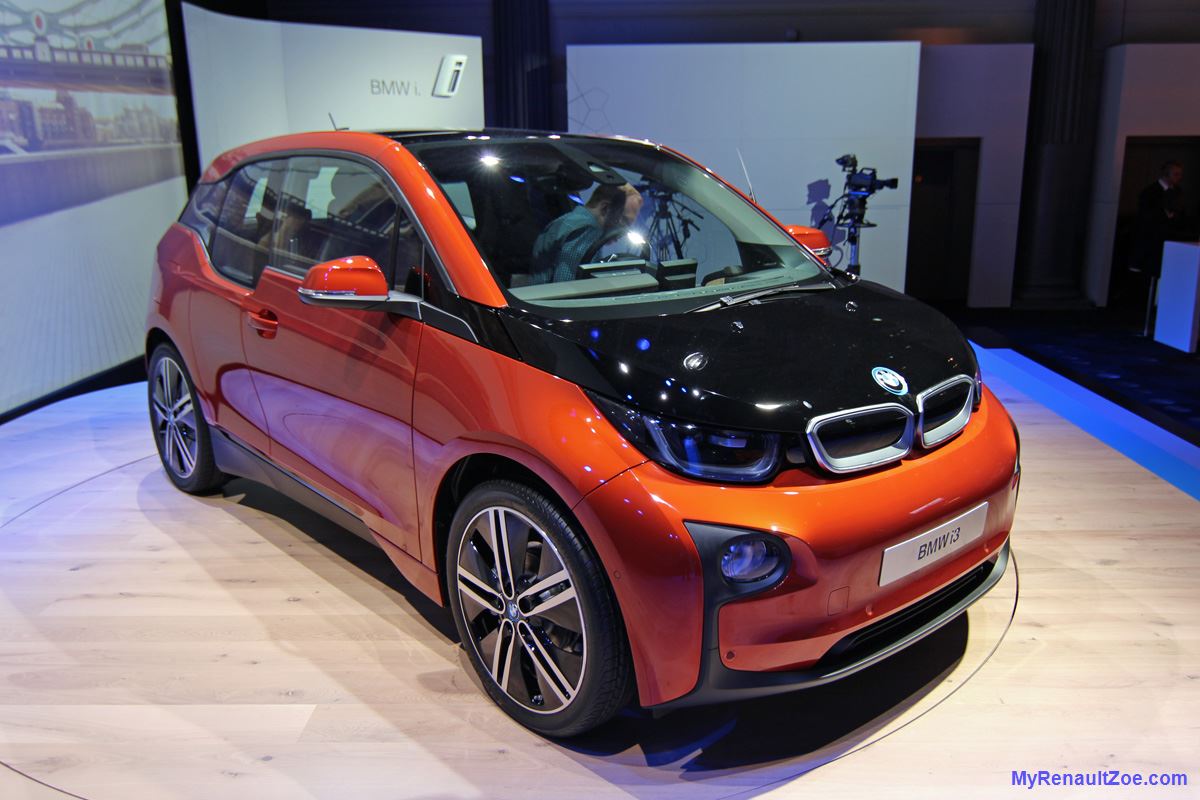 However, the rear passenger area and boot did not seem particularly spacious and I wonder if they might be smaller than in the ZOE. For example, the rear seat is very definitely intended for two people, not three like in the ZOE, and the boot appears to be quite long but not very deep. I will likely examine the numbers in detail in a future post.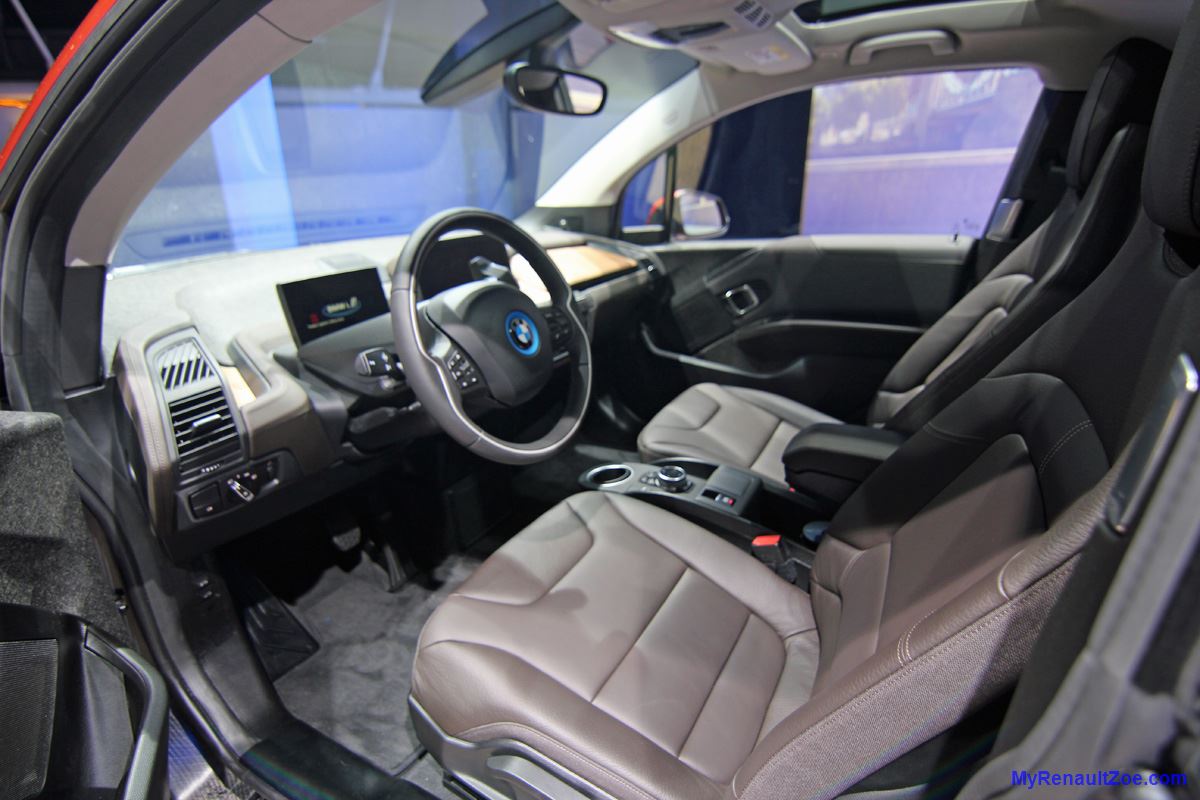 Many people in the media have commented on the i3's looks in a negative way, partly because it stands out from the crowd. I'm in two minds about this – I agree that for EVs to become mainstream they need to look more like conventional cars (and I think Renault got this right with the Clio-alike ZOE). Good looks are a failing on a number of existing EVs like the LEAF and the i-Miev. However, personally, I want an electric car to look a bit different – and I rather like the style, stance and colouring of the i3.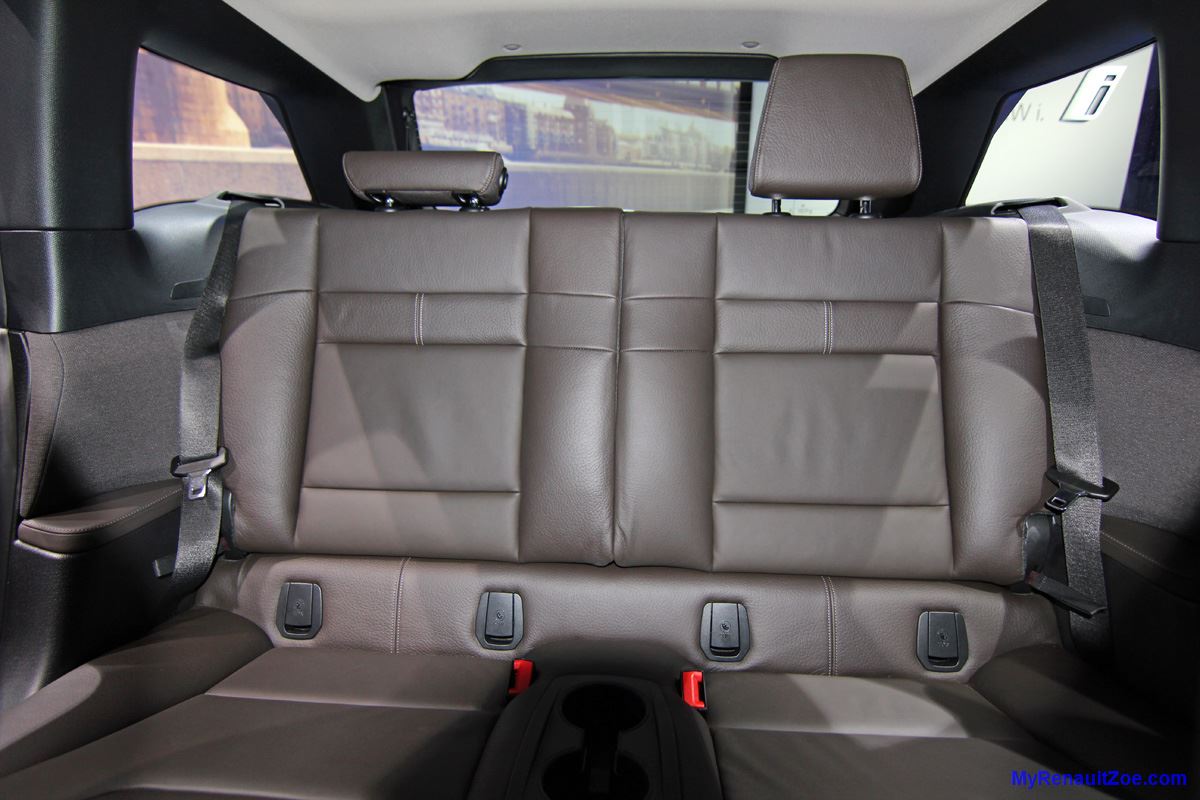 So, is the i3 a game changer like the ZOE? No, unfortunately it falls down on all the key criteria, not just looks. The price is wrong – even though it costs less than most pundits expected. It is twice the price of a ZOE, so even allowing for it including the battery it cannot compete on price.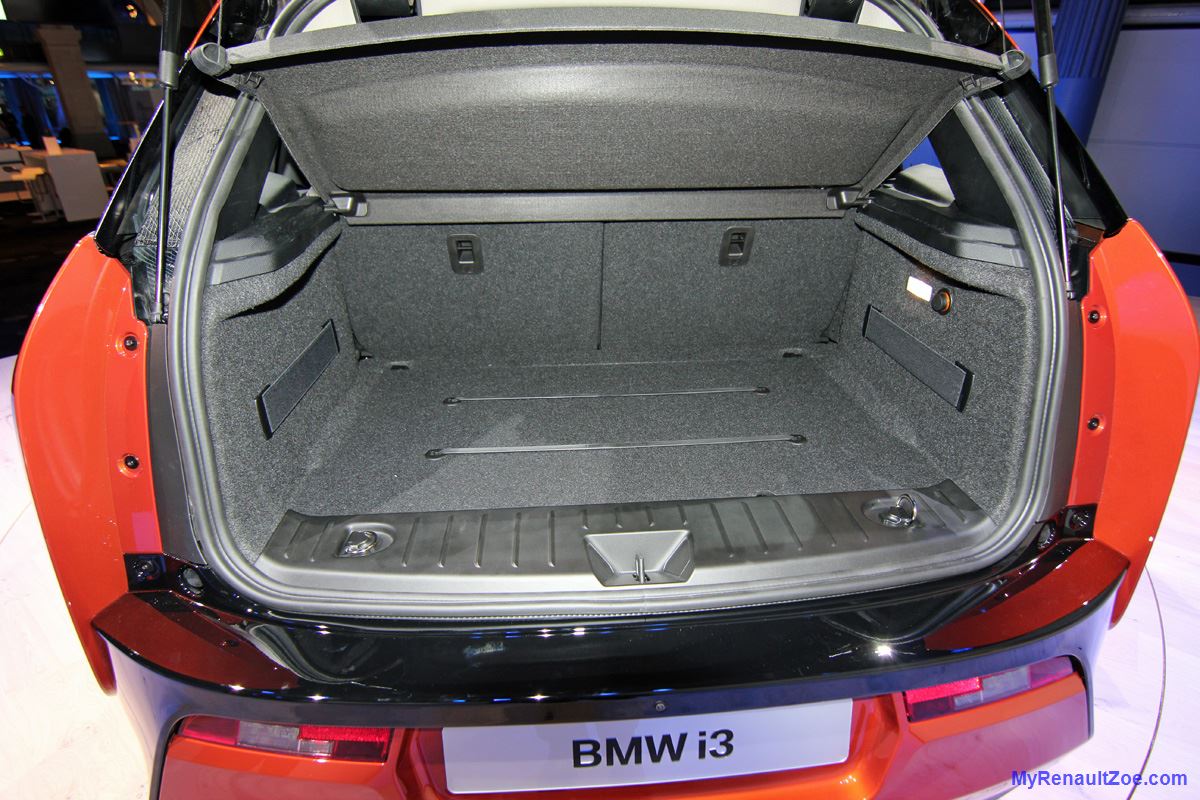 The range is wrong – it has been compared in market terms to the Tesla Model S yet it only has one third of the range. In fact, while we don't yet have real-world data it's quite likely its range is substantially less than the ZOE even though it arrives on the market a year later. I'm in no doubt this is the biggest failing of the i3 – it would easily have been forgiven another 50% on price if it had promised the magical 200 mile (or even 150 mile) range. Another 100 mile EV – especially in 2013 and made by BMW – makes it an also-ran.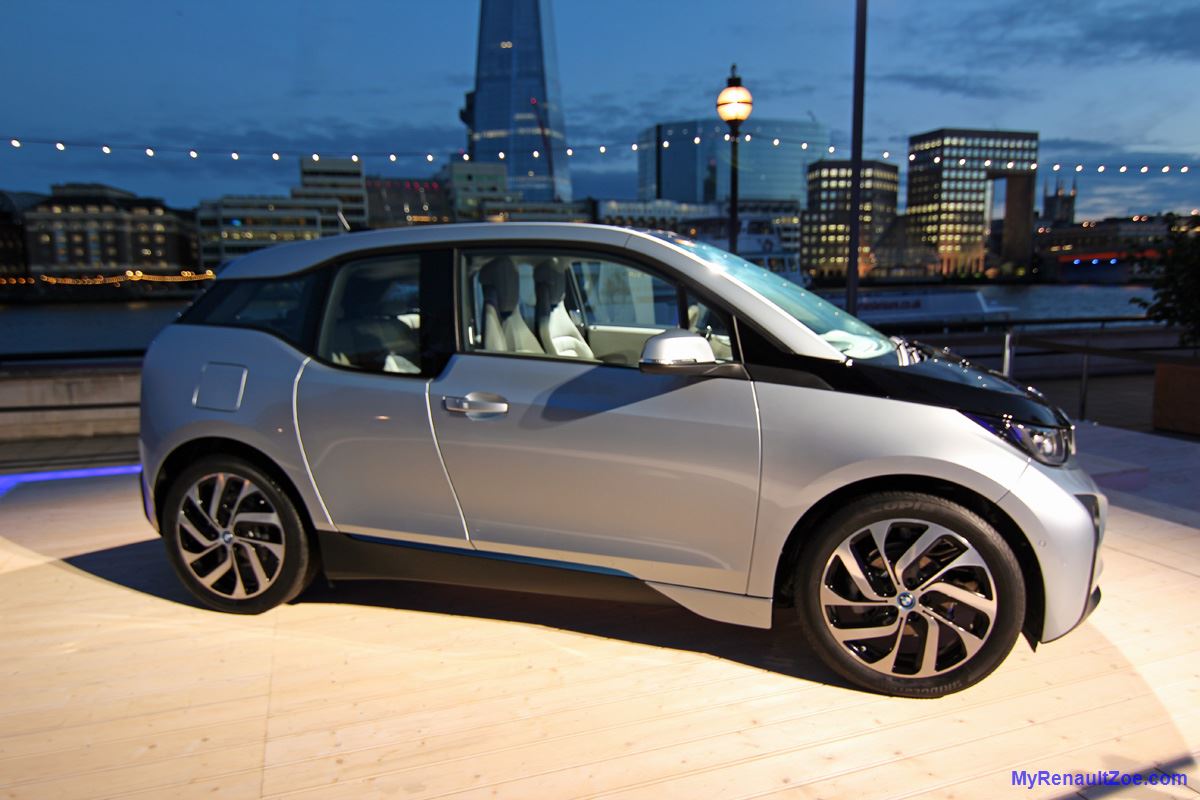 And finally, the charging is wrong. Firstly, on slow charging: the i3 'Standard Charge' is 2.4kw (7 hours to 80%) while its 'AC Fast Charge' is 7.4kW (3 hours for 80%). I think this is a marketing mistake. Technically it is equivalent to the ZOE, and uses the same Type 2 connector, however Renault discourages low power charging and provides owners with a 7kW charger (free in the UK) so the ZOE standard charge is 3 hours – the same as the i3's so-called fast charge.
Secondly, on fast charging: Perhaps this is an unfair comparison as the ZOE has the best charging system of any EV on the market (with the arguable exception of the Tesla S) in its Chameleon. It can take AC straight from a standard European industrial three-phase supply (as you might find at a large office or shop) and charge to 80% in half an hour. To offer something similar the i3 has to make use of the older DC fast charging system pioneered on Japanese EVs such as the LEAF and i-MIEV but unfortunately the AC-DC conversion cannot be achieved without very powerful and complex transformers so DC fast chargers are large and expensive and unlikely to become as ubiquitous as simple AC fast chargers.
That could perhaps be forgiven – it is highly likely that Renault has its Chameleon technology heavily ringed around with patents and other legal restrictions. But to top it off the i3's DC charging uses a different connector to the standard DC systems. Instead of a Chademo connector it uses the much-derided but US-supported 'Frankenplug' connector, which is essentially a Type 2 connector with extra bulbous connectors joined on the bottom for the DC components, resulting in a very large and unwieldy connector and cable.
So the i3 provides DC fast charging instead of AC, and does it with a plug that is incompatible with all existing fast charging stations. Could BMW have got it more wrong? It needn't have been like that – the ZOE just uses its standard Type 2 connector and cable for all charging, and the Type 2 has been agreed as the European standard. Furthermore, from what I've seen in the i3 brochure, access to public charging (and other services) will be at extra cost from BMW.
Anyway, enough on the i3 – a car that cannot reach its potential because of poor compromises made along the way. After leaving Old Billingsgate (clutching a goody bag of brochures and merchandising) – and still on our first day with the ZOE – we headed back north, and I'll cover that journey in another post.