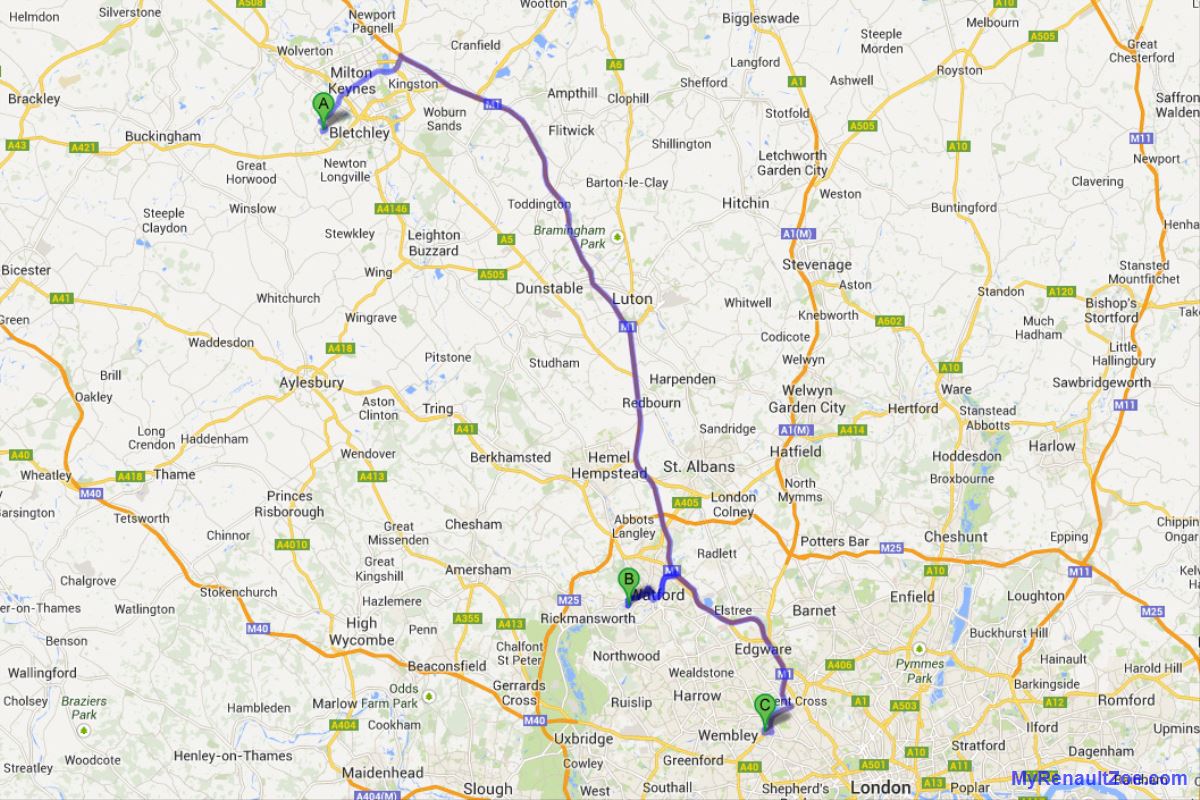 After our adventure getting to the BMW i3 event, I was rather nervous of the return journey – still on our first day with the ZOE. Having said that, I had been highly encouraged by the ZOE's capabilities and in particular by its range prediction. It seemed to me that it was remarkably consistent and – as far as I could tell – pretty accurate, though generally erring on the side of pessimism. I have since mapped the journey down and it was approximately 65 miles (compared to the initial prediction of 72 miles of range which we comfortably beat as we had at least 20 miles of range left).
By this time it was getting rather late in the evening so I made the decision to skip recharging in London and to aim straight for the Newport Pagnell services on the M1 (not far short of home at Northampton) which I knew had an Ecotricity Electric Highway fast charger. This was partly as a result of our good experience with the Ikea Ecotricity charger and our failure to use the Renault slow charger.
Unfortunately, this target location was past the Bletchley dealership where we had picked up the ZOE, and therefore it was necessary to go to Bletchley first (to pick up the wife's car), and then go on to Newport Pagnell. The dealership was closed by this time so there wasn't another obvious place to recharge on the way there. So a rather daunting challenge!
Anyway we headed out. As before the satnav told us we couldn't make it and just as before we ignored it. The difference this time was that I had set Bletchley as the destination (since we needed to go there first) but we would then have to go further on to charge – so I had to keep in mind a reserve of at least 10 miles beyond what the satnav was calculating.
The strategy I used was actually to aim for 20 miles spare after Bletchley since I didn't know exactly how much further it was to the charge location. I then adjusted our speed downwards as we drove north (as you can always make an EV go further by driving more slowly) so that the range gradually increased towards this 20 mile figure. This resulted in us driving up the M1 at 55 to 60 mph. Normally I would drive significantly faster than this but actually it didn't feel as bad as I expected (the average traffic speed wasn't particularly high) and we still managed to overtake many lorries and slower ICEs.
There was one glitch on this part of the journey. Having swapped between chosen destinations a few times on the satnav (too quickly?) it froze up. Turning it off and on didn't fix it. Eventually I got it working again by turning it off, taking out the map SD card, then restarting it and putting the card back in.
The journey went fine to Bletchley, then driving in convoy to Newport Pagnell services where I had a little less than 10 miles left on arrival. Again I have mapped the journey since and it was approximately 85 miles, a good distance on a single charge (particularly if we add on the 10 miles remaining) on our first day with an EV.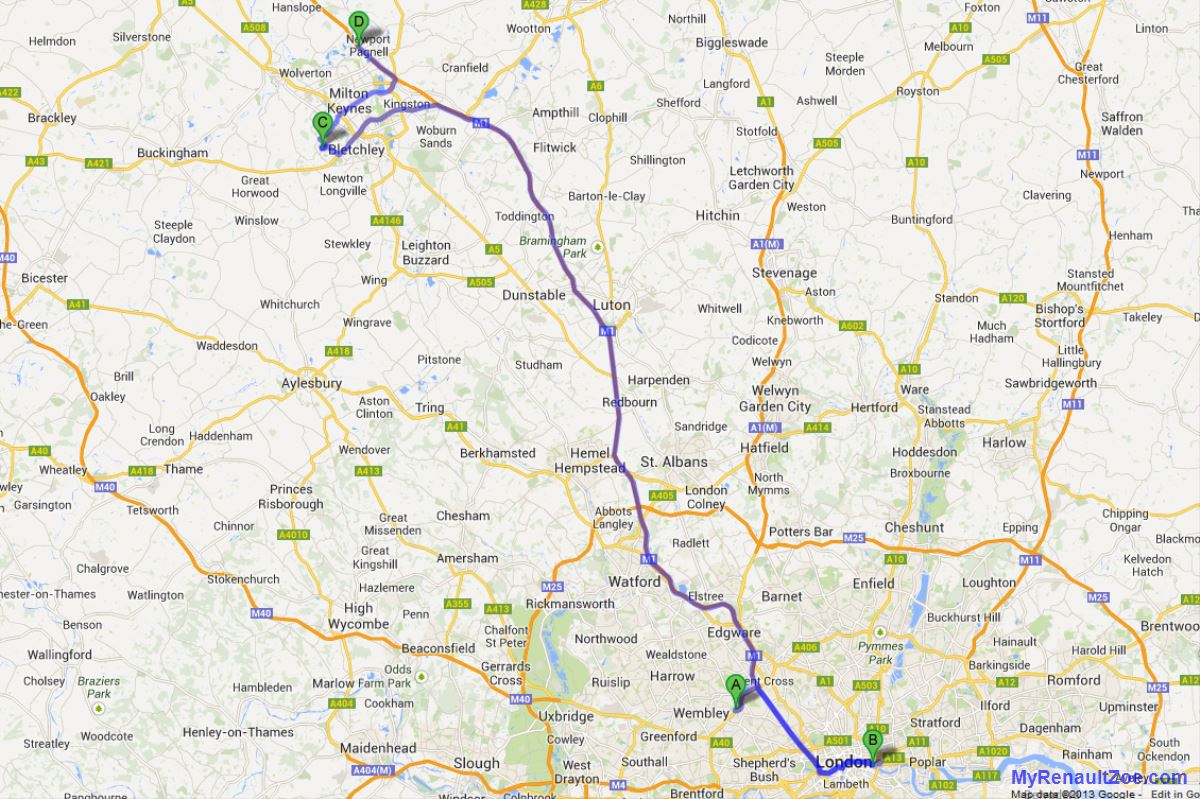 Unfortunately we then pulled into the car park at the services and had another bad encounter with a public charge point. Though the Ecotricity fast charger at Ikea Wembley had done us so well, the one here (a slightly different model) let us down. I contacted the emergency telephone number on the side and the operator confirmed there was a problem with it.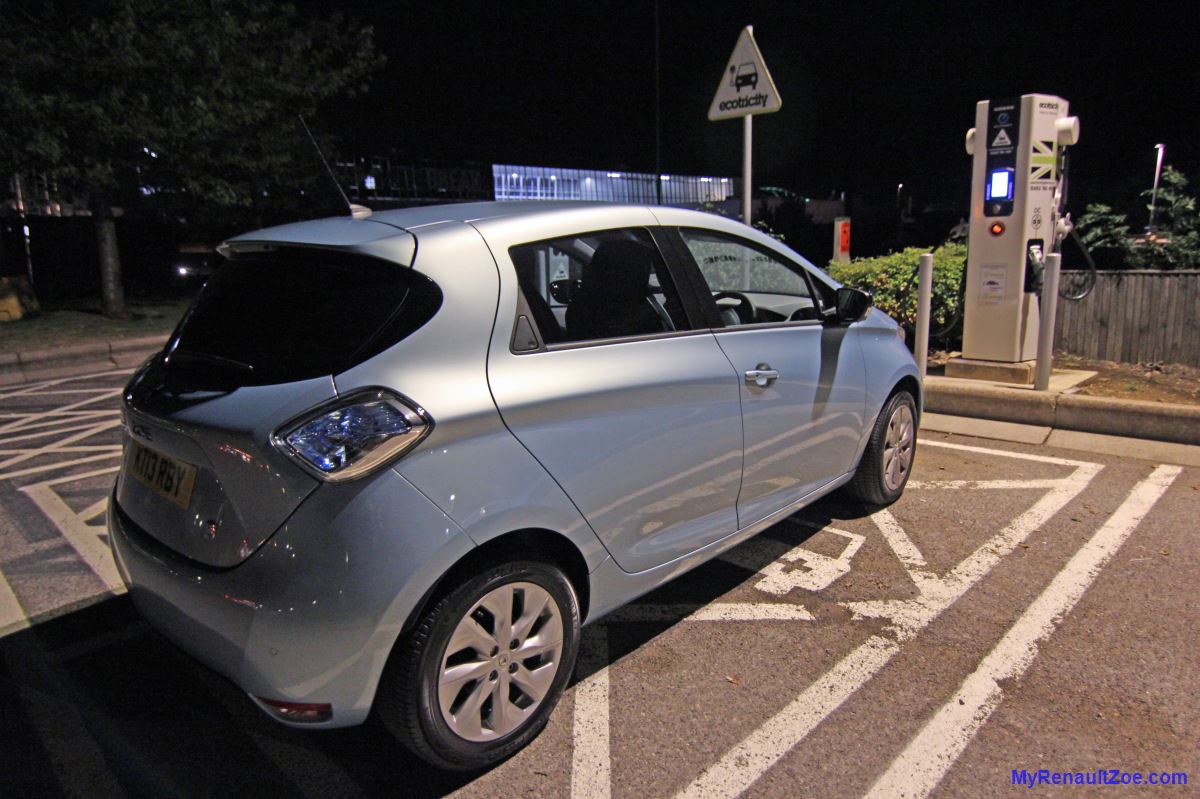 His good suggestion – which hadn't yet occurred to me – was to instead make use of the Ecotricity 'medium fast' 22kW charger located just a few parking spaces further along. I plugged into that, used the same access card, and it worked fine. Although not as powerful as the 43kW fast charger it was still pretty fast – I gained a 20-30% charge in about 20 minutes, plenty enough to get me home to Northampton.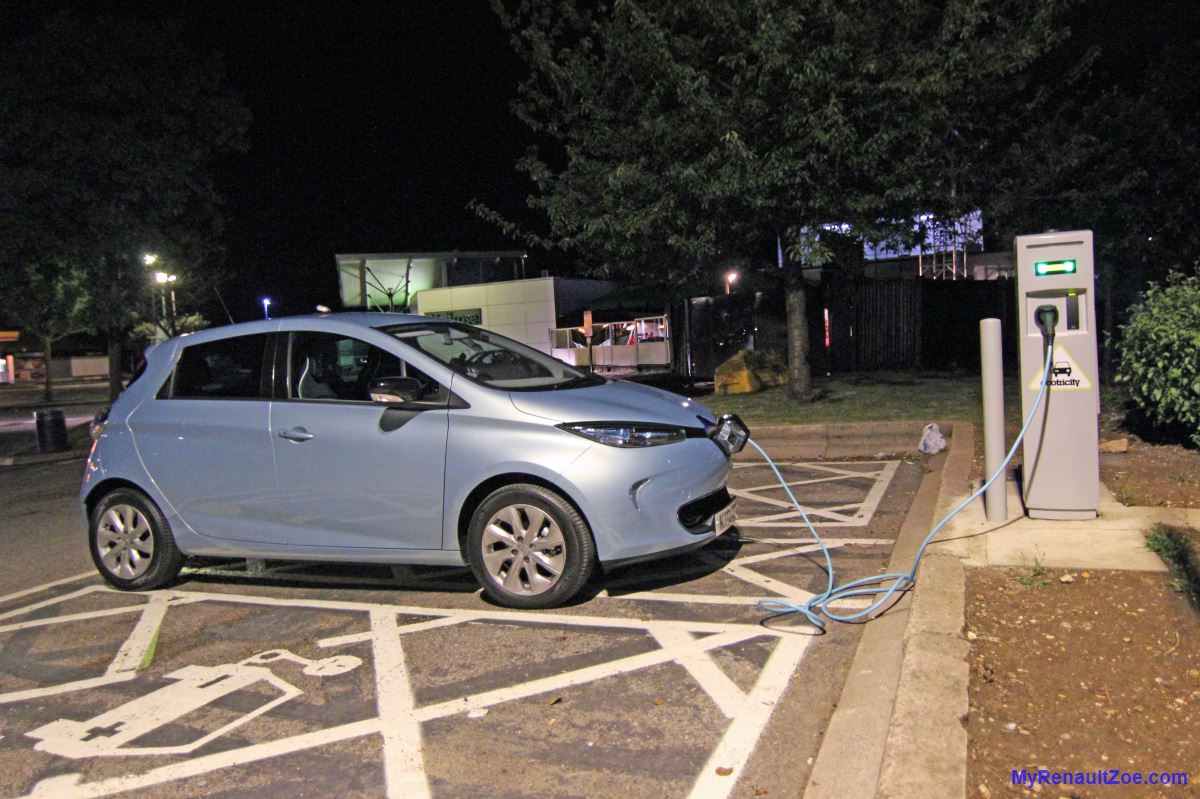 The key thing I took from this incident (apart from it had dented my confidence in public charging further) was the fantastic flexibility of the ZOE's Chameleon charging system. It had charged at 43kW in Wembley, it charged at 22Kw at Newport Pagnell, and when I got it home and plugged it into my home charge station it very happily charged at 7kW. I know of no other mass market EV that can do that. Some people complain that, unlike other EVs, you can't charge a ZOE at 3kW from a domestic socket – but I happily give up lower power charging for more options at medium and high powers.
And so ended our first day with a ZOE electric car – including two successful public charges and two failed ones, and approximately 170 miles driven. The public charging infrastructure clearly still has some way to go – but the ZOE is a fantastic EV that is a pleasure to drive.