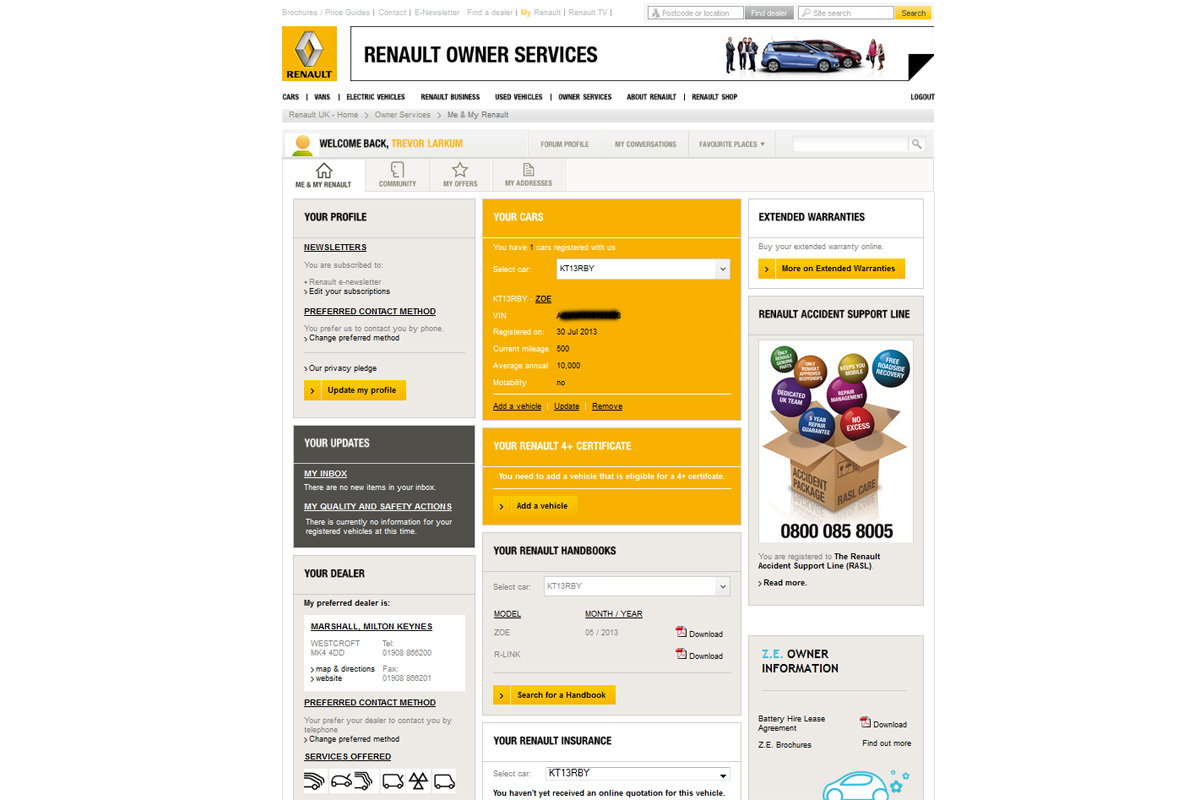 Having just returned from holiday I am now trying to catch up on various bits of 'housekeeping' that I didn't manage to do when I received my new ZOE – first among them being getting registered and/or activated on the various Renault websites. I think it's fair to say that while Renault appears to have embraced the idea of online support to owners of its vehicles, it has perhaps gone too far, with a multiplicity of different sites.
There are at least three key websites: My Renault, ZE Services and the R-Link Store. I'm not counting other ones such as the largely useless account I was given at Renault-ZE.com when I reserved the ZOE. In this post I'll cover My Renault, and I'll return to the others in later posts.
Access to My Renault is via a tab of the same name on the local Renault site; in the UK this takes you to Renault.co.uk/community (at least once registered) under the title 'Renault Owner Services'.
The main page has a default tab 'Me & My Renault' and it has a number of separate areas:

Your Profile: Subscriptions (e.g. to the Renault e-newsletter) and Preferred Contact Method (e.g. mobile phone).
Your Cars: Details of each Renault car you have registered, including its VIN, registration number, etc.
Your Updates: Information on waiting emails and safety recalls (both currently empty for me).
Your Renault 4+ Certificate: This presumably gives information on the 4 year servicing and warranty available on a new Renault, but oddly it won't let me add my ZOE here.
Your Dealer: Contact details and preferred contact method for your preferred dealer – these details are correct for me, but I don't believe I selected the dealer directly so I imagine the system has automatically entered by default the dealer that sold the vehicle.
Your Renault Handbooks: Downloadable PDF documents, the ZOE Driver's Handbook and an R-Link guide. The Handbook is the same as the printed one that came with the vehicle, but the R-Link guide is more complete and useful than the printed 'quick guide'.
My Renault – Feedback: A link to contact Customer Relations.
Your Renault Insurance: This seems to be just a means to try and get you to take a quote for insurance through Renault. For me it's blank, which is ironic since I actually have taken my ZOE insurance through Renault.
Book a Service: A button that takes you to an online form to do just what it says (though I've not yet tried it).
Extended Warranties: Again a means to try and sell an extended warranty.
Renault Accident Support Line: Includes a telephone number and other information on the RASL: "a dedicated Accident Aftercare Service with UK based Claim Handlers that will deal with your insurance claim in the event of an accident".
Z.E. Owner Information: A downloadable PDF document, the Battery Hire Lease Agreement, plus links to Z.E. brochures (covering the Twizy, ZOE, Fluence and Kangoo, as well as the Z.E. Box, Z.E. Range and 'British Gas business charging solutions').
Fancy a Test Drive: A link to an online form for booking a test drive, though that seems a bit premature if you've just signed on as a Renault owner (I guess Renault is just thinking ahead here).
There are three other tabs on the site but these are of limited use:
Community: This is a Renault forum for its vehicles, but the Electric Vehicles sub-forum is largely dead (it contains just a handful of topics created since 2009).
My Offers: Some special offers for servicing from Renault (Free Tyre Check, Air Conditioning and Renault Service/MOT) – I wouldn't expect to make much use of these while the car is still in its 4 year initial warranty period.
My Addresses: A blank page.
So that's the My Renault site in a nutshell. It is useful enough to join (particularly for things like the safety recall notices) but it doesn't appear to have anything that's essential or not available through other means.