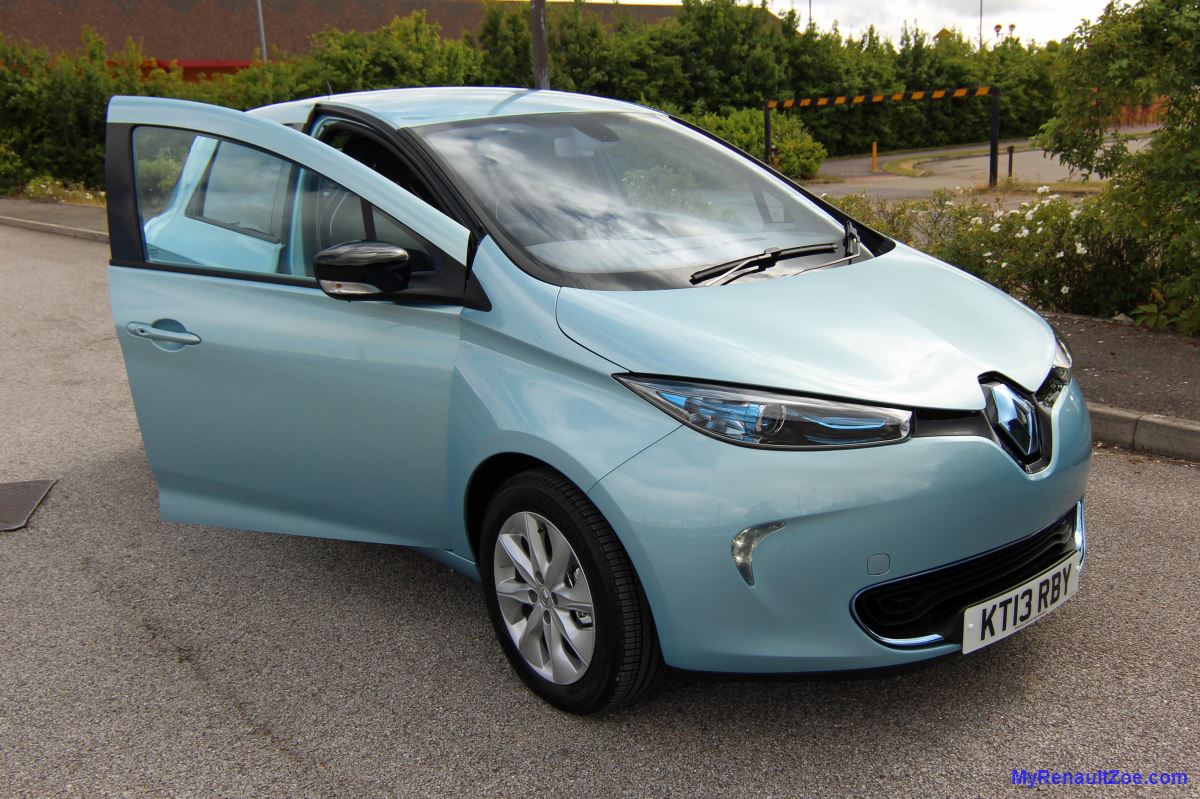 The big moment finally arrived, early in the afternoon of Tuesday 30 July 2013, when my wife and I picked up our new Renault ZOE Intens – almost exactly 15 months after I reserved it. Since the pre-delivery visit the issue of the inactive satnav had been resolved (by removing the satnav SD card, then restarting and reinserting). The SmartGuard paint and fabric protection treatment had also been completed.
After signing a stack of paperwork and receiving the owner's handbook, charging cable (with bag), complimentary 7 day insurance and SmartGuard cleaning products, we were ready to take the car. There was no tax disc – following recent changes in policy this gets sent out subsequently by the DVLA.
The handover itself was fairly brief, covering the main driver's controls and R-Link features. We also went through the process of setting up the car to charge so we would know how to do it, though in fact it was already fully charged ready for us.
We drove out of the dealership shortly after – but only travelled a few hundred metres. Our adventure began, as I'm sure many do, with a stop at McDonald's. This was partly for sustenance and partly because it was a perfect place to leave the wife's car as it is open 24 hours. Our planned journey was going to be a significant one, driving from Milton Keynes to central London, to attend a WhatCar Reader Review event as part of the launch of BMW's i3 electric car, and then back home to Northampton.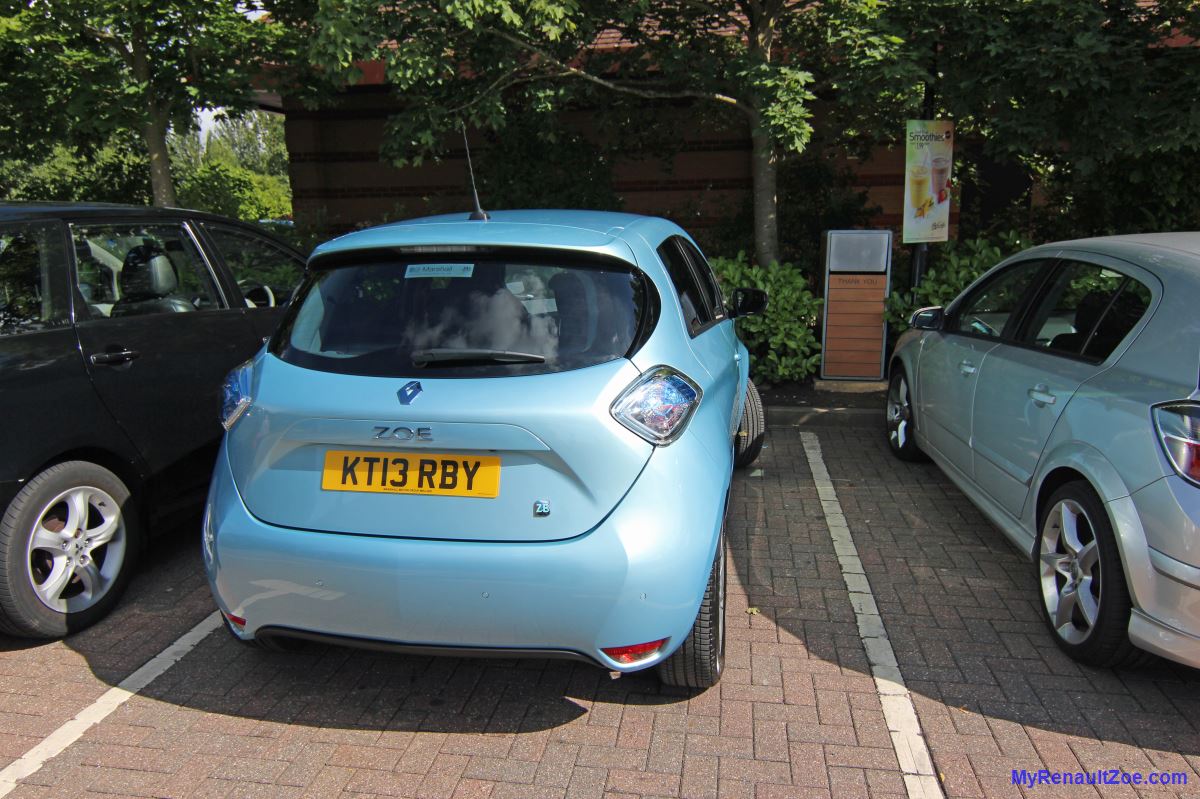 Without further ado we then headed out in the ZOE, having set Renault in Watford in the R-Link satnav as our first port of call. We drive through Milton Keynes and so began our adventure – starting with a long drive on our ZOE's first day with us, but also fulfilling a bigger dream of sustainable transport and a life beyond petrol dependency.
I had planned the trip in advance and had hoped that the organisation and preparation would pay off, with everything going smoothly – but it was not to be. The first glitch was disconcerting, though not a major issue: just as we turned onto the M1 motorway heading south to London (but too late to do anything about it) the R-Link piped up to say that there was insufficient power to reach our destination! It was clearly wrong, though, as at the same time it was stating the distance to the destination as less than the range left in the battery, so it seemed pretty confused. We acknowledged the message and ignored it – it recurred a number of times later on and we learnt to take no notice of it.
The next glitch was an hour or so later and much more serious – as we drove up the exit ramp leaving the motorway in London we were fairly violently thrown forward as the ZOE came to an emergency stop. I was taken aback, but piecing together what had been happening I think this was my fault. The details of the event are unclear but – being used to driving a car with a manual gearbox – in slowing down towards the top of the exit road I think I must have unconsciously moved the gearstick forward. This would have put it into neutral, so now I believe I've learned what ZOE does when you do that at high speed! We were a bit shaken but I can't fault the car – it slowed us down to a stop very quickly, but after I'd recovered and we started again it showed no sign of having been damaged or in any way upset by the incident.
We reached Watford Renault soon after but that's when our worst setback occurred. We had pre-arranged a recharge and they were happy to see us and help us out. After moving one of their ZOE's out of the way we were invited to park at their public charger. They then connected us up but that's as far as things went. The ZOE gave a message of 'Ongoing Checks' but never started to charge. An hour or so later we were still there, after they'd tried charging with one of their cables, and then failed to charge their own ZOE from the chargepoint. At that point we gave up and headed out again (it is not clear if that charge point had ever actually been used before, as there was apparently one inside the workshops that was usually used for their own ZOEs).
At this point we were at least an hour behind schedule and, worse, were still in need of a charge. In fact, we still had a fair bit of range available but with our first ever attempted charge having failed I was keen to get a successful one under our belt as soon as possible. I had originally arranged to use the Renault charger as we did not have any public charge point access cards – but in fact one had arrived during the day and my wife had brought it along with her. We therefore headed straight for Ikea at Wembley which has one of the new fast chargers deployed by Ecotricity as part of their Electric Highway initiative (this one had been recommended by Farblue, a member of the MyRenaultZoe forums). The access card I used was a Source London one, not an Ecotricity one, but it would be expected to be compatible with most chargers in the London area.
The Ecotricity fast chargers are huge (reminiscent of a Tardis painted cream, though not quite that big) – I suspect this is a result of them originally being designed to convert AC to DC to provide a fast charge for the Nissan LEAF. The ZOE is instead happy with a straight AC three-phase supply for fast charging, so these chargers have been upgraded with an extra Type 2 cable coming out the side.
Starting the fast charge was fairly straightforward, although the user interface on the charger is extremely unfriendly. However, we then hit another glitch – a few minutes in it stopped, and wouldn't restart. I don't know the cause, though it happened as I went to get my camera from the car. I would guess that the charge was either disrupted by unlocking the doors or, perhaps more likely, I had inadvertently knocked a button on the remote. Charging would not then simply restart by restarting the charging session. After a number of attempts I eventually got it charging again following the method suggested by experience with personal computers – disconnect everything, turn off and back on again (including locking the car doors and walking away) and then retrying from scratch.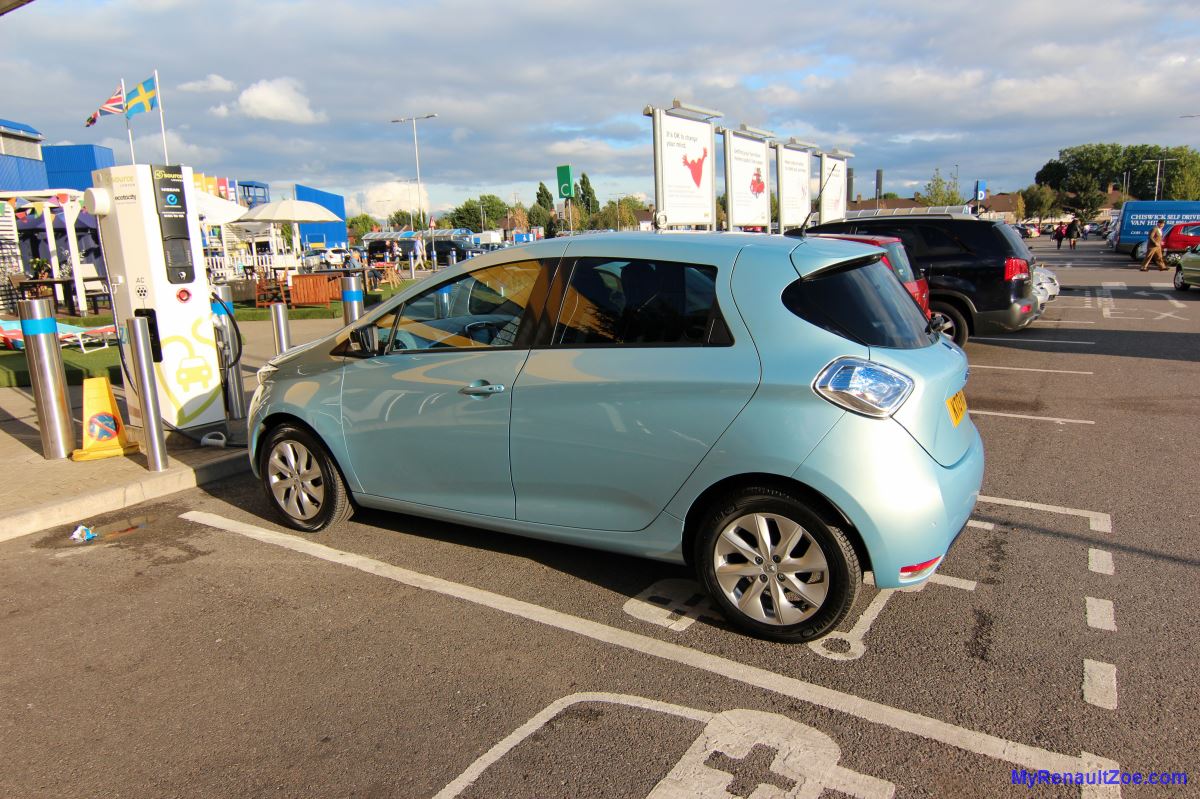 Once charging had restarted I locked the doors and gingerly stepped away hoping to avoid disrupting it again. It was very obviously charging now though – not only was the charging percentage on the dashboard going up fast (by about 1-2% per minute), I was quite taken aback by how obvious and electrical the process was. It was loud, though not uncomfortably so, and it had that high pitched whine and sense of electrical power that you get close to a transmission pylon. A lot of energy was clearly being transmitted across a short distance. You don't need any other feedback; you really know when a fast charge is happening even from some distance away.
We had a brief look around Ikea then headed for the restaurant. After a restorative meal of Swedish meatballs, and salmon lasagne, we returned to the ZOE. There we were greeted by a very encouraging "99%" showing on the dashboard, and we had only been gone about half an hour. In fact I sat and watched it for a few minutes but it didn't change. I don't know if it would have if I'd waited, or if the display only goes to 99%.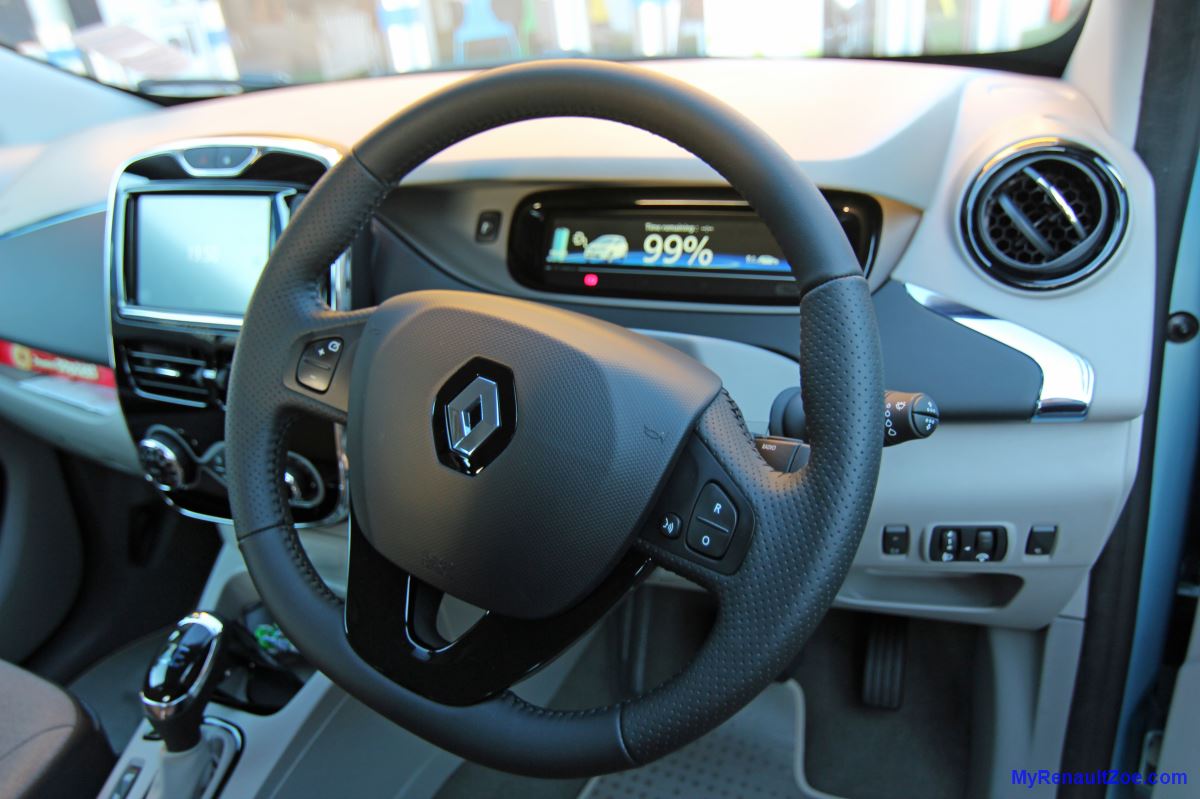 Feeling much happier – but now about 3 hours behind schedule – we headed south again towards the WhatCar i3 event. This part of the journey was uneventful, apart from the usual stress of driving through London that I had forgotten about – busy but slow traffic, regular sirens and emergency vehicles, narrow and irregular streets with poor parking, and so on. Fortunately we reached the event before it closed and I will cover it, and our return journey, in later posts.
In summary, we had poor experiences of trying to use public charging points, and not in the way I had anticipated. However, the ZOE was a pleasure to drive and, despite a couple of minor glitches, performed well throughout. In the flesh it really is the game changer that I believed it to be, particularly in terms of range, charging capability and looks. And on our first day I found it to be just as quiet, smooth, lively and comfortable as I had hoped.
And all without burning any petrol, or paying a penny for fuel. A new day really had dawned for us.