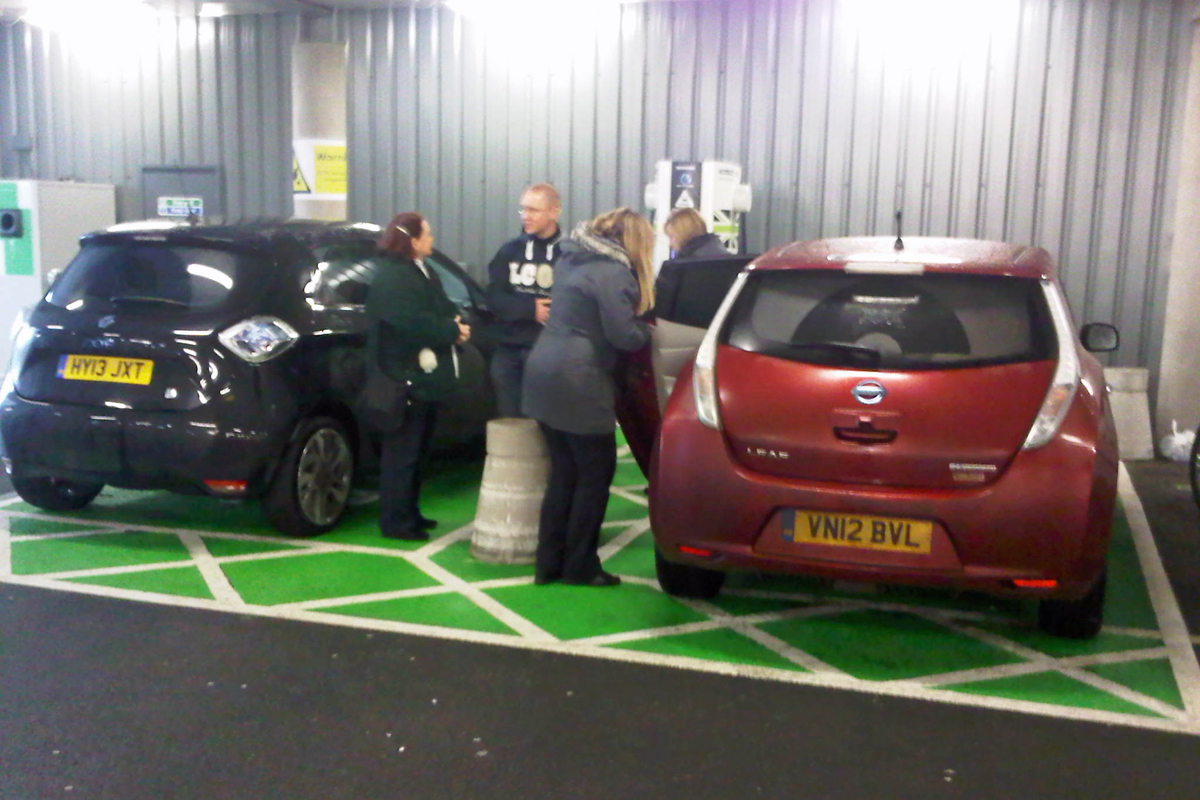 Our misadventures with the public charging infrastructure (see here, here and here) continued yesterday. On Friday I drove from Northampton to work in Milton Keynes as usual. Then returned home to get ready for our office Christmas party (with a brief charge while doing so) then headed back south to Woburn. The party was great, we stayed the night in a hotel, then headed out as we needed to charge. Things seemed to start well, as we passed another ZOE as we drove through Woburn – the first time I have seen another one 'in the wild' – so naturally I flashed my lights and waved.
As always when using public charging, given my previous experiences of its unreliability, I had a standard 3 point plan (all using Ecotricity chargers):
1. The main plan was to use the new fast charger at IKEA in Bletchley.
2. If that failed, we would use the fast charger at Newport Pagnell Services, northbound.
3. If that failed, we would use one of the two medium-fast chargers at the Services.
We had a bit of a problem finding the charger at IKEA as it was in the car park under the store, the first time I have seen a fast charger under cover (though I'm not complaining!). But that's when the problems started. Firstly, there was a ZOE there already charging – my second wild ZOE ever, so an unprecedented day for ZOE spotting. It was, however, nearly finished charging. Secondly, though, there was a Nissan LEAF queuing up to take its turn. We were surprised and disappointed to learn that although the fast charger had separate outlets for AC (ZOE) and DC (LEAF) charging only one can be used at a time.
After a friendly chat with the vehicle owners we headed for Newport Pagnell. We arrived there with just eight miles of range left, with the range indicator alarming. There I went through the usual process of charge card identification and plugged in the fast charger. Almost immediately my heart sank as both car and charger reported errors. The charger specifically said that it had some sort of overload fault in the AC side so it seemed clear that there was no point in trying it further.
Next I tried the medium-fast chargers. To cut a long story short, the first one wouldn't recognise any of the charge point cards in my collection. The second would recognise them fine and agree to charge, only for the charge to stop almost immediately, no matter how many times I tried.
After much time wasting and repeated attempts I called Renault ZE Services for help. They couldn't suggest any options except recovery, so that was arranged, with a truck organised to pick up the ZOE an hour later. We then retired to the services café for a cup of tea to pass the time. While drinking the tea I had the thought of ringing Ecotricity to see if they could remotely turn on the medium charger that wasn't recognising my cards. It turns out they couldn't, but I was given some very promising advice – ask permission from the services duty manager to drive across the access road to the southbound services and use the chargers there.
That I did immediately – and ten minutes later the ZOE was fast charging. As soon as I confirmed it had enough charge to get home I left it charging but called Renault to cancel the recovery. Once the ZOE had charged a little more (for contingency) I returned to the northbound services (my tea having gone cold in the meantime) to find the recovery vehicle waiting for me. I talked to the driver and he was fine about it – he had got the call to cancel (and clearly he had arrived much sooner than estimated anyway).
Then we drove home and everything was fine. However, the attempts at charging had been a very unpleasant experience – we really thought that we had been stranded at the services. The only benefit being that in future if I need to charge at Newport Pagnell, having learned the process of swapping carriageways, I can hope to have up to six chargers to choose from rather than three (so at least one of the six should be working, I would like to think).
So, do I have any new conclusions on public charging based on our latest experience? Not really, it seems to fall into a consistent pattern:
public charging is hugely unreliable, but ZOE has still not let us down