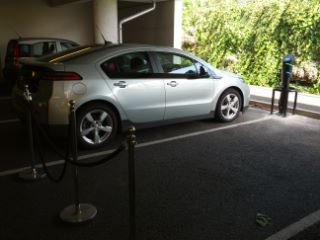 At the risk of these posts becoming repetitive, I have another tale of woe to relate. As twice before we took the ZOE from Northampton to Oxford to visit family, this time on Christmas Day. Previously I had popped out during the visit to use the fast charger at Peartree, but this time it was not to be.
On arriving at Peartree early in the evening it was obvious that the charger wasn't operating as the screen was dark. I rang the Ecotricity support number only to hear that support is provided 24×7 every day of the year – except Christmas Day! I went into the services cafe and got on the free WiFi to look for other charge points. Unfortunately the area is not well catered for, and the closest fast charger was at Cherwell services on the M40, so I headed off there, keeping my speed below 50 to conserve range.
Arriving at Cherwell I found the charger easily and it was illuminated which seemed encouraging. I plugged in and started charging – but almost immediately the charging stopped, the charger turned itself off and the screen went dark. Again I went into the cafe to plan my next move. Unfortunately my range was now down to about 8 miles (and the WiFi cost £4).
I used zap-map.com to look for nearby chargers – at this point any chargers at all, not just fast ones, so long as they were within my very limited remaining range. It indicated two at Bicester, one at a Little Chef and one slightly further away at Bicester Village retail park. So I headed to the postcode given for the Little Chef with my speed limited to 15 mph, and my hazard lights on.
I found no Little Chef at the postcode given, nor one at the location given for it in the ZOE's TomTom satnav, so I had to conclude it was an error and/or the Little Chef had gone. I now had just a few remaining miles of charge left so headed for Bicester Village at about 12mph. I found it easily enough but of course the site was closed for the night. At this point I had just 2 miles of range left, so I had no options.
Undaunted I parked up and explored through the site on foot, first past cones in the road and then further on past a barrier into a low multi-storey car park. There in the far corner I found a pair of slow charge points. I tested one with a charge point card and it was active, so I went looking for security staff. I quickly found a security guard and a charge was agreed by walkie-talkie – I walked back to get the car while he got the key to open the barrier.
The charging process went fine once connected, and then I was invited to have a tea in the management office reception. To cut a long story short, given it was a slow charger, I sat there for most of 3 hours. After that I was given a lift back to the car and minutes later I was heading back out with a nearly full charge, and very grateful to the Bicester Village staff for their help. After picking up the family we headed home and arrived without further incident.
This experience pretty much confirmed my conclusions from last time – the ZOE's flexibility in charging is hugely useful, while the dependability of the public charging infrastructure is rubbish. It has, however, changed my mind about the ZOE having a domestic charge cable and I can now see how sometimes it could be invaluable.