I have shown previously that the ZOE is cheaper to buy than the equivalent fossil fuel car, the petrol or diesel Clio (the Dynamique S Medianav TCE 90 and DCI 90 models respectively). Here I want to consider how they compare in running costs – this essentially means fuelling costs since both the ZOE and Clio, bought new, come with the Renault 4+ Package which covers warranty, servicing and roadside cover. Also, all three models are car tax band A (no cost).
The comparison therefore comes down to the liquid fuel costs for the Clio (petrol or diesel) versus the battery rental and electricity costs for the ZOE. The liquid fuel costs depend on the fuel consumption figures that the Clio models achieve. It is well known that they will not achieve the official NEDC ratings and it is better to use real world figures. Using a combination of figures for the petrol and diesel versions from the websites What Car (60mpg for diesel), Honest John (47.8 for petrol/64.8 for diesel) and SpiritMonitor.de (42 for petrol, 61.7 for diesel) – the last two sites as recommended by the AA – we get averaged figures of 45mpg for the petrol Clio and 62mpg for the diesel Clio. The average price of petrol and diesel in the UK this year has been £1.35 and £1.41 per litre (i.e. £6.14 per gallon and £6.41 per gallon) respectively so the fuel running costs for a Clio are approximately 13.5p/mile and 10.5p/mile for the petrol and diesel versions respectively.
For comparison let's consider the fuel running costs for the ZOE, with my typical range of 80 miles per charge. A full charge is 22kWh and my electricity costs are 15.76p/kWh during the day and 6.57p/kWh at night ('Economy 7'). So the cost for a 'full tank' is about £3.50 (day) or £1.50 (night), giving fuel running costs for a ZOE of approximately 4.5p/mile (day charging) or 2p/mile (night charging). For a summary, see Table 1.
| | Clio TCE 90 Petrol | Clio DCI 90 Diesel | ZOE (day charging) | ZOE (night charging) |
| --- | --- | --- | --- | --- |
| Fuel cost/mile | 13.5 | 10.5 | 4.5 | 2 |
Table 1: Fuel running costs - Clio vs ZOE
While these electricity costs are representative running costs for most electric cars, they are not for the ZOE since it has an additional monthly battery lease cost. This depends on the car's annual mileage so the ZOE's total running costs vary, and depend on the distance travelled in the year. For battery lease costs see Table 2 (source: Renault.co.uk) and note that excess mileage is charged at 4.5p/mile.

| Annual Mileage | 36M+ Contract | 24 Months | 12 Months |
| --- | --- | --- | --- |
| Up to 7,500 | £70 | £80 | £90 |
| 9,000 | £77 | £87 | £97 |
| 10,500 | £85 | £95 | £105 |
| 12,000 | £93 | £103 | £113 |
| 15,000 | £109 | £119 | £129 |
| 18,000 | £129 | £139 | £149 |
| 21,000 | £149 | £159 | £169 |
Table 2: ZOE battery hire costs
Therefore to compare with the Clio we need to consider different scenarios, from low annual mileages to high annual mileages – and given none of the monthly battery lease costs are particularly low we can expect that for low mileages the Clio will win out (since its fuel costs for low mileages will be correspondingly small). The comparison therefore becomes an interesting and very specific one – are there specific mileages above which the ZOE is cheaper than the petrol and/or diesel versions of the Clio?
To do this comparison fairly we must consider the limited range of the ZOE on a single charge even though, because of fuel costs, the ZOE would be expected to be cheaper to run at high annual mileages. For a driver who regularly goes on long journeys the need to recharge about every 80 miles may make it impractical despite the significant cost savings. Therefore it is more useful to consider typical daily commuting distances rather than just total annual mileage.
Specifically, it can reasonably be assumed that no-one wants to charge during their daily commute so, allowing for some range contingency, we can deduce that the maximum practical daily commuting distance is 75 miles round-trip, or 75 miles each way (150 miles round-trip) if charging is available at work.
The comparison therefore comes down to determining the monthly costs for each vehicle at commuting distances of up to 150 miles per day. These results are shown in Table 3 for the ZOE, diesel Clio and petrol Clio (on the basis of 22 working days per month and the per mile costs detailed above).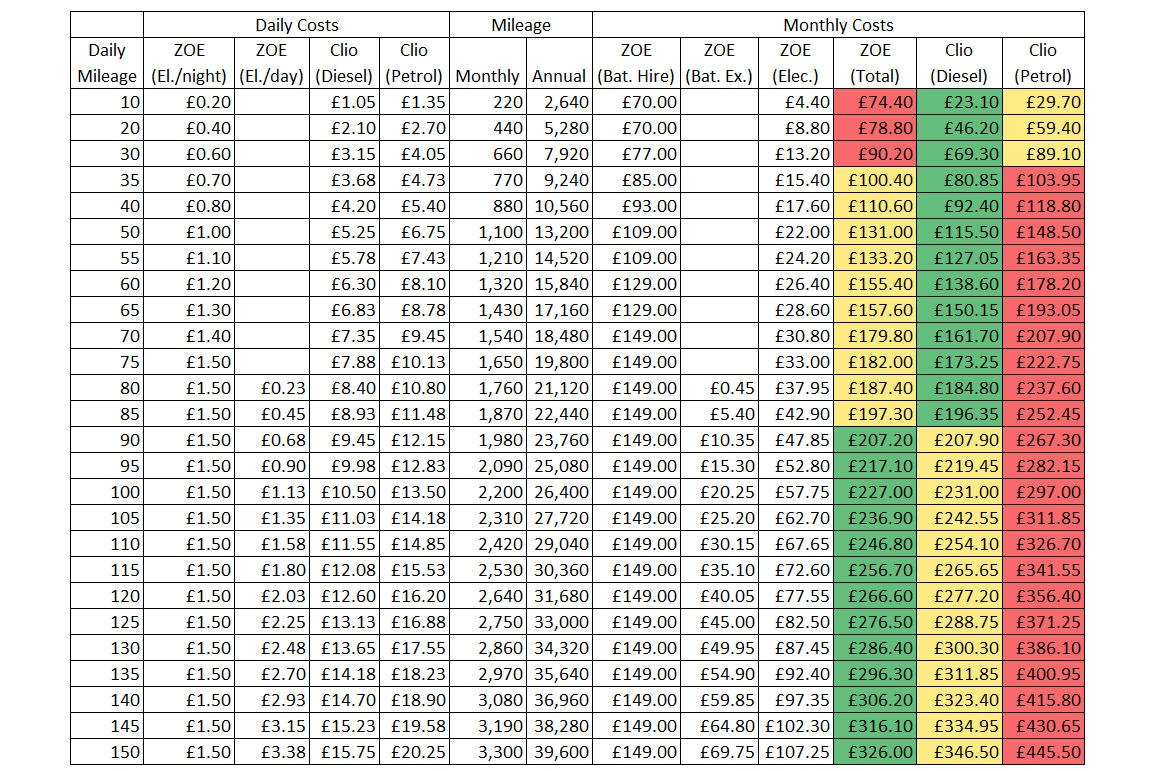 From these results we can extract some conclusions:
As expected, at very low mileages (less than 35 miles per day) a fossil fuel Clio is cheaper to run than a ZOE.
At mileages from 35 to 85 miles per day a petrol Clio is the most expensive to run, with diesel the cheapest and a ZOE in between.
At mileages above 90 miles per day the ZOE is cheaper than either a petrol or diesel Clio.
It is worth noting that the running costs of the diesel Clio and the ZOE are generally very similar so, given the sensitivity of the underlying data to variations in fuel prices, it is probably best to say that the running costs of the diesel Clio and the ZOE are about the same for most mileages, and they are both substantially less than a petrol Clio.
Personally I would summarise as follows:
The ZOE is cheaper to buy than an equivalent fossil fuel car and for the majority of commuters it is cheaper to run than an equivalent petrol car. Compared to an equivalent diesel car it is quieter, smoother, less smelly, and less polluting but costs about the same to run.