I have the pleasure to introduce the first of a series of ZOE video diaries by Alloam, a new contributor.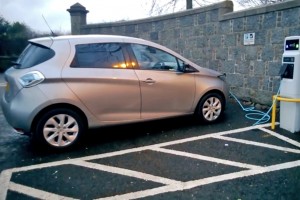 Five days after picking up our new, and first, electric car – a Renault ZOE – I undertake our first longish journey. It's from Aberdeen to Dundee, Scotland, and back using a Rapid Charger for the first time. This was an experiment for me, trying to get a handle on the usable range on a rather cold day, in order to understand how easy it will be to drive up and down to Glasgow to see family and friends.
The distance between the two is around 67 miles. I got there with 14 miles still on the 'range-o-meter'. Temperatures were no higher than 3ºC, and mostly around 1ºC on the way down. On the way back I drove faster and arrived back in Aberdeen with 9 miles remaining. Due to the weather, lights and wipers were used for most of the journey.
This is my video diary of the journey, primarily aimed at folks who may be interested in EV ownership. I confess I loved watching other people's videos of living with an EV while awaiting the arrival of ours.