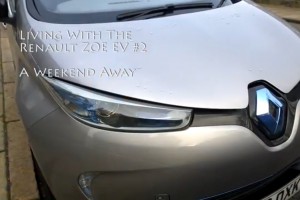 Here is the second of my video blogs on ZOE life (part 1 is here). Two weeks after taking delivery of our new Renault ZOE electric car, which is proving a joy around town for all our daily short journeys, it had a big test as it was Burns' Supper season. Last weekend I drove from Aberdeen to the Glasgow area and back, a total distance of 348 miles, all using public charging.
The executive summary is that the journey was easily enough done, and far, far cheaper than my previous car, but it took at least twice the time, perhaps nearer three times the time. My total driving time was around 9 hours over the weekend, but the amount of time spent "travelling" was considerably longer.
ZOE and I used a variety of chargers, recharging some seven times (not including my charges before I left and on return), using CYC, Ecotricity, Chargemaster and a Renault dealer charger. I found huge variety in charging rate, raising lots of questions about how the charger works, what the battery chemistry is doing, what limits the chargers impose and what the car imposes on the rates.
I used two CYC rapid chargers, and found that the charge rate was far below expectations, around 18kW/h maximum as I have mentioned elsewhere. The Chargemaster 22kW charger at the Renault dealer was noticeably faster, clearly running at its capacity rate. Fastest of all was the Ecotricity charger which must have been offering 43kW or thereabouts (giving a 3% to 100% recharge in an hour).
But I also noticed oddities. At the very same Ecotricity charger the following day I recharged from around 50% to 100% and it took about one hour twenty minutes. Make sense of that one.
I am also concerned about what CYC are doing as it seems as though their rapid chargers are very constrained, and I wonder if this is indeed because of compatibility issues that others have reported. When you are relying on the CYC rapid chargers, the difference between 18kW/h and 43kW/h charging makes a huge difference to time expended on the journey. I think if every charger I had stopped at had provided full rapid AC rates then I could have saved two hours of travelling time. That would be really nice.
The car is going back to the dealer next week to have them check the charging in case there does seem to be a glitch with the car. They are also going to fix the R-Link mapping issue I am having, and they will fit the DAB radio add-on.