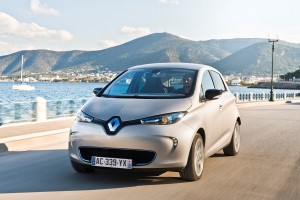 Electric cars are starting to get more and more people talking as more models join the market, including recent additions from BMW and Volkswagen. That's the view of Renault's product manager for EVs, Ben Fletcher.
"We still have a job to do educating people but the perception is definitely changing,"
he told news agency, Headlineauto.co.uk.
And he should know since he is currently travelling around the UK in an all-electric ZOE as part of Renault UK's current media road show. When stopping to refuel the electric supermini, he reports that he has often spent much longer than he needs because of the interest from passers-by who stop to quiz him about the car.
Fletcher says one of the surprising benefits of driving an electric is the usefulness of planning a journey which includes a charging break.
"I used to rush to try to get back to the office to deal with emails. Now I stop on my way to answer emails and do other work while the ZOE recharges."
It is, he says, a more efficient way of working since it is more timely.
"Recharging time is useful time, not dead time."
There is another trend. In the same way that other companies have noticed that the office talk is moving towards improving fuel consumption figures on the daily commute rather than how quick the journey was, EV drivers try to beat their personal best efficiency.
This competitiveness extends to fleet drivers, says Fletcher.
Fruit 4 London, a fresh fruit delivery company, uses Renault's Kangoo EVs and its drivers compete to get the best range from their vehicles.
With a ZOE Dynamique now available from £189 a month – the same as a diesel Clio (but with a battery lease of around £70 a month) – Fletcher believes that EVs will now attract much more interest.
"They are quiet, clean and convenient and most users only have to charge them at home once every three days,"
he says, something that is far more convenient than going to a filling station.
Source: Headlineauto.co.uk via TheGreenCarWebsite