Part 1 is here

Part 2: Testing the ZOE and the competition
The first car I wanted to try was, of course, the ZOE. I contacted my local Renault dealer because I had seen they had a Twizy and a Kangoo ZE. So I figured they could sort me out with a ZOE as well. And they told me they could. But the day before the test drive, they called me with some news: they didn't have a ZOE themselves, and were to get one from another dealer 34km away. But they didn't have the right charging infrastructure. Which meant that between getting the car and driving it back, that would leave very little range for me to actually drive it. So I was told to go to that other dealer to drive it. That was quite alright for me, and the other dealer was very helpful even though there was very little chance they would get to sell me the car themselves. The car they gave me was about 90% full, so it was enough for me to do the trip I had planned. It was also the car that was used as the daily commuter car for the dealer himself. He told me he enjoyed driving it a lot. It was a black Intens with the 17″ wheels (which are less efficient).
During my 70km test drive, I tried everything I wanted to try: highway speeds (even trying the top speed), countryside and city driving. I also took some time to check out the options of the multimedia system. I was taken by the fast acceleration and very quiet and smooth drive. On the way back I missed an exit on the highway which meant I had to go to the next one and drive back, which turned out to be quite a distance. The result was that I had less range left to get back than I had planned, and I did get my first experience of range anxiety. Which was totally unnecessary, as I returned with about 24km of range left. Plenty actually, but being used to fuel up when my C2 has about 100km of fuel left, that does take some getting used to.
The car was as good as I had hoped, and I decided that this was certainly on the list of possible cars to get. But I needed references.

So I planned on driving the Leaf, Smart ED, iMIEV (or a clone), i3 and Focus Electric (both of which weren't available yet).
I won't go into details about all of those test drives, but I will point out a few things.
Leaf (Tekna)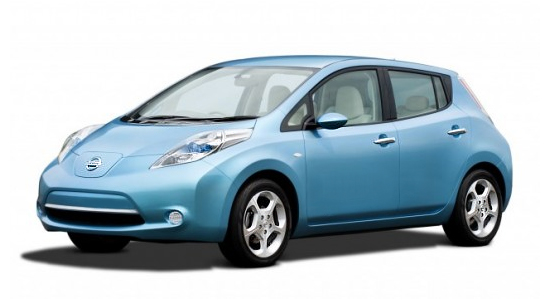 The Leaf test drive was a very similar experience to the ZOE, except that this dealer actually had the car available himself (again, as his own car) and he was very helpful taking plenty of time to answer all our questions.
As for the car itself, I found it to be a very solid offering with some benefits over the ZOE:
The back seat is in two parts, unlike the one in the ZOE which is in one piece. Having two separate pieces comes in handy when you have 3 people in the car and need a lot of space for luggage.
They offer a better sound system as an option. As someone who is passionate about music, that is of great interest to me although the base sound system in the ZOE I drove was pretty decent.
It's probably a bit faster 0-60, but not by much.
If offers 2 different regen options. I enjoyed switching to the B mode to get extra regen without using the brake. I wish the ZOE had this option.
You get a choice between buying or renting the battery. I'm not sure if I would buy the battery if I had the option, but I like having a choice.
The car comes with a regular power-outlet-capable cable. The ZOE is said to get this soon as well, but having one available now is a plus. I don't think I'll need such a cable often, but I know I'll encounter situations where I'll be glad to have it.
The car also has some downsides compared to the ZOE:
It is bigger. Now for most people this might be a plus, but I don't need the extra space and I prefer driving smaller cars.
The boot is smaller, surprisingly. For me boot space is more important than back row space.
It is not as quiet as the ZOE. Not that it's loud, but there is slightly more motor whine and even some more wind noise I think.
It uses CHAdeMO, as the charging plug, which, if you believe some, is going to go away in Europe. Having the Mennekes on the ZOE should be an advantage if that happens.
It's slightly more expensive than the ZOE if you take comparable trim and options.
Smart ED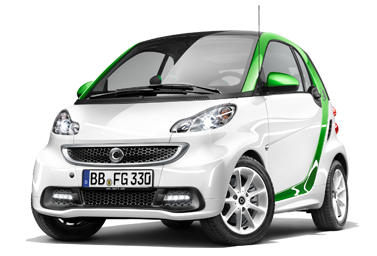 I've contacted Smart twice to get a test drive, I haven't heard from them. Since the car is smaller than what I'm looking for, I have given up.
iMIEV – C-Zero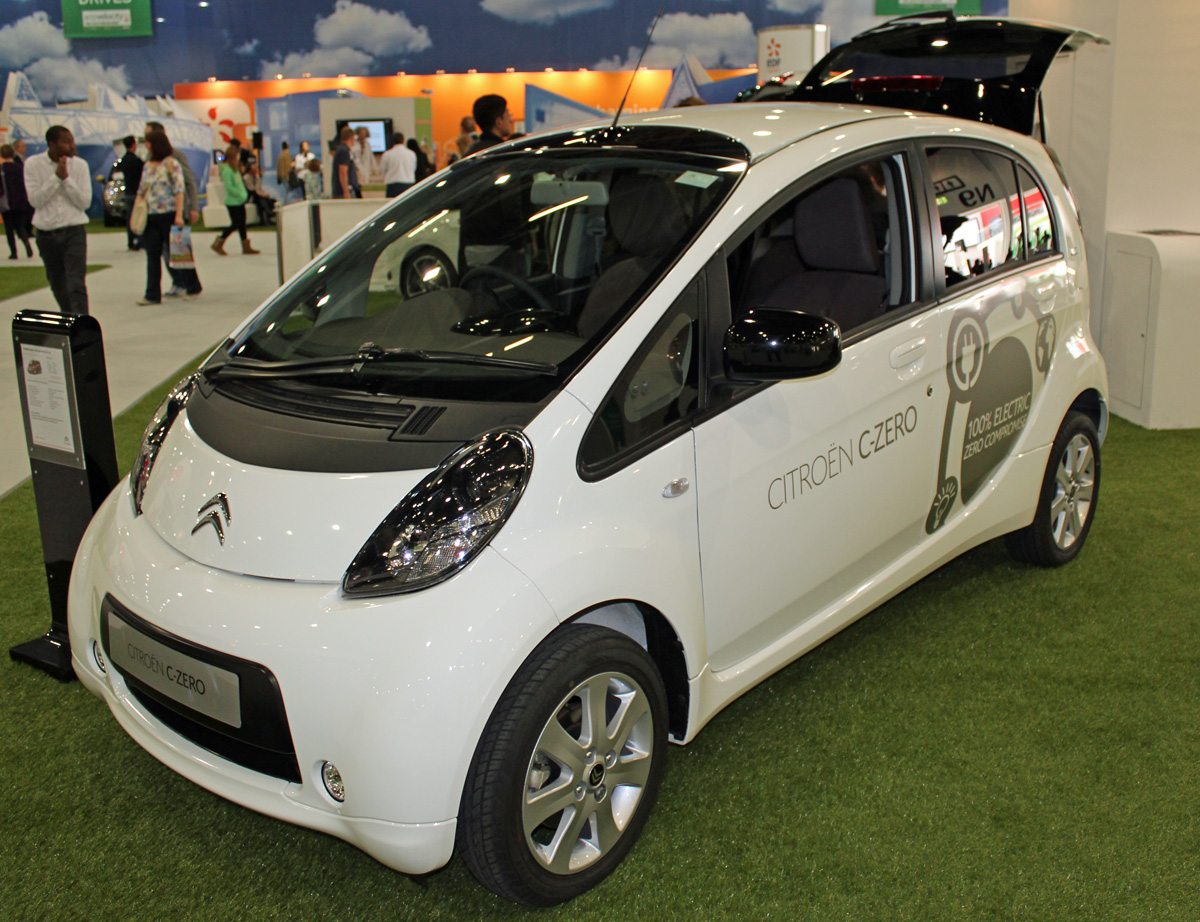 I didn't actually drive the iMIEV, I got to drive the C-Zero, which is a rebadged version by Citroen. I got the car as a replacement car for two days while my C2 was undergoing maintenance. I even had to recharge it myself, which is not something you usually get to do with test drives. But this wasn't officially a test drive of course.
Benefits:
It's small on the outside but big on the inside.
Downsides:
It's not a great looking car.
It's a bare bones EV. It's not horrible, but some of the options I like to have are simply not available on this car, such as heated seats, a nice sound system or a heat exchanger for added efficiency.
Acceleration is fine if you floor it completely, but the ZOE is definitely nippier.
It used the CHAdeMO standard for fast charging (the car I drove didn't have the fast charge port).
The range is significantly less with a much smaller battery than the ZOE.
It's actually not that much cheaper than the Leaf.
Focus Electric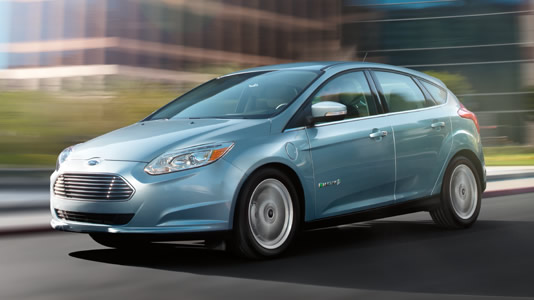 This car is supposedly available since September 2013. So I contacted a big Ford dealer not too far away. He told me he couldn't help me since there are only 3 dealerships in Belgium which are certified to sell (and service – I guess) the car. Not very practical for the buyers of the car if they have to drive cross country to get their car taken care of. He also couldn't tell me which dealers would be able to sell the car, but he would get back to me. He didn't. But I was put off by the list price of the car and the fact that it couldn't be serviced in many places. And the reviews I read about the small boot space and the 'Stop safely now' issue didn't help. And again, this car is bigger than what I was looking for, so I decided to not pursue the test drive further.
i3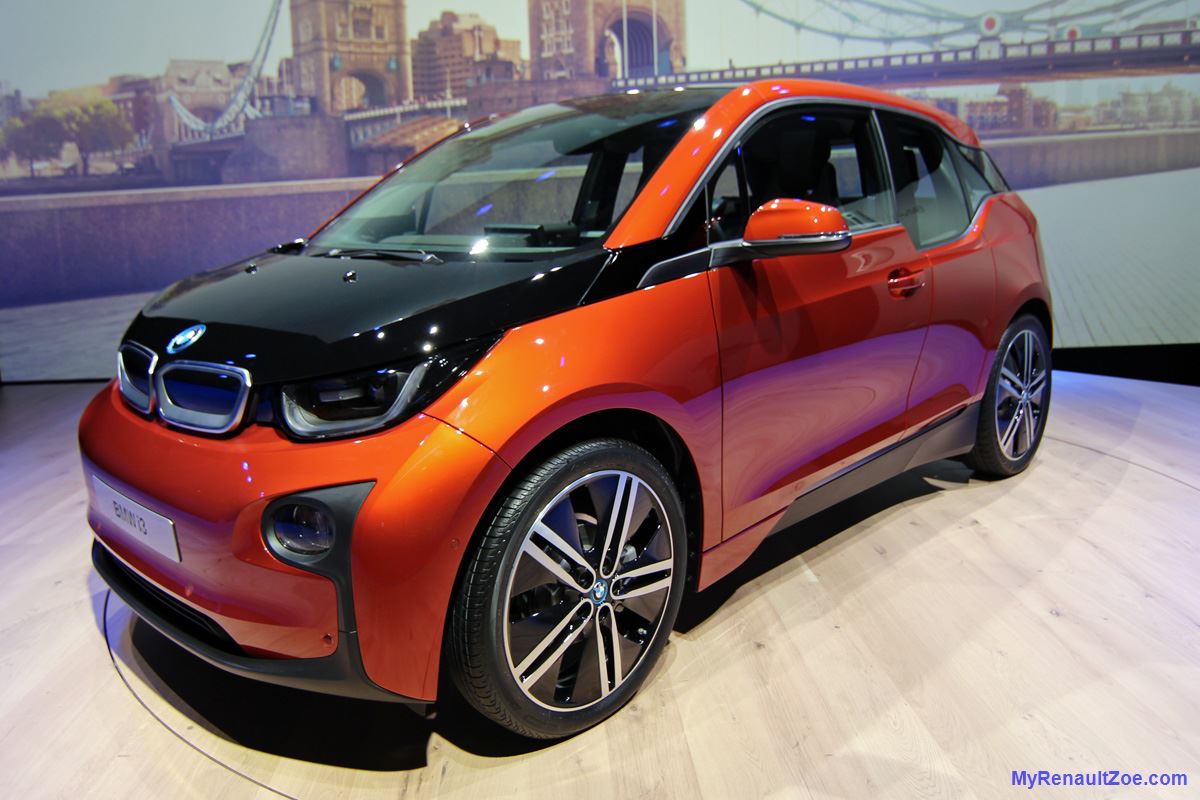 I had subscribed to a newsletter which would inform me when i3 test drives would become available in Belgium. When they did, I chose the closest dealer and made arrangements for a test drive.
Stepping into the dealer, I kind of got looked down upon by most of the staff. They clearly were thinking 'What is this guy doing in our posh dealership'. I didn't care and went over to the 2 i3s on display and checked them out before the guy I had the appointment with came over to be of service. After some chatting, we went to the test car outside. I went to the passenger seat to get the explanation of how to operate the car. After the explanation, the guy drove off with me still in the passenger seat. Turns out the car belonged to BMW, not the dealer, and he was not allowed to let people have a go at it all by themselves. I did get to drive it after a few kilometers though, but only on a set route which took about 20 minutes. Not the best way to get to test a car.
Benefits:
I like the quirky look.
I like the way they went at the interior.
The acceleration is great fun.
It handles great.
It has a two piece back row which folds flat nicely.
It has both Mennekes and combo plug capabilities (although the combo is an option you have to pay extra for).
It has great regen on the accelerator. And it doesn't have creep. You can come to a dead stop by simply lifting off the accelerator. I tried it, and it became natural very fast. I loved it!
Downsides:
It has a small boot. It certainly puts cabin space before boot space. And I prefer it the other way around.
The base price is that of a BMW. And the base model doesn't have too many extras.
Everything you need is optional. Cruise control is part of a €2500 package. The heat exchanger is optional. Heated seats are optional. Full GPS capability is optional. Fast charger is optional. Having more than 2 shitty speakers is optional. Adding only the bare minimum of what I deem necessary, takes the price of the car up to €42.000.
Coming to a conclusion
I liked all the EVs I had driven. I just enjoy driving electric. I hated getting back in my diesel after every drive. It just feels so outdated.
The Leaf is a fine car. In fact, it is really similar to the ZOE in driving experience. But it is bigger than I want, so the ZOE wins.
The C-Zero is a fine car if you're looking for a no-frills EV. I'm sure it's a great car to have available as a second car. I'm looking for a bit more as the car I'm looking for will be my only car. The ZOE wins. I'm actually a bit sad this is the only electric car offering from Citroen. I must say I couldn't have been happier about the C2. It was the right size, very reliable and my average fuel consumption was 4.4l/100km, not far from the 4.3l/100km stated on the manual. If Citroen had offered something of a similar size with specs similar to the ZOE, an all electric DS3 for instance, it would have been at the top of my list. Alas.
The i3 is a great car. The main benefit is the great acceleration. I can't get myself to pay €10.000 more (compared to the Leaf with battery, the Leaf without battery is priced similar to the ZOE) for getting a car that accelerates faster. It's fun, but the acceleration on the ZOE is already more than I need. So again the ZOE wins.
What I don't like about the ZOE
So I decided to get the ZOE. It's the best size, it has slightly more range than the Leaf and i3 (according to the overly optimistic NEDC test) and it has most of the options I would like in a car. But it's far from perfect.
I would have preferred to have a 3 door hatchback instead of a 5 door hatchback. I rarely carry people in the back and find longer front doors more convenient.
I really prefer having a back row that folds in two pieces.
The regen on the accelerator is really light. I'm sure I'll get used to it, but I would have preferred the option for a B mode.
It has creep when you lift off of the brake. That is handy in start-stop traffic, but I really liked the possibility to come to a dead stop by lifting off the accelerator that the i3 offers.
There is no option for a 6.1 or even 4.1 sound system. I have found in my C2, that came with a small woofer under the back seat, that having a small separate woofer spreads out the music in the cabin better. In the ZOE the music really sounds like it comes from the front of the car. It sounds quite good, but it doesn't fill the cabin as much.
The touch screen really needs you to press quite firmly to register anything. It's not as easy to use as say an iPad where touching something feels really intuitive. I find that a problem because using the screen will ask more of the attention of the user which means that you should probably stop by the side to use it, so as not to get too distracted.
The really nice looking 17″ wheels don't have the efficient tires, making them a no-go in my book.
There is – as of this writing – no domestic plug charging cable available that uses a regular plug. It's been announced and should be available shortly, but until it is, that is a big downside. Having the option to charge anywhere – albeit slowly – is very reassuring.
Stay tuned for part 3 in the series where I detail my experiences with buying the ZOE