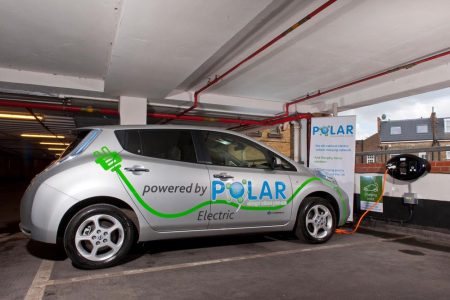 From TransportEvolved.com:
As it promised a few weeks back, UK firm Chargemaster has just quietly unveiled details of how much it will charge electric vehicle owners to use its Polar EV charging network from April 1.  With two different monthly tariffs plus a more expensive Pay-As-You-Go option, Chargemaster says existing Polar customers — who currently pay £10 per year for unlimited charging and whose memberships will automatically expire on March 31 — will have to choose to let their membership expire or to sign up for one of the new services.
With charges for a Type 2 public charging station costing up to £2.50 per hour, and rapid charging costing £8.50 for half an hour however, many EV owners are already fearful that the fees outlined by Chargemaster are too expensive, too soon.

Here at Transport Evolved, we've spent some time drilling down to figure out exactly what's included in each tariff, as well as what we think it will mean for current and future EV drivers.
Polar Economy Plus
Chargemaster says the Economy Plus tariff will cost drivers £12 per month if paid by direct debit, and include twenty 'charging credits' which can be used on the network over the course of each month.
An hour of charging at a Polar Network 13 amp (UK domestic outlet) point will cost one credit. That's a theoretical power draw of just under 3 kilowatts per hour, but since most production electric cars we know restrict 13-amp charging to 10 amps, that's nearer to 2.3 kilowatts, or between 5 and 10 miles per hour.
An hour of charging at a Polar Network type 2 (7 pin Mennekes) point will cost two credits. Because the Type 2 charging standard does cover a range of power levels, that could equate to a power level of anywhere from 3.3 kilowatts or 7 kilowatts single phase all the way up to 22 kilowatts three phase. In our experience however, most Polar points are either 3.3 kilowatts or 7 kilowatts, translating to a usable range increase of between 10 and 20 miles per hour, depending on the car you have.
A half hour of charging at a Rapid DC or rapid AC unit will cost ten credits. On many EVs, this will be enough to theoretically charge from empty to 80 percent full, but in our experience 30 minutes will normally charge from 20 percent to 80 percent full in that time. A fully depleted battery pack will require nearer 45 minutes.
Once you've used up your 'credits' Chargemaster says you'll still be able to charge, but it will levy an additional £0.95 per hour (or part) for 13 amp domestic charging points, £1.90 per hour (or part) for Type 2 charging stations, and £6 per 30 minutes (or part) for rapid charging.
It's worth noting too that this particular tariff seems very similar to BMW's own 'mobility' package for BMW i3 owners, which offers 'free' charging access for subscribers to its service. It's also worth noting that Chargemaster is the chosen provider for this service.
Continue Reading here.
The New Polar Tariff is here.