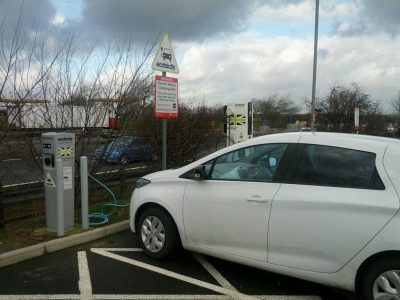 So, following the success of my day trip to Nottingham, I decided that it was time for a much longer expedition – from North Yorks to Worthing – again in a day. Although some 340 miles this looked entirely feasible given the number of fast chargers all the way there.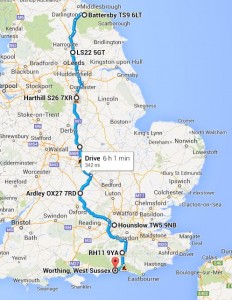 I planned my route to use the M1 for much of the trip, but with a small diversion in Oxfordshire to collect another passenger then M40, M25 and finally M23/A23. I also stuck with my 'tried and tested' approach of aiming to have plenty of contingency (c20-30 miles of range) as I arrived at each of my chosen fast charge points. This meant that approx. 6 fast charges would be needed, and I planned to stop at Wetherby, Woodall, Leicester Forest East, Cherwell (M40/A43), Hounslow (M4) and Pease Pottage (Crawley, A23). That way if there was a problem, I'd have enough to jump back in the car and head to the next fast charger, rather than back-tracking or heading for a slower 7kw charger nearby.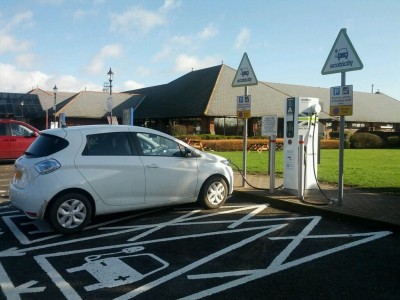 I left home at 0805 on Feb 16th, and all went to plan at the first stop at Wetherby where I charged from 35% to 83% between 0900 to 0923. An hour later at Woodall (M1 South) I couldn't get the fast charger to work, so plugged into the 22kW to charge from 20% to 46% before leaving at 1045 to get a  'proper' charge at Tibshelf (32% to 93% between 1103 and 1126).  Then it was on to Leicester FE (36% to 99% between 1212 and 1244); Cherwell (28% to 96% from 1356 to 1422) and Hounslow (36% to 99% between 1557 and 1625). Finally, for the last charge of the day I filled up at Crawley (39% to 94% from 1728 to 1750). All charge points were part of the Electric Highway (Ecotricity).
I arrived at Worthing at 1835, after some 10.5 hours in the car (6h47 driving time) and 339.7 miles on the 'clock' and some 86kWh consumed. I tracked my trip using Glympse  and tweeted progress, which I was surprised to see was picked up by the Speak EV forum folks .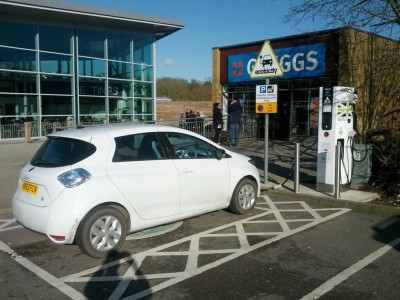 The trip home a couple of days later was pretty similar, and just as smooth.  I left at 0825, followed much the same route (except that I stuck with the M1 as I didn't need to detour to Oxfordshire), and arrived home at 1835 – just over 10 hours later.  I even had another problem fast charger – this time at Leicester Forest East (N), but was able to press on to Derby (M1 jn 23A). The stats for my return journey were 327.5 miles, 70kWh (4.62mpkWh), with a total driving time of 7hr 17 min.
So I think I can safely say now that, even with the odd fast charger not working correctly, there appears to be sufficient redundancy being built into the Electric Highway for southbound  journeys from the north east of England.  Last weekend, I went north of the border and really missed the Ecotricity fast chargers, but that's a story for another day…