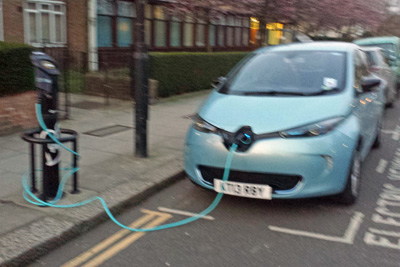 Last week I went to London with friends to see an evening concert by the prog-rock 'supergroup' Transatlantic. The others were up for an adventure so I proposed going in the ZOE – though nearly regretted it due to problems with planning charging for the return journey. I spent a lot of time planning routes and charging locations but couldn't get past the problem that according to the Electric Highway website many of the fast chargers were broken.
I called the Ecotricity helpline and had a conversation that was rather like last time, except much shorter:
"Can you confirm that all the fast chargers between Northampton and London are offline?"
"One moment… Yes, that's right."
"Can you suggest options?"
"The medium charger at Newport Pagnell and the fast charger at IKEA Wembley are working."
Given that IKEA was off the route, I was starting to get worried that the trip would be a disaster. Among the many hours of research on charging possibilities around the Highgate/Kentish Town area, I discovered the following wonderful nuggets of information:
There are two slow charger bays at the Royal Free Hospital – but they are in short term parking so there is a charge of "£1.50 for 20 minutes. No return within 2 hours".
There is a slow charger in the Waitrose car park next to Edgware tube station – but a barrier comes down a 9.30pm and isn't opened again until the next morning.
There are supposedly medium chargers recently installed at High Barnet and other end-of-line tube stations, according to online news releases. However, they don't show on the station websites or on charge point maps like Zap-Map so I didn't trust that they were operating yet.
There are lots of private car parking spaces with chargers on the ParkAtMyHouse website – but they virtually all have the older Type 1 connector, not compatible with the ZOE. Plus the site doesn't have a way to search for spaces with charge points – you have to check every one individually – so it's largely useless.
Anyway, I decided to take a chance and headed out. I had found a public charge point in a side road near the venue, and if that didn't work out we could return via the medium charger at South Mimms services – a bit of a detour, but acceptable as a backup. Nonetheless, I drove in Eco mode at about 58mph, and we topped off at the Newport Pagnell medium charger, to eke out the range as much as possible.

In fact it worked out fine. Apart from getting to the parking spot just as an ICE was taking it (fortunately they took the hint and pulled out again), we arrived and plugged in without a problem. On returning to the car after the concert it was fully charged (in fact, I expected that as I had been monitoring it on and off during the concert on my smartphone) and we drove back to Northampton happy.
We had a couple of issues on the way back – the bottom end of the M1 was closed for road works, and we travelled much of the way in fog – but I was still confident enough to drive home at 70mph, and got back with about 3 miles of range to spare.
Where previously I relied on fast chargers only, and avoided slow public chargers, this time I had succeeded at a long trip by doing the opposite – avoiding fast chargers and relying on a single slow public charger.