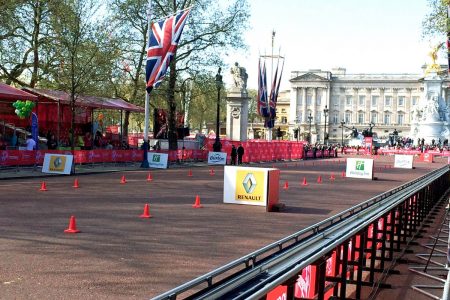 The thousands of star runners who went that extra mile for charity in the 2014 Virgin Money London Marathon yesterday have the same drive as Official Car Provider Renault.
Long-running supporters of the greatest marathon in the world, the French brand is renowned for its passion for design and life and was once again proud to be supporting the event which has risen over £600 million for good causes since launching in 1981.
A people-centric car company, Renault's identity is fully expressed in a strategy based on the cycle of life. This vision connects the brand to its customers by following them throughout life: when they fall in love, head off on a journey, start a family, work, play, and reach wisdom.
Top class athletes are drawn to the fast course annually, but it is the brave fundraisers who all dig deep for their own gruelling 26.2-mile journey around London's iconic streets who are considered by many as the real heroes on a day, with the action screened in nearly 200 separate countries.
From super heroes to zombies, the FA Cup to furry animals, fancy dress runners each with their own story and motivation behind running pulled out all the stops this year when it came to looking the part for the race which starts in Blackheath, Greenwich, and finishes in The Mall, Westminster.
They were led all the way, with no harmful emissions or pollutants from its tailpipe, through crowds of more than half a million lining the English capital's streets, by a car which takes its appearance very seriously too: the 100% electric Renault ZOE.
The flagship stunner in the French brand's plug-in 100% electric range, the supermini created quite a buzz passing famous landmarks like St Paul's Cathedral and Houses of Parliament.
Meanwhile, the Race Director used Renault's compact crossover Captur, the ultimate urban adventurer, to tackle the cut and thrust, combining the best of three worlds: the expressive styling and driving position of an SUV, the cabin space and modular interior of an MPV and the driving pleasure of a hatchback.
ZOE and Captur are all part of Renault's multi-award-winning small car line-up that reflect the brand's new corporate identity and overall style, and proud to be on display in the capital.
Also joining the party, two converted Renault Master vans were used by the media, fitted with official roof-mounted digital race clocks keeping a check on the front runners. Renault also supplied 16 Grand Scenics for transporting VIPs and as lead vehicles to keep the race flowing seamlessly.
For more information on the complete Renault range and its vision, visit www.renault.co.uk.