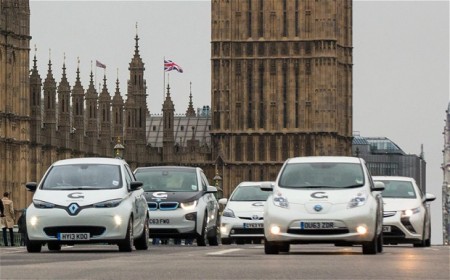 As a UK electric car early adopter I am naturally interested in how well EVs are doing in the market. There doesn't seem to be a definitive source of information on the subject, but I have found a pretty good source of statistics at the website of the Society of Motor Manufacturers and Traders (SMMT.co.uk). These stats cover the sales of a large range of vehicles like buses and other commercial vehicles but also include monthly car sales.
These overall numbers are further broken down into 'EV Registrations', for example the March 2014 results have just been posted. In SMMT terms these registrations actually cover four separate categories:
Plug-in – Pure electric
Plug-in – Other electric
Hybrid – Petrol/electric
Hybrid – Diesel/electric
So the first issue we hit is that SMMT regards conventional (i.e. non plug-in) hybrids like the Toyota Prius as EVs, which is patently daft. For my purposes I am considering only plug-ins as EVs, though accepting any type of plug-in – a standard interpretation (and consistent with the government's criteria for the plug-in grant). Personally I'm a fan of pure electric plug-ins, but I can certainly see the benefits of plug-in hybrids like the Vauxhall Ampera or BMW i3 REx and believe they have a key role to play in the transition of the market to pure EVs.
To work out historical EV sales I've gone through the SMMT website to collate the statistics from each month back to September 2011 (the earliest report I could find). This process is complicated by the fact that before April 2013 the sales of EVs and AFVs ('alternatively fuelled vehicles', such as those using LPG) were reported together, without non-pure electric plug-ins previously being reported directly. Nonetheless it is possible to deduce these figures. Anyway, I see this change of reporting as a positive sign that EVs are becoming a powerful force in the market and are already pulling clear of LPG and other 'also-ran' AFV technologies.
Since I am interested in the total number of EVs being sold – rather than accounting numbers for the sake of it – I have taken the number of EVs sold each month as being the total of the pure electric and non-pure electric plug-ins each month, or the total number of cars eligible for the plug-in grant, whichever is greatest (in nearly all cases these figures are about the same).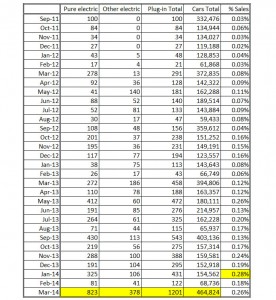 While it would ideally be useful to consider the total number of EVs on the road against the total number of cars on the road – i.e. the total market share – the current growth of EVs is so recent that that would be a very low figure. However, we can get an indication of the market share of monthly sales achieved by EVs by considering the EV sales in a particular month against the total car sales for that month. While these figures are still low, they are not insignificant and are definitely increasing.
The sales figures for plug-ins from September 2011 to March 2014 are shown in Table 1, along with the total number of cars sold and the EV percentage market share of sales. The highest figure achieved in each column is highlighted.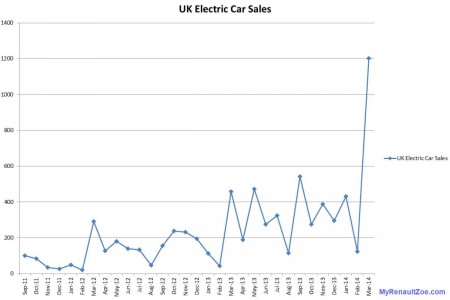 It's clear that March 2014 was a truly bumper month for sales of EVs, with more than twice as many sold as in any previous month. However, to discern longer term trends it is useful to graph the figures. Figure 1 shows the number of EVs sold per month and Figure 2 shows the percentage of sales market share. This latter view is more useful since it evens out the 'lumpy' nature of car sales in general, with sales varying significantly from month to month, and with particular peaks in March and September when the new registration plates come in.
Figure 2 is very encouraging and shows clear long-term growth in EV market share. Nonetheless, it is itself rather 'lumpy' and this likely reflects the small nature of the market and that individual car model launches have a significant effect on monthly sales. For example, one can likely deduce that peaks in sales in the summer of 2013 reflected the launch of the Renault ZOE, and that peaks in late 2013 and early 2014 coincide with the launch of the BMW i3. As the market diversifies with more models on sale, however, the curve is likely to become smoothed out.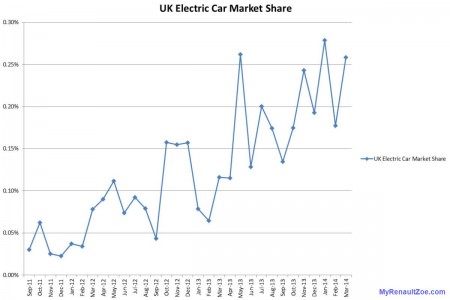 Nonetheless, the trends of increasing EV sales numbers and – more significantly – increasing sales market share are clear and unequivocal. EVs are here to stay. Whether the fantastic sales in March 2014 represent a blip, however, or the start of major growth in EV sales remains to be seen.