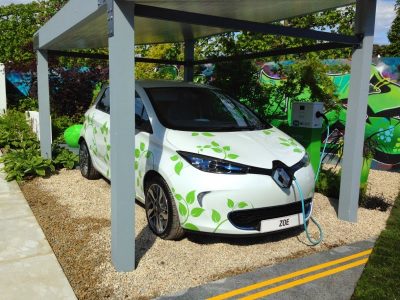 28/05/14: It's not unusual for cars to feature in garden designs at Flower Shows and this year well known city garden designer and horticulturist Kevin Dennis is exhibiting the Renault ZOE Garden, at Bloom in The Park Festival which takes place from tomorrow Thursday 29 May until Monday 2 June, writes Trish Whelan.
This is Ireland's largest garden festival and takes place in The Phoenix Park in Dublin.
The garden will have a different slant on outdoor living in a new green city life garden. The theme of the garden relates to cities and the benefit that plants have on peoples' lives.
Renault is sponsoring Kevin's garden as the green energy from the cutting edge Renault ZOE which is a fun drive and also contributes to greener cities as it is an electric car (no C02 emissions).

The garden will have graffiti walls and steel elements contrasting against a natural planting scheme. It's the ideal city dweller's lifestyle garden, with planted roofs, wall and a contemporary chill out area.
Bespoke large white concrete slabs will lead you through the garden where visitors will meet the 100 percent electric ZOE under a green roof structure. The steel sculptures add to the edgy city theme and the steel still water ponds add a sense of reflective calm to the space.
(Source: Irish Car Man blog)
Update 29/5/14: Renault ZOE: City Life Garden won Best in Category: Large Garden.