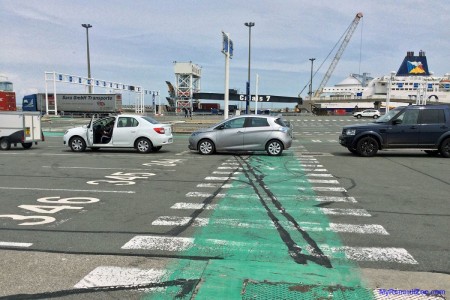 Two weeks ago I went on a road trip of about a week with my ZOE. It was kind of a last minute decision as a free time slot came available and stress levels at work were high. We had the ZOE for about a month by then so we did have some experience with the car, we had put about 2000km on the odometer. But a road trip is not something we had done yet. In fact I hadn't traveled outside the range of the car a single time (I don't normally need to).
To prepare I went to a public charger in Belgium to make sure the charge card I had for Belgium worked. I would have to charge once in Belgium, in De Panne, close to the border of France. I had also received an Ecotricity card, but I didn't have any other charge cards for the UK and I had ran out of time to order any. They simply wouldn't arrive in time. I phoned Trevor to talk about the feasibility of the trip with just an Ecotricity card. We agreed that if we didn't divert from the Electric Highway too much, we should be fine.
The day before we left I got the great news that the 'granny cable' to charge from domestic sockets had arrived and I could pick it up. This added an extra charge option just in case, which increased my confidence.
To get to the Electric Highway would be about 60km from Dover, where the ferry would land. To get to the ferry in Calais would be about 60km from the charger in De Panne, so well within the range of the car if I didn't do anything crazy. The De Panne charger itself is a 22kW unit about 100km from my house. So I had to charge for about an hour to be full enough to make it to the Ecotricity charger on the M2 in Medway. To be sure I bought a flex ticket for the ferry in case we'd run late. And we did. Not because of technical reasons, we just left too late.

The trip to De Panne went smooth, the charger was easily found and free and worked. The car was full in about 40 minutes, charging from a remaining 64km. The car had predicted more time but we also stopped charging at 99%. I noticed the car keeps on charging very fast up until then, and then it takes a very long time to finish that last percent. For the rest of the trip I would always cut off at 99%. It's simply not worth the extra time.
For the trip to Calais we didn't take the motorway but a parallel road with speeds of 70km/h and 90km/h, as proposed by the GPS when selecting eco-route. That is something else we would use for most of the trip as usually it isn't that much slower but it can make a big difference on range.
Coming off the ferry, we entered the postal code for the M2 charger. We knew we could make it, as we had 60km to go and 90km of range left. Clearly not a problem, but the car thought otherwise, constantly proposing to add a charger along the route, sometimes multiple times in a single minute. A bit annoying.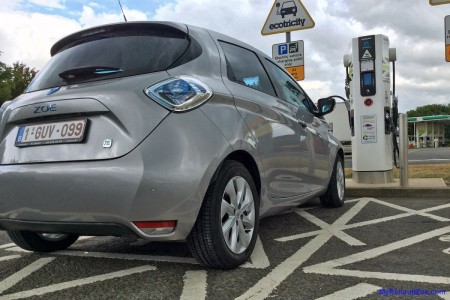 We arrived at the charger with 28km of range left. The charger on our side of the road was down, as indicated by the Ecotricity website, so that wasn't a surprise. But there is a public bridge just past the services so going to the other side wasn't a problem, and that charger worked fine. This was our very first quick charge, and man, that is indeed quick! The car was full (that is, 99%) in less than half an hour.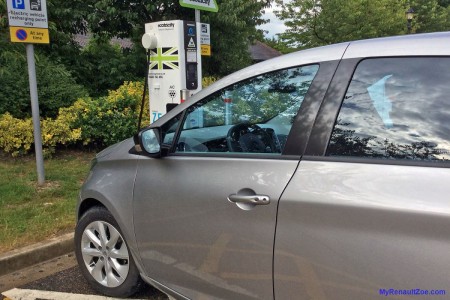 We did a second quick charge in Clacket Lane to take us to the Gatwick area where we stayed in a B&B for the night.
[Part 2]