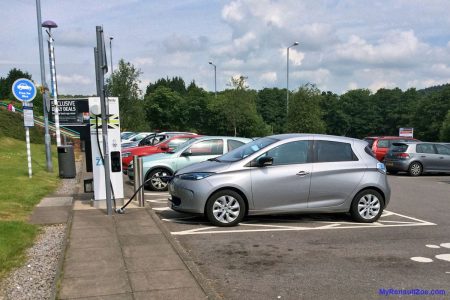 [Part 2]
The next day we made our way to Ross-on-Wye where we had some activities planned. The closest charger is the Gloucester one which was indicated as being down. So we were really hoping to charge at the campsite otherwise our mobility would be severely limited as we only had a small amount of range left apart from what we needed to get back to an Ecotricity charger. Luckily the campsite gave us an adapter cord to connect to the 16A RV outlets they have on each pitch. Charging there overnight worked as expected: slow and steady. Charging about half the battery took an estimated 8 hours 40, according to the car. I don't know if it actually took that long, but by the time we got up, the car was full again. Using the granny cable, the whining noise the car makes while charging is significantly less loud, which was good since the car was right next to our tent.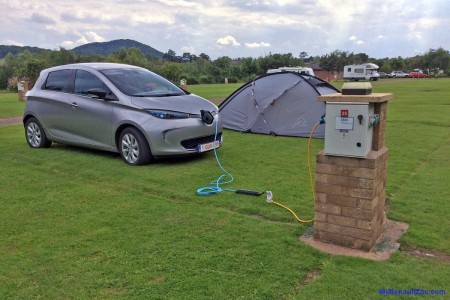 After visiting some friends, playing some board games, having some excellent Indian curries and mountain biking in the Forest of Dean (highly recommended!) we started making our way to Milton Keynes. On our way to the Cherwell Valley charger, we passed a Leaf in the Cotswolds. This was the first Leaf we found that was not either parked or charging.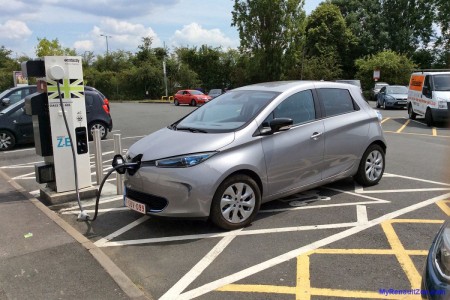 Arriving at the charger it had an 'AC Circuit Breaker' error. Apparently the charger had gone down minutes after I checked the website. So we made our way down to Oxford. It was just 20km extra, and we still had 57km of range left after driving 110km – proof that 100 miles on a charge is perfectly possible as long as you don't do motorway speeds.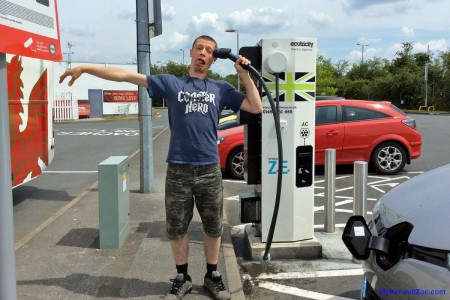 The Oxford charger worked fine just as Ecotricity had assured me it would be on the phone. We went to Milton Keynes to visit another friend, a guy called Trevor who drives a ZOE himself. We talked about EVs, the ZOE in particular of course and compared the cars we have. That RHD glove box is really pathetic, I feel sorry for the ZOE drivers in RHD countries. The one in the LHD version is of regular size. Not huge but useable. We also discussed the black piece of carpet Trevor had custom made for the dashboard. We checked if just mirroring it would work for LHD models (it does) and how it could be improved.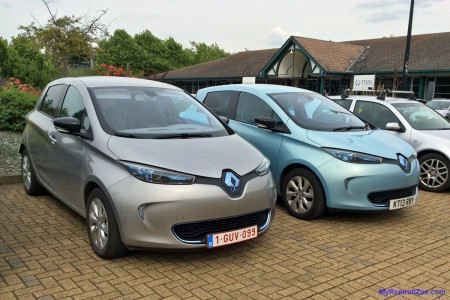 After our visit to Trevor we went to the shopping mall. We found a lot of Polar network chargers there, most of them ICEd. Not nice. Fortunately we weren't relying on them and didn't need them.
[Part 4]