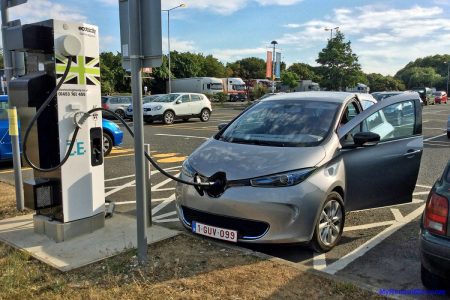 Ever since I received my ZOE earlier this year, I have been very happy with it. It has done everything I have expected from it. So far I have been a happy customer.
Some of the issues I had with the car have also been dealt with since then: the dashboard has been updated to a darker colour and customers now get the option to buy the battery with the car. Renault has also restated their intention to offer battery upgrades with longer ranges in the future. All of this had strengthened me in my opinion that I had made the right choice in buying the ZOE.
This week Renault released information on future changes to the product line which includes a smaller, more efficient motor with built in inverter and up to 8% longer range. That is fantastic news of course. The news also had a small bit of detail in it which doesn't sit right with me: the new, more efficient inverter is now better suited for charging at 3kW, but only goes up to 22kW, not 43kW. This increases the minimum charging time from 30 minutes to 60 minutes.
Renault argues that the 43kW feature isn't often used. And that is no doubt true. I have used that function a number of times, but 95% of the time, I don't use it. But when I do use it, I am more than happy it is there. I'll go even further: I wouldn't buy a ZOE that can't charge at least at 43kW. When I make my yearly trip to the UK, I'll be doing multiple fast charges a day. If those took twice as long, not only would I be unhappy, the other EV drivers waiting in line for me to finish would be unhappy as well. But it would make international travel with the car impractical.

Renault probably argues that that is not what the car was designed for. And it probably isn't, but my experience tells me that it is perfectly suited for that. It certainly didn't bother me and in fact I bought the car with that in mind.
But I already own a ZOE. Why would I then complain? My fast charge capability won't go away, will it? No, it won't. But I will be impacted.
Renault has given a strong signal to the industry it won't support the 43kW AC standard in the future. If they don't support it, why would the people who install the infrastructure support it? After all, the amount of cars with 43kW capabilities is still low, and if Renault does indeed execute this change to the car, the amount will stay low in the future.
The surplus cost for 43kW against 22kW might be low, but the cost is there and I can certainly imagine some companies unwilling to invest further in this standard. And that will have an impact on me when I use my beloved car.
So therefore my plea to Renault:
Please don't leave your existing customers with capabilities they can't use. Keep on supporting this great technology you pioneered and which was one of my main reasons for choosing the ZOE.
The changes Renault has made since I bought my car confirmed that I was right, but if Renault now stops supporting their own standard, I will see no other option than to distrust the company in the future, and in that case I can't see me buying an EV from them in the future.
I'm certain I'm not the only person with this opinion, so please Renault, respect your customers and support your own technology today and in the future.
A concerned customer