Just like in 2014 we made a trip to the UK again in our Renault ZOE. In the previous year we basically went from home to the south of Wales and back. This year we decided it had been too long since we had visited the Lake District. A quick look at the Ecotricity map made it clear that shouldn't be too much of a problem. We had 10 days to make it there and back, so plenty of time.
Day 1
We set out from home in the Flemish Ardennes early in the morning to catch the ferry around noon. Just like last year we made a stop in De Panne just before the border with France. It is a 22kW unit, so charging took about 45 minutes, but that was planned. There are very few fast chargers in Belgium, the vast majority of them are 22kW AC units – which is one of the reasons I chose the ZOE over other models.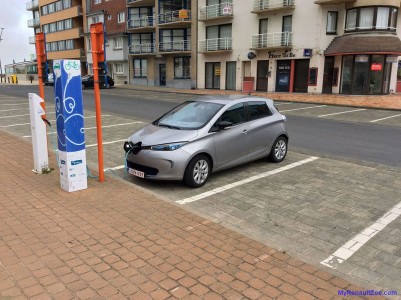 From De Panne we went to the ferry terminal using secondary roads to save some energy as the total driving distance to the first Ecotricity charger is about 120km. But we had also planned for this and arrived on schedule.
At the border check I accidentally drove past the French booth right on to the UK one, so an officer came out and quickly remarked "Is that an electric car?" after which he said everything was fine and let us go on to the next check. He didn't say much else which made it funny.

Just like last year we where the only EV in the queue for the ferry, I hope that changes in the future.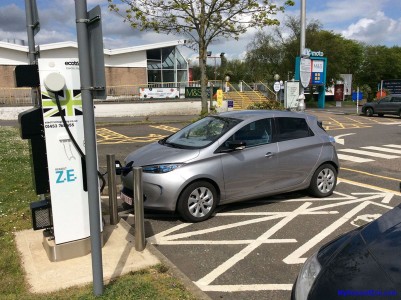 After the ferry trip we went on to the Medway charger on the M2. We made it with enough juice left, but it surely would be more comfortable if Ecotricity would install one near Dover or Folkstone. The charger was free and working perfectly. I did find a red Nissan Leaf charging on the other side.
Next we went to the Clacket Lane charger. We had plenty of juice left, but I know there probably would be some chargers down on the next couple of stops, so topping up seemed like a good idea.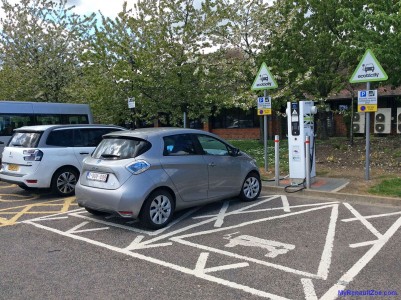 We went on our way as soon as we reached 99%. We made a stop at the Cobham charger even though I expected it to be offline. We arrived there to find a other ZOE who had just found out the charger was indeed not working. They where also heading westbound, but they did not have enough juice to make it to the Chieveley charger (according to my info the charger in Reading would also be offline) so they went back to go and charge in Clacket Lane as I confirmed that one was indeed working. I hope they made it.
I decided to try the Reading one anyway and found it had just been fixed, which was good because if the Chieveley one was unexpectedly down, I could run into problems.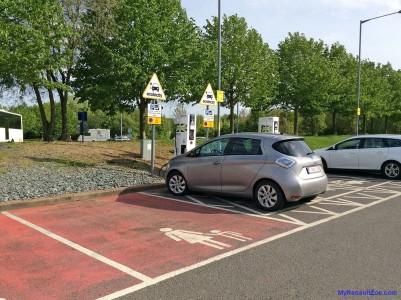 Next we went to Chieveley and found the charger was indeed working fine. We went for some groceries, set up the tent in a nice campsite in Newbury and went for some Indian food. We opted not to get a pitch with a hookup as the charger was working fine and paying extra didn't make much sense.
At the supermarket we found another ZOE in the parking lot. On my first day I saw 2 Leafs, 2 ZOEs, 2 Tesla Model S, and 1 BMW i3.
Part 2 is here.