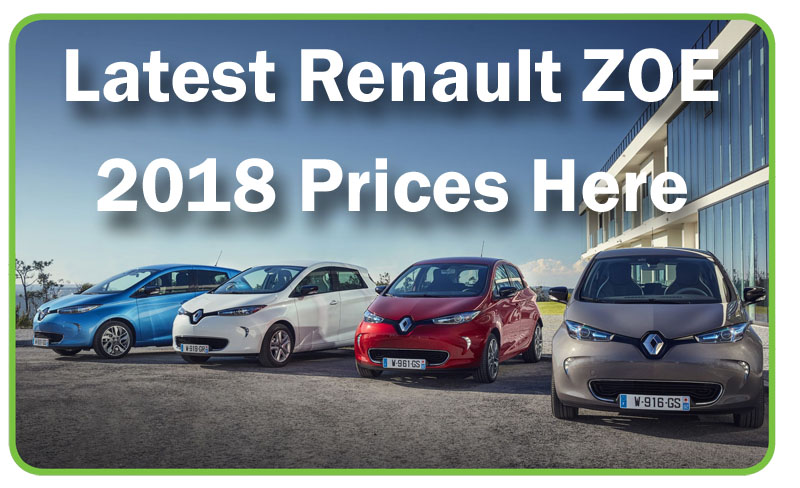 Fuel Included News November 2016: Renault ZOE Arrives in UK
ZOE now offers best range of any mainstream electric vehicle
New Z.E.40 battery provides 250 miles (NEDC) of driving on a single charge
New top-of-the-range Signature Nav trim level 
Model Year 2017 ZOE receives upgrades to interior and exterior specification
Z.E.40 battery added to ZOE line-up alongside existing 22kW battery
ZOE was Europe's best-selling electric car in 2015
Renault ZOE Z.E.40 ordering opens today, with deliveries from January
ZOE range priced from £13,995 on-the-road (after Plug-in Car Grant)
Renault UK is announcing pricing and specification for the 2017 model year Renault ZOE that was recently unveiled at the Paris Motor Show, complete with the new Z.E.40 battery that has a 250 mile (NEDC) range – the longest range of any mainstream electric vehicle.  A new top-of-the-range Signature Nav trim level has been added to the ZOE line-up for the 2017 model year which goes on sale today and will arrive in UK showrooms from January 2017.
With a 250 mile (NEDC) range, ZOE offers the best range of any mainstream electric vehicle. In real-world driving, Renault estimates the ZOE fitted with the new Z.E.40 battery has a real-world range of between 186 miles in temperate conditions and 124 miles in extreme cold conditions.
ZOE is now offered with a choice of two batteries – the new Z.E.40 battery and the existing 22kW battery.  The entry level Expression version comes with the 22kW battery whilst Dynamique Nav and above are offered with the new Z.E.40 battery enabling owners to choose a ZOE that suits their individual requirements.  The Z.E.40 battery is available with an optional Quick Charge facility that reduces charging times even further.  All ZOEs sold to private customers are supplied with a fully-installed 7kW fast-charging box that enables convenient charging at home.
The updated ZOE is being expanded to a five-version line-up based on three trim levels familiar to owners of other Renault vehicles – Expression, Dynamique Nav and the new top-of-the-range Signature Nav.  ZOE remains available to purchase with a monthly battery lease agreement or outright with no battery lease agreement.
The Expression trim level provides buyers with a comprehensive specification with a 7-inch touchscreen housing Renault's easy-to-use R-Link2 infotainment system with TomTom® satellite navigation; climate control,  electric windows and electric heated mirrors, cruise control, speed limiter, keycard, Bluetooth connectivity and ample storage throughout the cabin.
Renault's Range OptimiZer technology ensures ZOE is highly efficient with its heat pump, a bi-modal braking system and Michelin ENERGY E-V tyres.  ZOE's Chameleon Charger™ ensures that ZOE adapts and always charges from a source at the highest rate possible, thus lowering charge times.
Renault's Z.E. Connect app allows drivers to remotely monitor battery levels and charging status via their smartphone or computer. The ZOE Expression is available with the R90 22kW battery enabling a range of 149 miles (NEDC) and a charging time of 3 to 4 hours (0 to 80 per cent full).
ZOE keeps occupants safe with a five-star Euro NCAP rating and standard safety features such as ESC with traction and understeer control, Hill Start Assist and front and side driver and passenger airbags.
The ZOE Dynamique Nav adds to the Expression specification with a hands free keycard, automatic lights and wipers, rear parking sensors, rear electric windows and electrically operated, heated and folding door mirrors, 16-inch 'Black Shadow' alloy wheels and a leather steering wheel and gear lever.  In addition to the Z.E. Connect app, the Dynamique Nav benefits from a one-year subscription to the Z.E. Interactive app.  Via a smartphone or computer this allows you to remotely charge your ZOE and schedule charges, as well as cabin temperature pre-conditioning, in order to maximise convenience and take advantage of available off-peak electricity rates.
All-new Signature Nav trim level
The new ZOE Signature Nav trim level sits at the top of the range and features supple leather upholstery, heated front seats, a seven speaker BOSE® audio system, rear parking camera, 16-inch 'Grey Shadow' alloy wheels and driver's seat lumbar adjustment.
External changes for 2017
ZOE will be available in three new colours for 2017 – Mars Red, Titanium Grey and Ytrium Grey (available on Signature Nav only) complementing the Zircon Blue metallic added in 2016.  The Renault logo and badging switches from blue to chrome to accommodate this new colour selection.  The 16-inch alloy wheel design on Dynamique Nav and above has been changed.
Battery: Lease or buy outright
Regardless of trim level, the ZOE is available to purchase in two ways. Buyers can lease the battery on a monthly basis.  Battery lease payments are banded and reflect estimated annual mileage ensuring ZOE drivers only pay for what they need.  They start from as little as £49 per month.  New for 2017 is the 'Unlimited' option, that has no mileage cap, and is priced at £110 per month.
Alternatively, ZOE can be bought outright, including the battery, and therefore have no monthly battery lease payments.  Full purchase versions that include the battery are denoted by their trim level names: iExpression, iDynamique Nav and iSignature Nav.
Read more: Fuel Included News