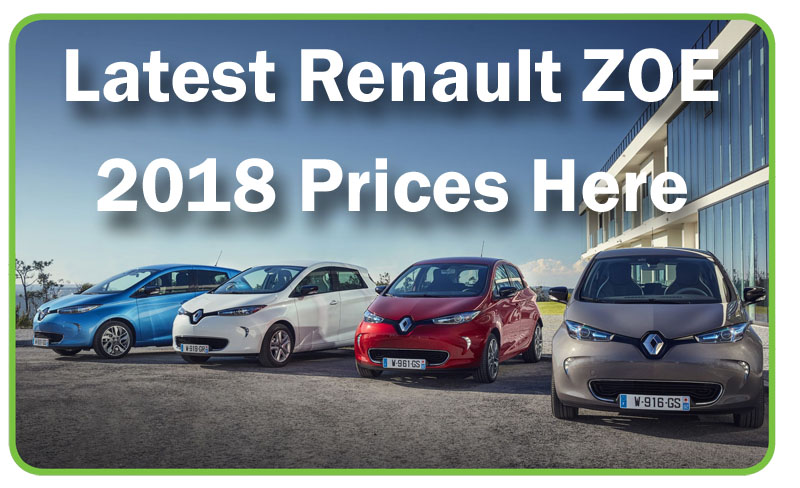 Fuel Included Blog December 2016: Renault ZOE Z.E.40 Deals
We have new PCP prices for December 2016 for the new Renault ZOE with the 'Z.E. 40' long range battery (the latest prices for the ZOE are kept here). This new battery has an 'official' NEDC range of 250 miles equivalent to a highly impressive real-world range of 170-200 miles in temperate conditions (reducing to 120-130 miles in extreme cold conditions). This ZOE is available in new colours, including red for the first time, and there are other detail changes – full details are here and here.
We are offering a Renault ZOE R90 with Z.E.40 battery on 3 year PCP; this stands for Personal Contract Purchase and is currently the most popular way to buy a car because of its flexibility. You put down a deposit, pay an affordable monthly fee (less than many people spend just on petrol), and drive away a new car with fuel included. At the end of the three year term you can choose to pay an optional lump sum and keep the car, or you can just give the car back and upgrade to the latest model.
It's like a mobile phone contract, but with miles rather than minutes included.

The new ZOE Z.E.40 comes in two versions, the Dynamique Nav and the Signature Nav. The Dynamique Nav is well specified with TomTom® satnav, climate control, electric windows, heated mirrors, cruise control & speed limiter, Bluetooth, remote control of climate control and charging, 16″ alloy wheels, auto lights and wipers, and rear parking sensors.
The Signature Nav adds leather upholstery, heated front seats, BOSE® audio system, and rear camera.
These are the current prices (from 15 December 2016):
| Annual Mileage | Dynamique Nav R90 Monthly Cost (£1990 Deposit) | Signature Nav R90 Monthly Cost (£2035 Deposit) | Fuel Included Miles |
| --- | --- | --- | --- |
| 6,000 | £278 | £314 | 10,000 |
| 8,000 | £303 | £339 | 10,000 |
| 10,000 | £317 | £354 | 10,000 |
| 12,000 | £332 | £369 | 10,000 |
| 20,000 | £347 | £386 | 10,000 |
For more details see the Fuel Included offer page.