Farnek has become the first company in the GCC region to purchase a Renault Zoe electric vehicle.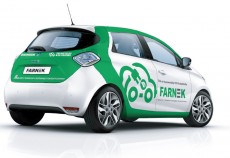 The UAE-based facilities management (FM) firm has added the environmentally friendly model to its 200-strong transportation fleet.
When compared to the saloon cars in its existing fleet, which travel approximately 72,000km annually, Farnek expects the Renault Zoe to save more than 17 tonnes in carbon emissions during its first year of operations.
Commenting on the purchase, Markus Oberlin, chief executive officer of Farnek, said:
"It is part of our strategy to have a more energy efficient fleet, in line with the UAE government's recommendation to ensure that 10% of our transportation fleet is electric by 2030.

We also wanted to show leadership within the FM sector, and inspire other organisations to do the same,"
he added.
Powered by a Z.E.40 battery, the Renault Zoe boasts a New European Driving Cycle (NEDC) range of 400km, which equates to approximately 300km in real-world driving conditions.
The battery can be charged from 0% to 80% within the space of an hour, owing to the patented Chameleon Charger.
Read more: Construction Week Online