Rotterdam – Hardenberg
The following morning we arrived at the Beneluxhaven in Rotterdam around 9am. After going through customs we started on the 225 km (140 miles) drive to my parents in Hardenberg. The weather was fine. Just a few showers lingering but no problems were expected. Holland has one of the best infrastructures in the world with around 10000 11kW AC charge points in a small country. As I knew the locations of some 43kW AC units and the directions I did not buy and load the Benelux maps into the R-Link before setting off. As a result I was relying on my memory and "sense of direction" to find the charge points.
Big mistake.
First stop was about 35km from the port at a roadside hotel chain. I completely missed the turn off and before I knew it found myself heading for a big motorway intersection with no easy way of turning around. I stayed on the direction we needed to go for my parents but Zoe started complaining about low battery very soon after. 10 miles later I finally saw a exit and went for it. Thankfully there was a hotel nearby and we pulled in for some free wifi and breakfast to steady the nerves. Zoe was at about 8% battery at this stage.
Making use of the free hotel wifi I bought and downloaded the R-Link map using my laptop. Looking on Google maps it occurred to me that we were only about 6.5km (4 miles) from the next 43kW AC charge point. Feeling better after breakfast and with the maps now loaded in R-Link we set off. We arrived with 4% of battery remaining. Feeling relieved I plugged in, swiped my TheNewMotion card only to find it being rejected!! The 22kW point next to it did the same. So I rang the 24 hour helpdesk and after a few minutes they started the charge remotely.  I was told that there may have been a setup mistake on their end and to only use TheNewMotion charge points not their partner companies with my card for the next 24 hours or so.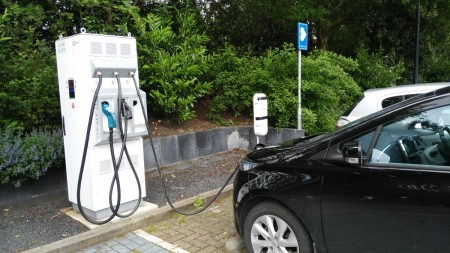 After 20 minutes we had enough to get to the next stop. A shopping centre in Utrecht. Sadly, my card again did not work. When the charge could not be started remotely I had enough. The shopping was abandoned and we went home using the FastNed network. Since these chargers use a smart phone app instead of a card there was no problem. The chargers did cost more than TheNewMotion ones but a working charger is more important. After 2 stops at De Kroon, Nieuwegein and Bornheim, Wezep we got to my parents.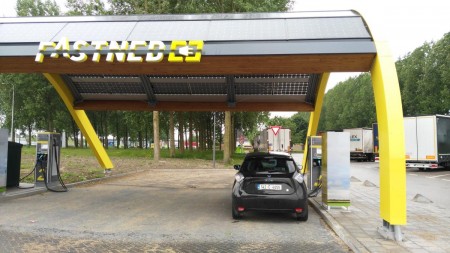 The following day I tried out my card at several nearby TheNewMotion chargers and a partner company one and had no issues. I also checked with the partner company in Belgium (The Blue Corner) to make sure my card was in their system. It was. Both TheNewMotion and The Blue Corner were very quick to respond to emails and Twitter help requests and thanks to their swift response the holiday could now truly begin!
The days in Holland were spend doing family visits, enjoying the weather and an occasional spot of shopping and Zoe was a delight to drive on the smooth Dutch roads.  One of the longer trips I did was a 100 mile round trip to Groningen to visit a friend. I drove the speed limit and not very economical but using a nearby 11kW charger meant I had  no worries about range.  We also did a day trip to a castle in Germany. We charged up just before the border and did not need to find a charger in Germany.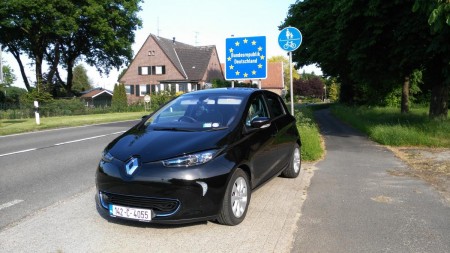 The 9 days at my parents flew and soon it was time to start the next part of our holiday. 5 days along the coast in Ostend, Belgium!
To be continued