[Part 1 is here]
Day 2
After breaking up the tent we went to Chieveley to top up as we where planning to go off of the electric highway for some sightseeing and the extra juice could come in handy. When we arrived there we found the charger we had used the day before opened up with 2 technicians working on it. Apparently the DC side needed fixing. They were very friendly and even came in to the cafeteria to inform us they had finished and we could start charging. They stayed just to make sure we could actually use the charger, but they had done a good job, everything worked fine.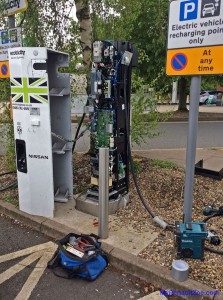 Then we went on to the Membury charger to find the same technical guys fixing the charger there. Apparently a snake had found it a good idea to sleep in the 300v system, frying itself. Since we didn't really need the extra charge we didn't wait for them to finish up and went on our way.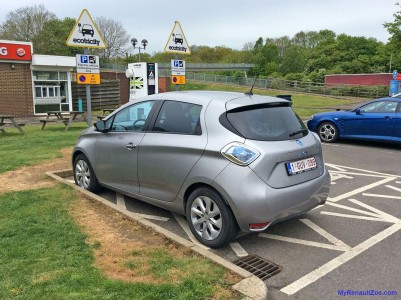 We went to the Leigh Delamere charger for an uneventful session.
We then headed south to Bath as I make a yearly stop there to use their skate park. Unfortunately the former skate part is now a construction yard. I guess they are upgrading it. Too bad, because their ramps were top notch. We did find a very nice vegan restaurant though.
Now we had to start making sure we made it to our destination in time. There wasn't any time pressure yet, but we wanted to make sure it stayed that way. We went on to Bristol as there are many charging opportunities there. We first tried the IKEA one, but found it to be switched off, so we headed further north. I decided to not make any detours and head straight for the Michaelwood charger on the M5 as I knew that even if the fast charger was broken we could use one of the 22kW units they have there. When we got there we found a Model S using the fast charger, so we did indeed start charging on the slower unit and went inside. When we went outside again shortly after we noticed the Tesla had left, so we switched chargers.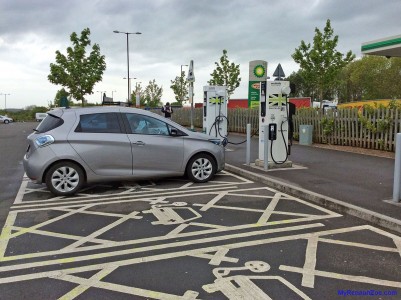 Next we went on to the charger in Brookthorpe. Last year that one wasn't online yet, but now that it was, that came in very handy. We found that the facilities there were very different from the usual ones. The entire building is hidden under a roof covered in grass and inside it doesn't have the usual junk food restaurants and the big chain stores. The choices are much more diverse and seem to be healthier. I hope we'll see more of these kinds of service stations in the future.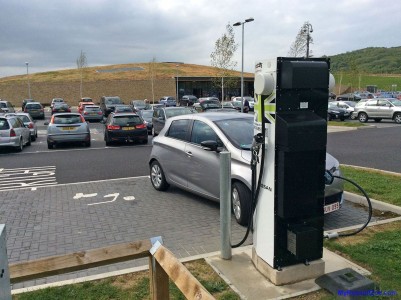 We made it to the camp site in Ross-on-Wye well on time, with plenty of time to set up the tent and grab a bite before we went out to visit some friends and play board games.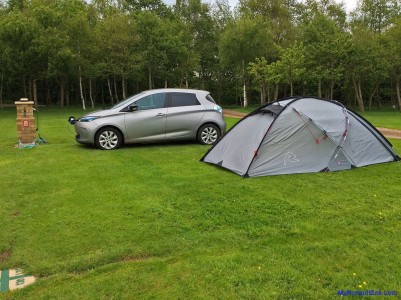 Part 3 to follow.