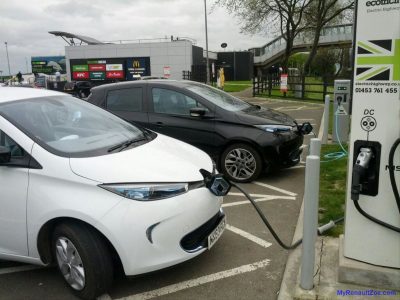 I'm using my Zoe more and more these days. Although I work from home a lot, I also regularly stray quite a long way from home on the northern edge of the North York Moors.  Recent (now routine) trips have taken me to Newcastle, York, Leeds, Sheffield and even Manchester airport and I've also visited family in the Scottish Borders. All trips with one, two or three charges in each direction. I'm doing about 1,000 miles a month now – thanks in large part to the Electric Highway from Ecotricity and Charge your Car.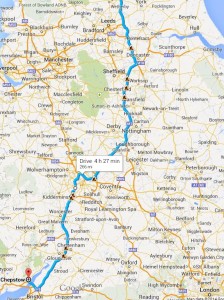 My most recent trip over the Easter break was  to Chepstow. Both the southbound and the return trip were straightforward. All of the Ecotricity fast chargers were in working order – despite the Ecotricity website reporting some as faulty. I was a little worried when the Whetherby one showed as off-line as without this I have a long detour via York. So,  I contacted @ElecHighway via Twitter to check the status of Wetherby, since I was aware that the majority of faults are on the DC-side. They came back quickly to report that only the DC-side that was out of action. So whilst no use for LEAF colleagues, but fine for ZOE. On the back of this and experience on the way home too, I decided that I'll always try a fast charger that is reported as off-line – the AC-side seems pretty reliable to me.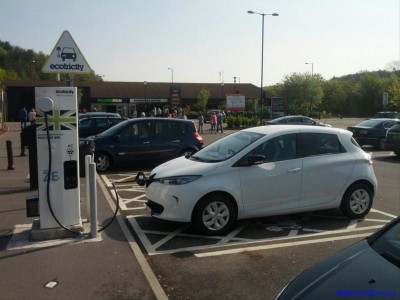 I rapid charged at Wetherby, Woodall and Tamworth then broke my southbound journey at Frankley Services on M5 near Birmingham (why pick anywhere to stay that doesn't have charging …?).  I also saw my first other Zoe on a motorway when I stopped at Woodall. The driver here had tried the fast charger but had given up on it and was using the 22kW one. The rapid worked fine for me,  so we twinned up for a while and chatted.
The following morning, I left Frankley for the run down the M5, stopping at Michaelwood services, followed by a quick top-up at the Severn View services at the Severn Bridge. This last charge wasn't really necessary, but as I was staying with friends who didn't have a charge point, I figured arriving with a full charge was sensible.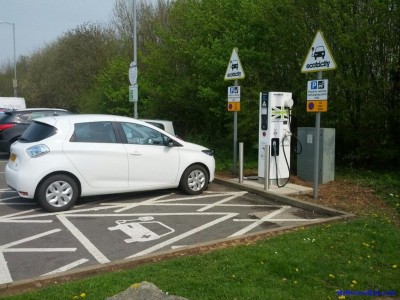 My return trip a couple of days later was done in a single 260 mile trip. I tweeted at each of the 5 charging stops this time which Welcome Break liked so much that they sent me a £5 voucher for a free coffee! The sun shone for the whole trip and I lost count of the number of people who came up to me to  ask me about the car whilst I was at each service station.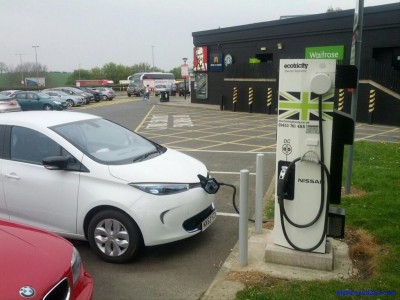 Charges on the way back were at:
Michaelwood,
Hopwood (M42),
Donnington (M1),
Woodall (M1) and
Wetherby (A1).
At each I charged to between 80-90%, so that I was on my way again in 20-30 mins each time.
The verdict from this trip and others – it really is easy these days. I really don't think I'll ever go back to an ICE car.