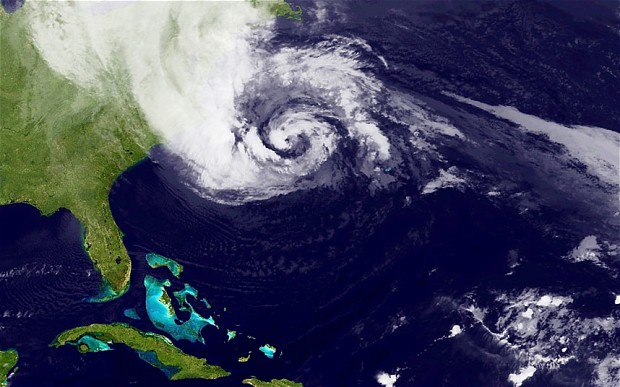 New York State is currently suffering the impact and effects of Hurricane Sandy (the so-called 'Frankenstorm'). That has necessarily led to a lot of online discussion, and, of course, rant, on whether it was caused by global warming. Here are some example articles that caught my attention:
The big question everyone wants answered is 'Was Hurricane Sandy caused by climate change?' And, of course, it's a question to which we don't know the answer, nor could ever expect to know the answer. Climate change can make such events more statistically likely, or more energetic, but it doesn't cause any particular event – there were hurricanes before climate change, as is well known.
A better question is 'Did climate change have an effect on Hurricane Sandy?' and that seems to be a question we can attempt to answer. Essentially the effects of climate change are higher sea levels, more energetic winds and more water in the atmosphere, each of which likely contributed to making Sandy impact worse than it would otherwise have been.
Overall I would say the Guardian article addresses the issues most thoroughly and objectively. However, from the Washington Post article I'll take the best summary:
"The endless debates about whether this or that particular hurricane can be blamed on global warming are fascinating. But they can also distract from the more basic fact that our cities and infrastructure are quite vulnerable to future temperature increases and sea-level rise. And Hurricane Sandy, unfortunately, is a grim reminder of that."