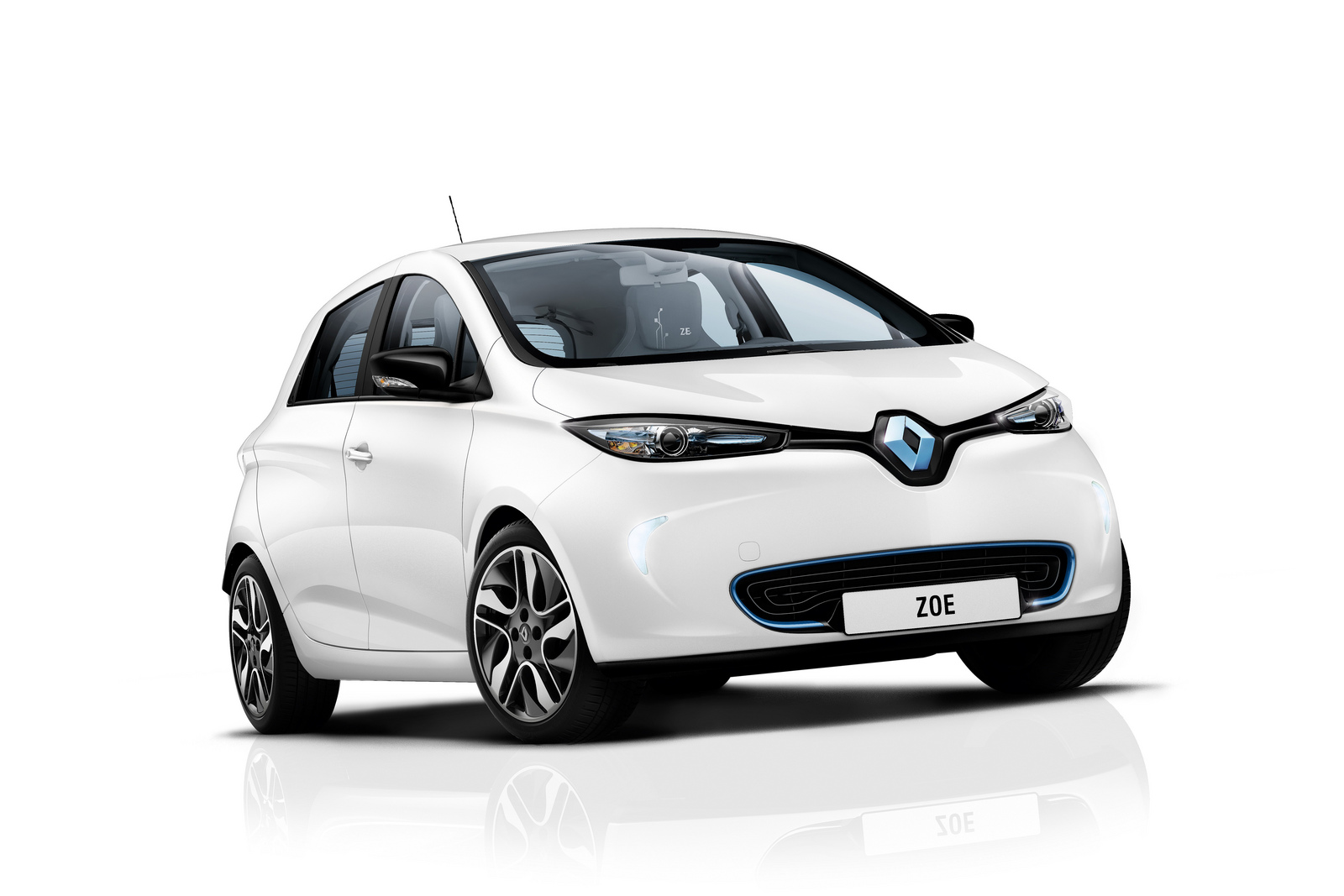 Zoe Production 2012 Specification
| | |
| --- | --- |
| Length: | 4.08m |
| Width: | 1.73m |
| Height: | 1.57m |
| Weight: | 1468kg (unconfirmed) |
| Engine: | 65kW / 88hp electric motor |
| Range: | 210km max (100km realistic in cold weather, 150km realistic in warm weather) |
Debut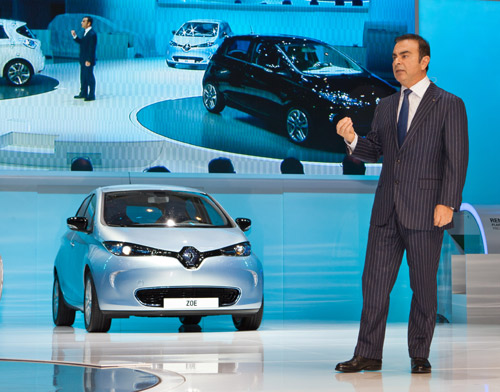 The 2012 Renault Zoe had its debut at the Geneva Motor Show on 6 March 2012, as described on the Renault Blog: "It completes the Renault Z.E. range, already made up of Kangoo Z.E., Fluence Z.E. and Twizy." A Zen version went on stage first, then an Intens. Carlos Ghosn, Renault CEO, drove on in the third version, a Life. He announced:
"Now a reality, the fruit of a conviction: the electric vehicle is the solution to our industry's environmental and energy challenges."
"ZOE was conceived to be 100% electric and addresses the general public. It is a mobility solution, available and adapted to all."
"ZOE is a beautiful object. Its design is pure and symbolizes electric mobility, through clean lines and a modern, zen interior."
The production ready version of the Zoe was displayed at the Paris Motor Show in October 2012. Much of the following description of Zoe's key features is from the Zoe press kit for that event.
Style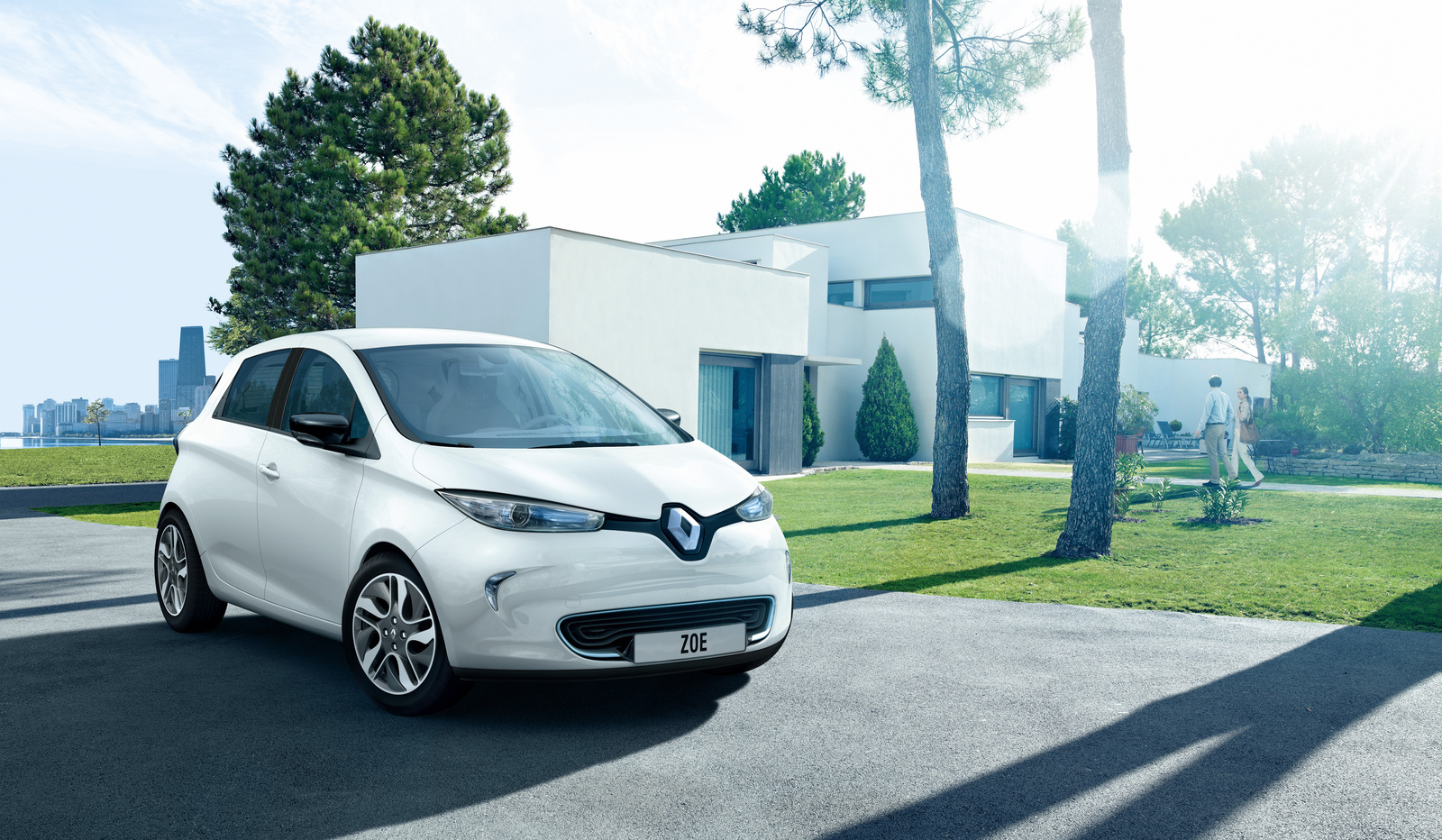 As spearhead of Renault's Z.E. range, ZOE is a compact hatchback with pure, flowing lines and was designed from the ground up exclusively as an electric vehicle. Like Twingo, Twizy and New Clio, ZOE wears the new Renault brand identity, with slim headlights and a wide black grille highlighting a prominent Renault logo in its centre. This logo is hinged to reveal an essential feature: the socket for the battery charger.
ZOE's electric identity can be seen in the blue effect applied to the Renault logo, headlights, tail lights and tinted windows across the range. Pastel shades make up the palette of body colours and, unusually for a production car, the rear lights are transparent, etched with concentric blue rings; these rings only turn red under braking. Last but not least, ZOE signals its membership of the electric club with two bright 'dimple' lines illuminated by the LED daytime running lights.
ZOE's lines, which appear to stretch the whole length of its body, express a sense of purity. According to Jean Sémériva, ZOE's designer:
"In its design, ZOE was treated as a whole, like a drop of water. ZOE is a car that can't be pigeonholed; it has been designed for motion, as a stress-free means to move from A to B…"
Exterior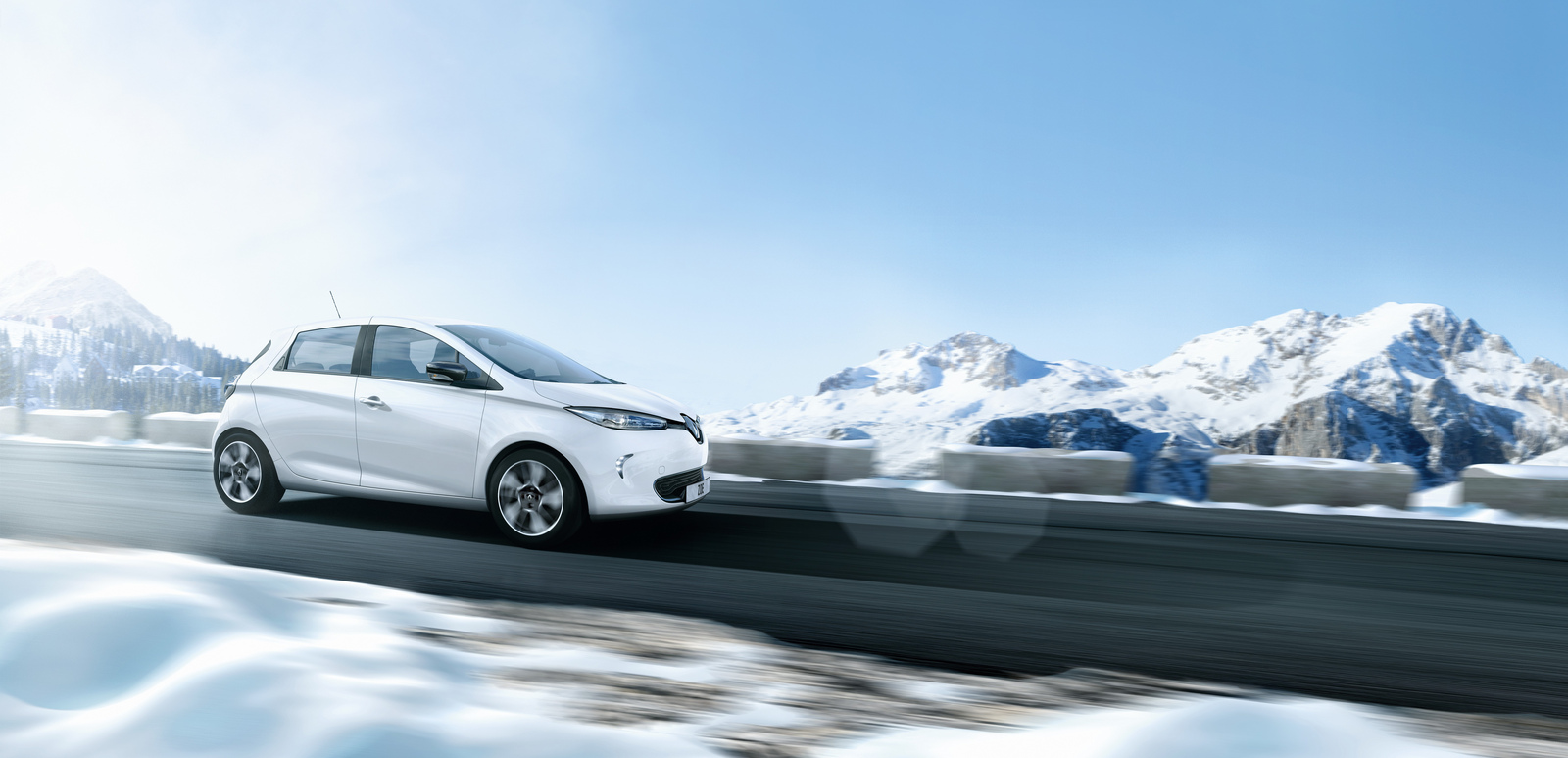 Work on ZOE's aerodynamics was particularly thorough and was taken to a more advanced level than with standard programme processes. ZOE spent no fewer than 135 hours in the wind tunnel to validate the solutions aimed at reducing its CdA (drag coefficient):
The diffuser reduces turbulence at the rear.
The front air intake channels air underneath the body.
The turbine-like design of the 16-inch Aerotronic wheels was developed to enhance aerodynamic performance.
Streamlining is further improved by the tighter wheel arch clearances which also enhance ZOE's dynamic look.
ZOE's agility, dynamism and friendly expression all play on the emotions. With its neat, sculpted forms, long wheelbase and high waistline, ZOE was 'honed for motion'.
Interior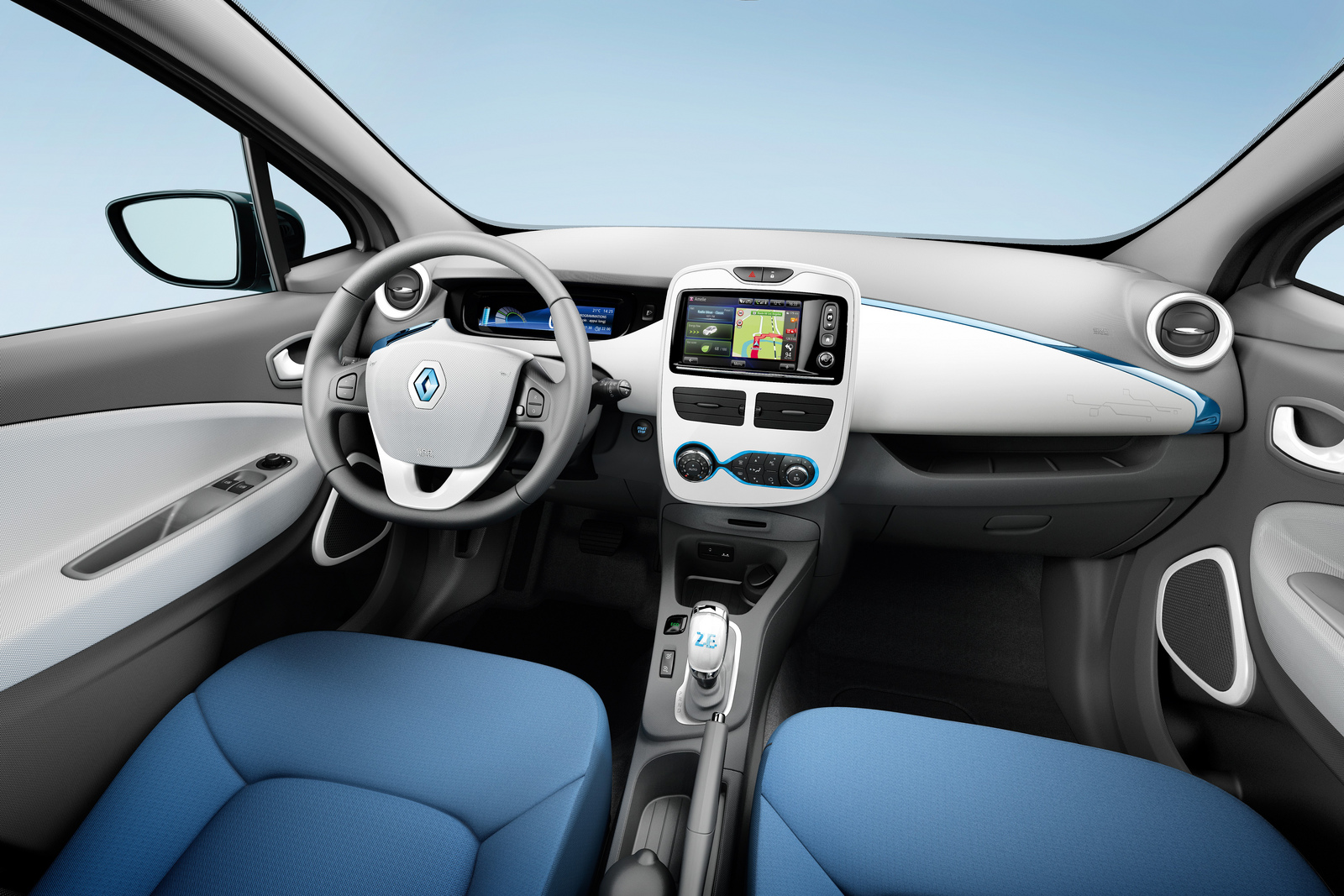 In order to create a relaxing ambience, pale colours dominate. The lines are clear and simple and, in a reference to renewable energy, the central band across the dashboard is shaped like the blade of a wind turbine. This white trim element introduces a new soft-touch material inspired by home furnishings. With a strip of blue-hued chrome running along its top edge, it contrasts with the beige grain of the upper dashboard.
The front seats and their integral head restraints are upholstered in a pale fabric (on the ZEN version) which is given a Teflon anti-stain treatment to make it easy to clean.
Dominique Marzolf, Interior Designer of the ZOE, says:
"Electric cars will change people's routines. With the electric car comes a new type of pride – that derived from consuming less. People are no longer stressed out and thirsting for performance; instead, they're seeking calm."
The central R-Link console appears to 'float' above the dashboard. This multimedia system has a large seven-inch touchscreen display and gives a friendly, high-tech feel to the interior:
"We wanted to create an exquisite object, technical yet intuitive to use – just like a smartphone."
Zen
With its pearlescent white paintwork, blue-tinted glazing and soft-hued interior (white, beige, blue and chrome), the ZEN version suggests purity. It qualifies for the 'Take Care by Renault' signature and, as such, is dedicated to the comfort and wellbeing of its occupants.
Intens
ZOE INTENS, on the other hand, delivers a more dynamic feel with an interior ambience that places the emphasis more on black and high-tech features. This version is equipped as standard with parking aids including a reversing camera.
Innovations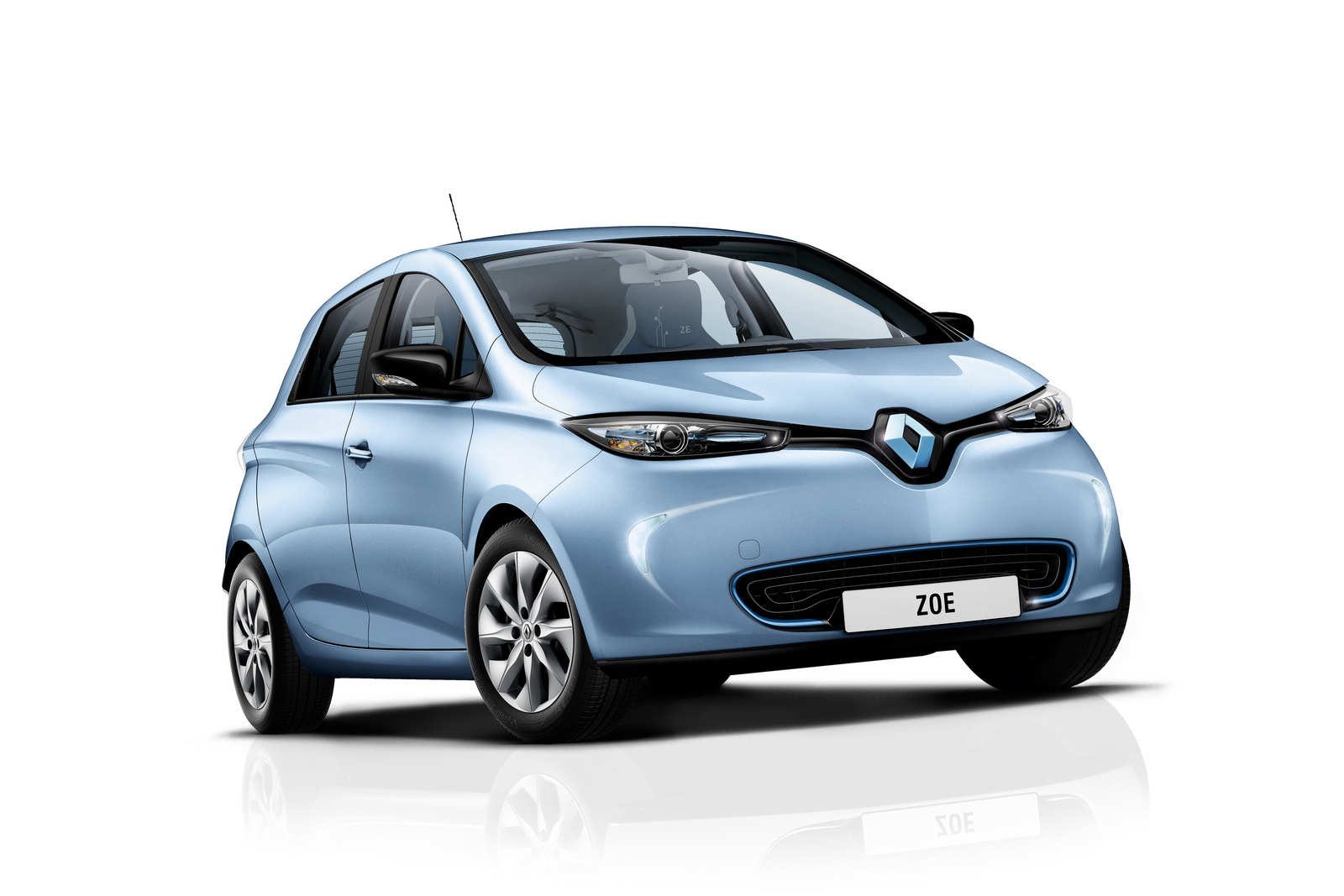 The introduction of ZOE, the first affordable vehicle to be designed from the ground up as an electric car, sees Renault put Zero Emission mobility within reach of the vast majority of motorists. It is an ideal car for everyday use and at a low price. ZOE showcases Renault's electric vehicle expertise and incorporates advanced electric vehicle technology, with more than 60 patents registered in the course of its development. The innovations it features were designed to be easy to use, extend range and ensure connectivity.
Zoe is an electric vehicle that boasts six world firsts:
The first mass-market electric vehicle with a tax-paid price tag below €15,000 (in countries with EV subsidies).
The first mass-market electric vehicle with a homologated NEDC cycle range of 210km.
The first vehicle to be equipped with 'Range OptimiZEr', a system designed to optimise operational range under all driving conditions. In built-up areas, for example, ZOE will be able to cover approximately 100km in cold weather and approximately 150 km in mild temperatures.
Thanks to its Caméléon battery charger, ZOE is the first electric vehicle that can be fully charged in between 30 minutes and nine hours depending on the power available at the charging station (between 3kW and 43kW), using a single type of connection for the car.
The first electric vehicle to enable the massive roll-out of fast charging stations which are easier to use and up to four times more economical for local authorities.
The first vehicle to be equipped as standard (versions available at the time of the model's launch) with Renault R-Link, an integrated, connected, multimedia tablet.
R-Link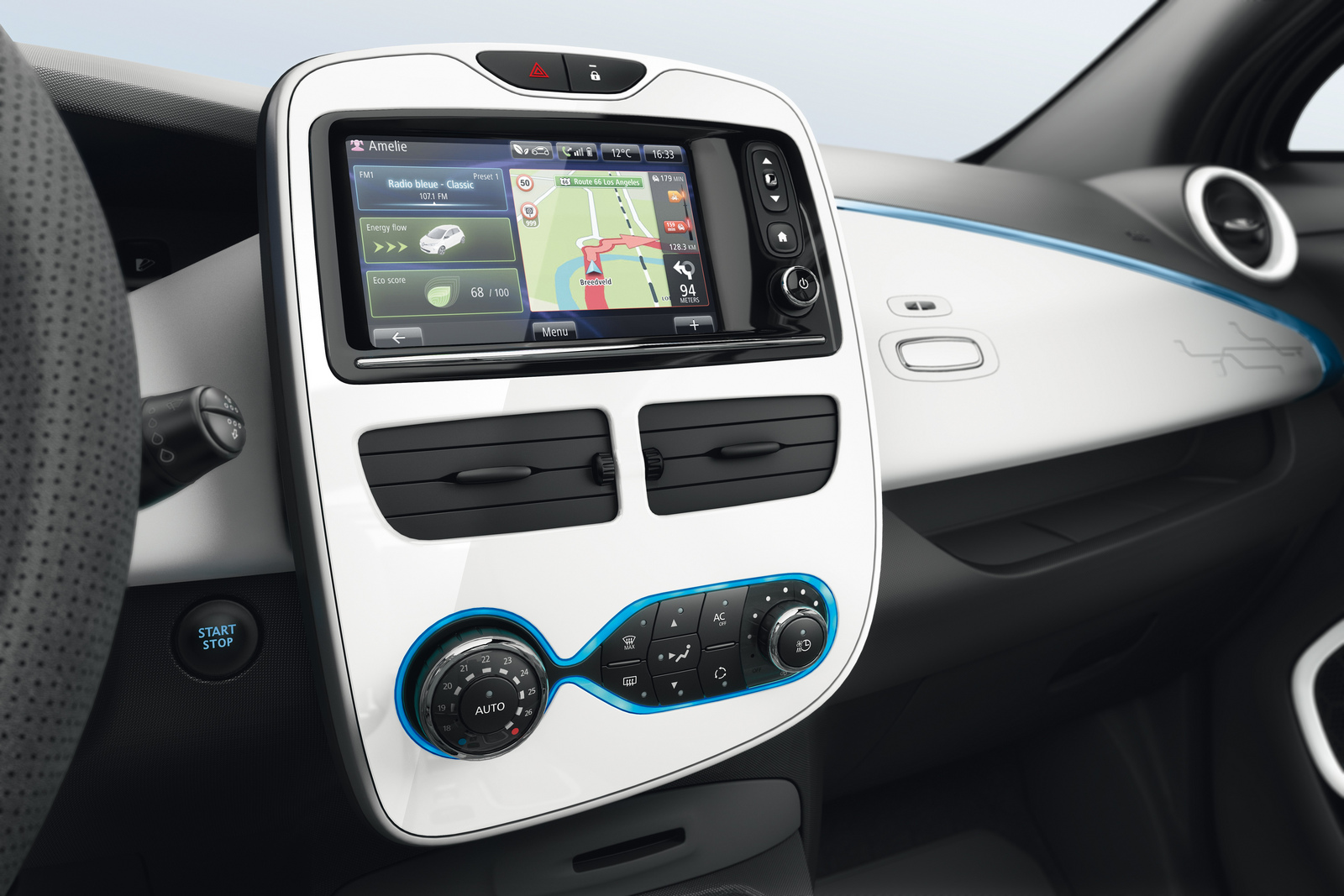 On ZOE, Renault's R-Link multimedia system provides functions dedicated to electric vehicle use. The TomTom LIVE navigation system displays a circle depicting the reachable distance with remaining battery range. It is also capable of suggesting the most energy-efficient itinerary and of showing the location of charging stations (mapping by TomTom®) on the map. Drivers can visualise in real time the histogram of their energy consumption, as well as energy flows between the battery and the vehicle's electricity-consuming functions.
At the end of the journey, drivers can review their eco driving performance thanks to the Driving eco2 function. An analysis of their driving style as well as personalised advice to drive even more economically are proposed.
For more on the R-Link see R-Link Multimedia System.
Range OptimiZEr
With an operational radius of between 100 and 150 kilometres depending on driving style and weather conditions, ZOE has the biggest range in its class. As proof, ZOE is the only mass-produced electric vehicle to boast a homologated NEDC (New European Driving Cycle) cycle range of more than 200km (210km). This success is due to the 'Range OptimiZEr' system which equips all ZOEs. It features three major technical innovations:
new-generation recovery of braking/deceleration energy (regenerative braking),
a heat pump,
Energy™ EV low rolling resistance tyres.
Bernard Dumondel, Director, Electric Vehicle Specification says:
"The technology packed by the 'Range OptimiZEr' system allows us to extend ZOE's range by almost 25 per cent. Each of the three innovations which make up the system – new-generation braking energy recovery, the heat pump and tyres – accounts for approximately one-third of this increase."
New-Generation Regenerative Braking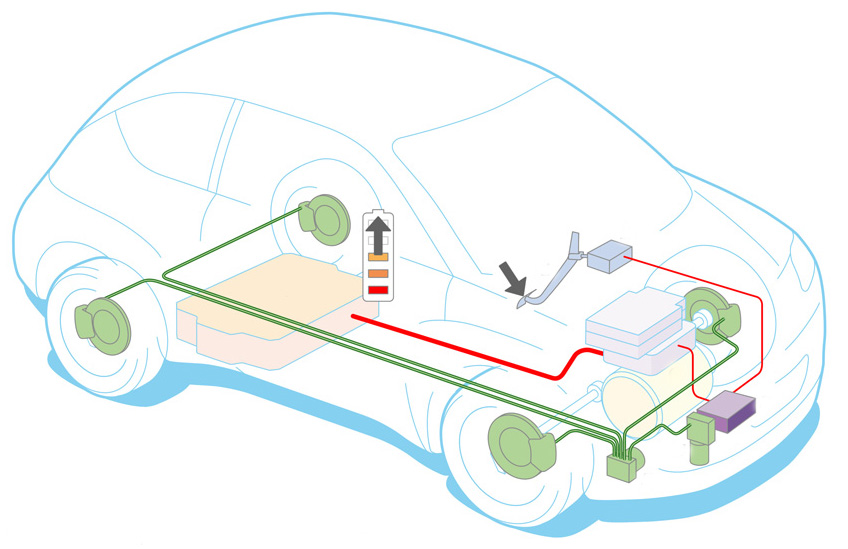 This stores kinetic energy produced not only under deceleration but also under braking, then converts it into electrical current to charge the battery. The system distributes the braking effort between the wheels and the electric motor brake in order to maximise the action of the latter which then charges the battery. This innovation was developed in association with Bosch and is a world first in the case of ZOE.
Climate Control System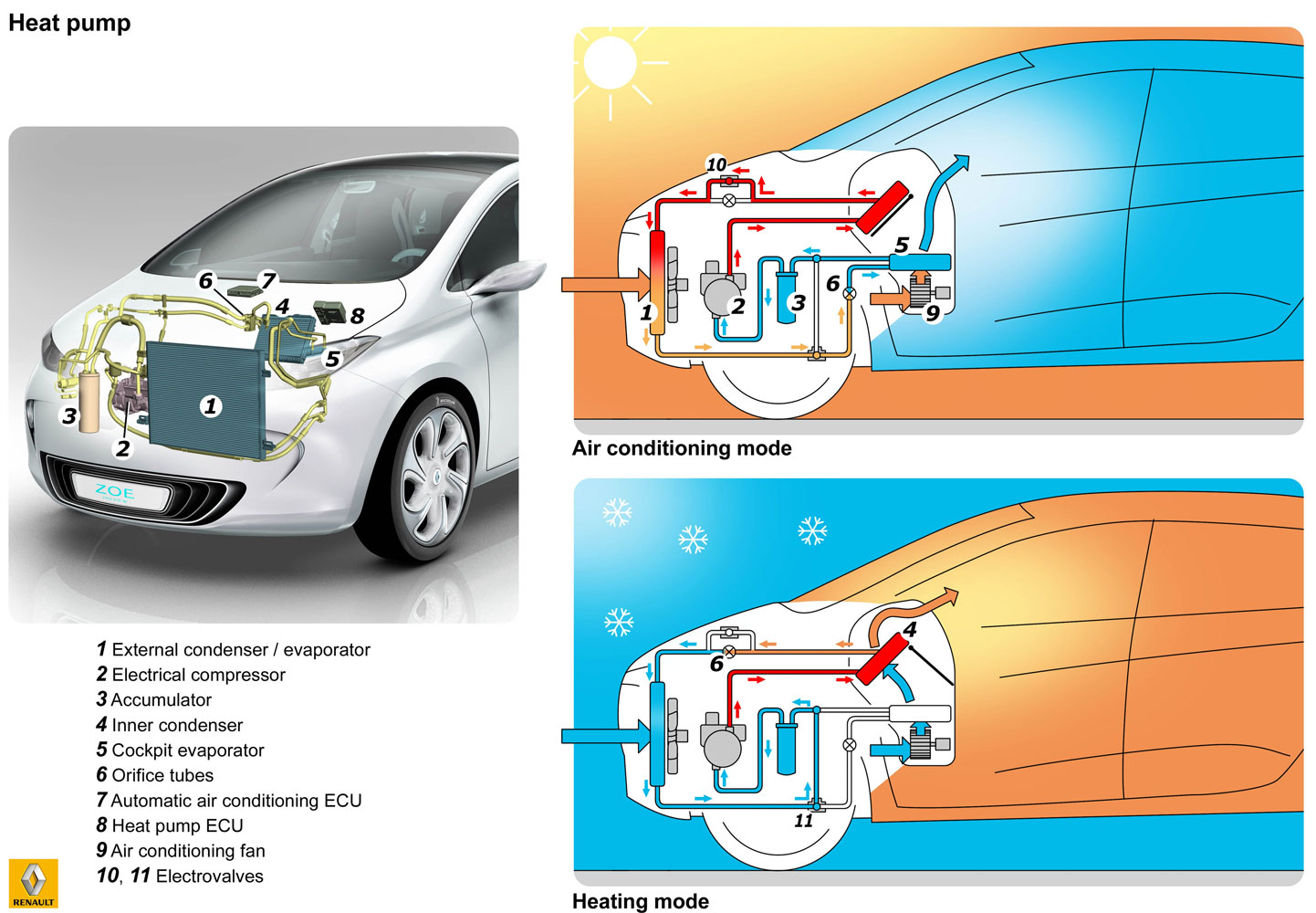 In addition to providing excellent thermal comfort in the cabin, the heat pump also optimises vehicle range; the waste heat of an internal combustion engine is not available for heating the cabin and the heat pump uses less energy to do this than alternative electric heaters. It operates in the same way as reverse air conditioning:
To cool the cabin, the system operates like a conventional climate control system.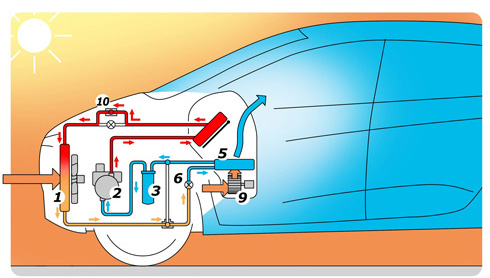 To heat the cabin, the system is reversed. Outside air at ambient temperature is compressed to heat it before it is channelled into the vehicle.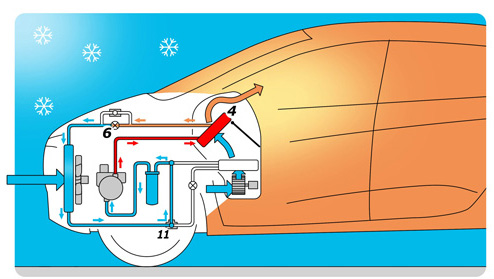 This system, which is being used for the first time in a production road car, allows ZOE to minimise the energy it draws from the battery to heat cabin air.
MICHELIN ENERGY™ E-V Tyre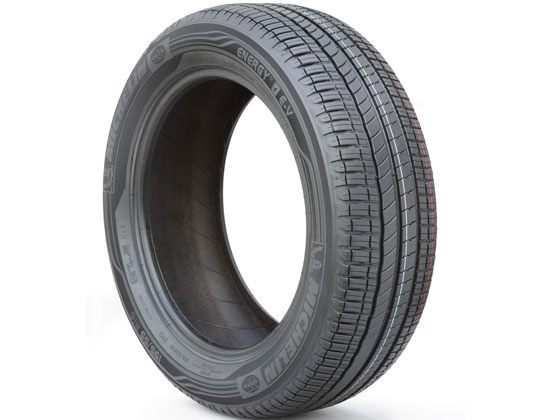 This is an innovation jointly developed by Renault and Michelin. ZOE will be the first vehicle to be equipped with this highly energy-efficient tyre which enhances vehicle range. It benefits from more than two decades of research and development at Michelin and combines energy savings, safety and durability. Within the framework of new European tyre labelling legislation, it was awarded the maximum rating (A) for low rolling resistance and grip on wet roads. It is available for 15- and 16-inch wheels.
For more on ZOE wheels and tyres see Wheels, Tyres and Range.
See also Zoe News April 2012 – Michelin Tyres, Fleet Show Debut, Voice Samples
Caméléon Battery Charger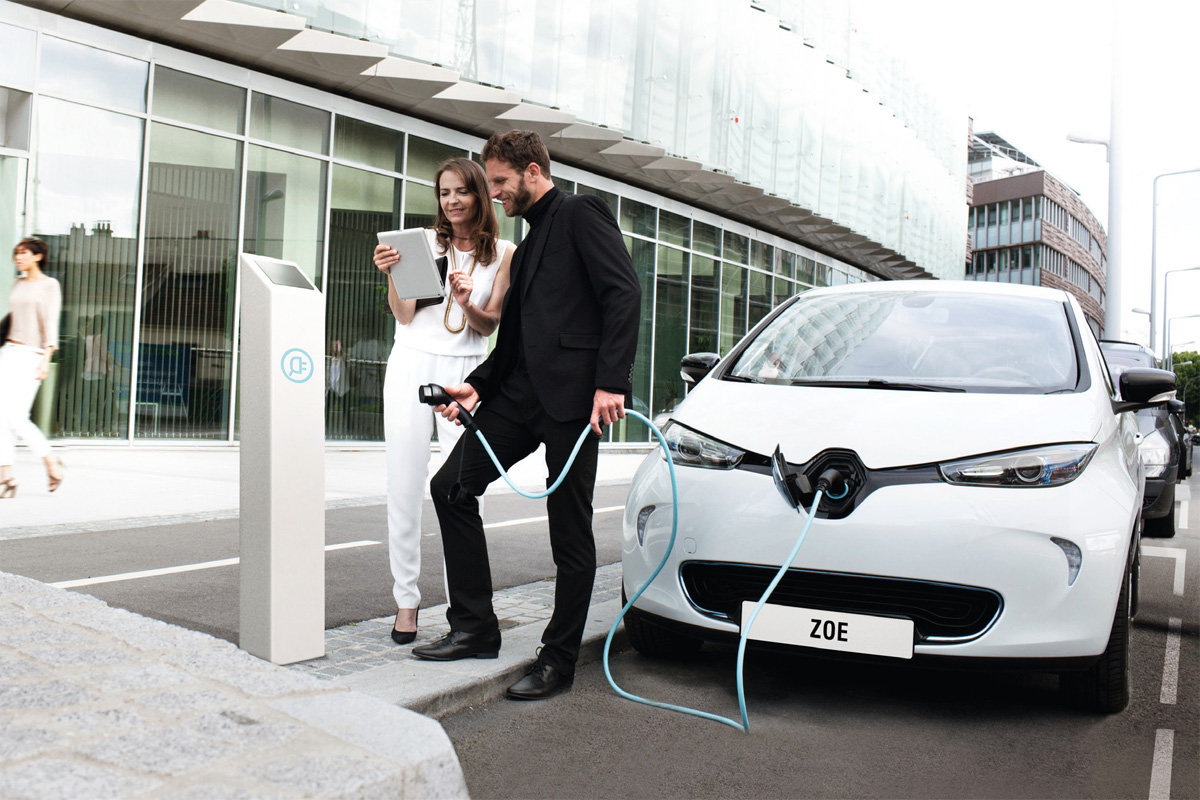 ZOE is the first electric vehicle to be equipped with the Caméléon battery charger. Patented by Renault, this new-generation charger fits beneath the bonnet and is compatible with all power levels up to 43kW. ZOE is consequently able to charge up to 80 percent of the battery's maximum capacity in 30 minutes.
This system, which is built into the car, will considerably simplify the technology necessary for high-power battery charging stations which will consequently cost up to four times less and be easier to use. This innovation is intended to encourage the expansion of electric vehicle use.
For more on ZOE's charging options see Charging.
Environment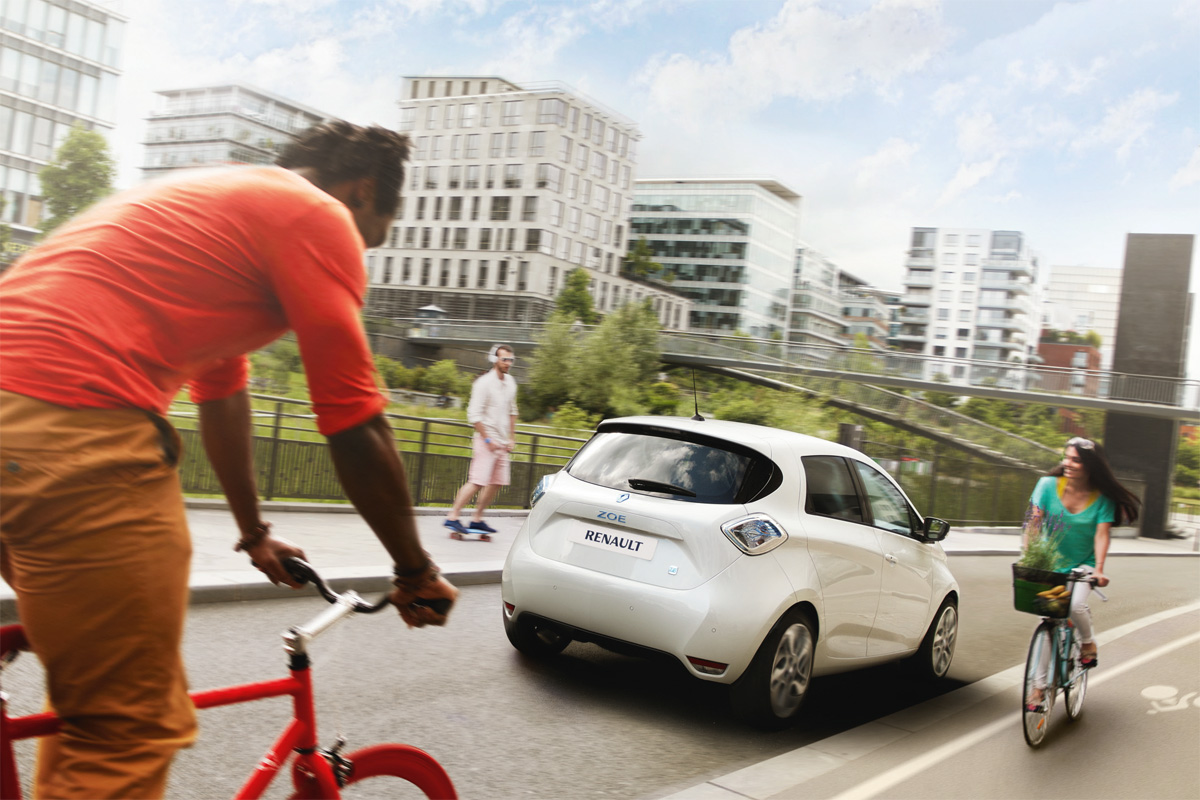 Initially, the environmental gain represented by electric vehicles will concern built-up areas since the fact that they do not emit any polluting gases they respect their immediate environment. The growth of electric vehicle use will not only improve air quality but will also bring down noise in cities. If electric vehicles accounted for 20 per cent of the number of cars on the road, we would see a reduction of up to 30 per cent in the build-up of polluting emissions (according to a report by ARIA Technologie carried out in conjunction with the city of Rome).
Within the framework of its environment policy, Renault monitors the overall ecological footprint of its vehicles in order to quantify the progress achieved by each new model over its predecessor and to steer engineers in their design of upcoming vehicles. To achieve this, the internationally-recognised methodology known as 'Life Cycle Assessment' (LCA) (ISO 14040) is used.
According to Jean-Philippe Hermine, Director, Environment Plan:
"The indisputable advantage of electric vehicles is their absence of emissions during their use on the road, and this will above all be beneficial in built-up areas. Electric vehicles also permit significant progress by reducing the impact on global warming and the depletion of non-renewable resources by up to a half, which is a major environmental challenge in today's world. The footprint of electric vehicles is poised to come down further still as renewable energies become gradually more prevalent in the energy mix of different countries, and as the re-employment for batteries of materials recovered from battery recycling expands."
See also Environmental Assessment
Stress-Free Motoring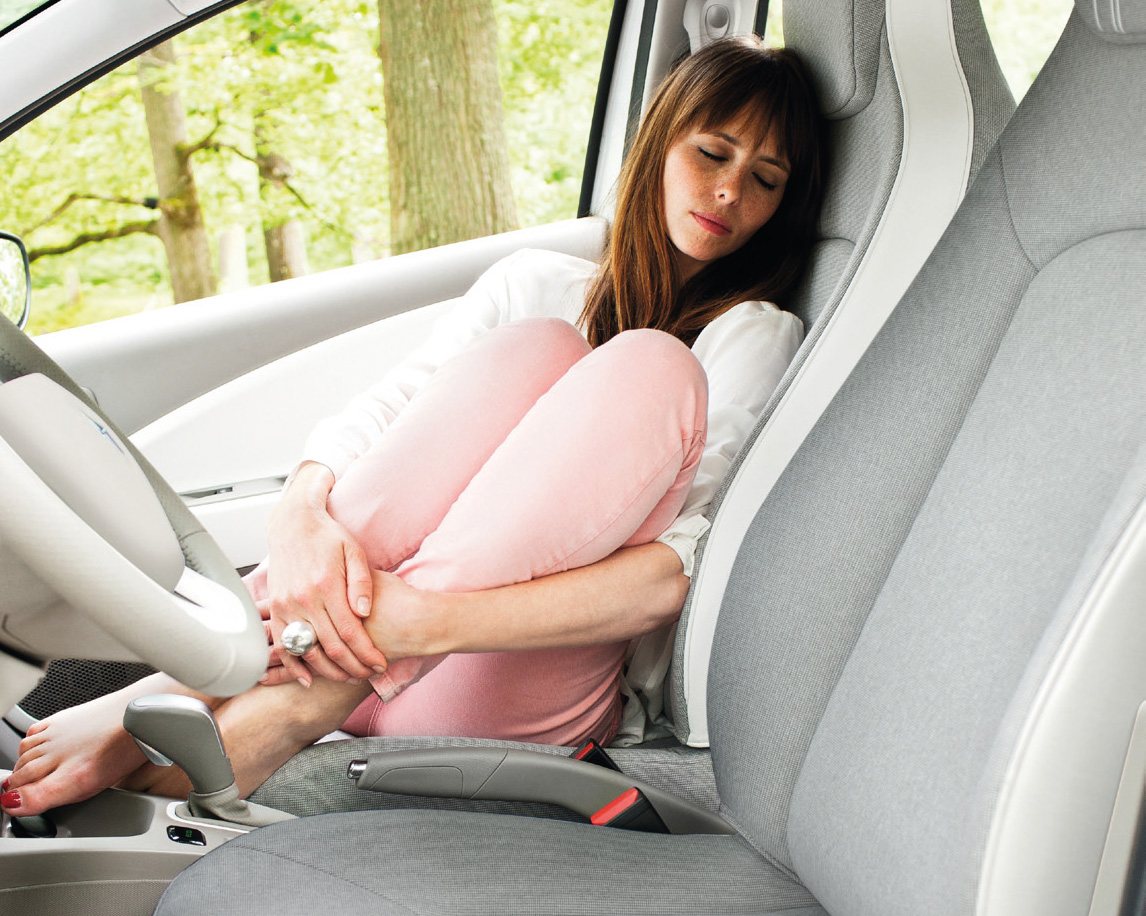 ZOE pulls away crisply and smoothly thanks its electric motor which instantly delivers 200Nm of torque. Acceleration is smooth and seamless thanks to the reducer gear which transmits the motor's rotational movement to the wheels without needing a clutch or convertor. The sensation is like driving with the market's very best automatic transmission.
The quiet, vibration-free ride inherent in electric vehicles contributes significantly to the comfort of the driver and passengers. Up to speeds of 30kph, the vehicle is perfectly silent. At speeds in excess of that threshold, only the sound produced by the wheels on the road and air flowing over the bodywork become audible and gradually increases with the speed. The noise levels inside ZOE at speeds of between 40 and 75kph are half those of a diesel-engined car.
For stress-free motoring in built-up areas, ZOE is fitted with 'Z.E. Voice', an alarm that warns pedestrians that the vehicle is approaching and allows them to estimate its speed (the volume changes as a function of the car's speed). 'Z.E. Voice' can be heard from one to 30kph (no noise is made when it is at a standstill) and was the subject of special design work to create a bespoke sound identity for ZOE. It was developed in association with the Sound Perception and Design team of the specialist research institute IRCAM (Institut de Recherche et Coordination Acoustique / Musique). The driver can choose between three different sounds, whilst it is possible to turn off the warning system by simply pressing a button. If the motor is switched off, the sound comes back on automatically when the vehicle starts to move again.
See also Zoe News April 2012 – Michelin Tyres, Fleet Show Debut, Voice Samples
Temperature Pre-Conditioning
Programmable pre-conditioning can heat or cool ZOE's cabin when the vehicle is connected to a source of electricity. When the driver gets into the car, the cabin is just the right temperature and the energy used for the thermal comfort system is not drawn from the battery.
Air Purification
An activated charcoal air filter reduces bad smells in the cabin. The filter's electrostatic layers trap pollutants like particulates and gases.