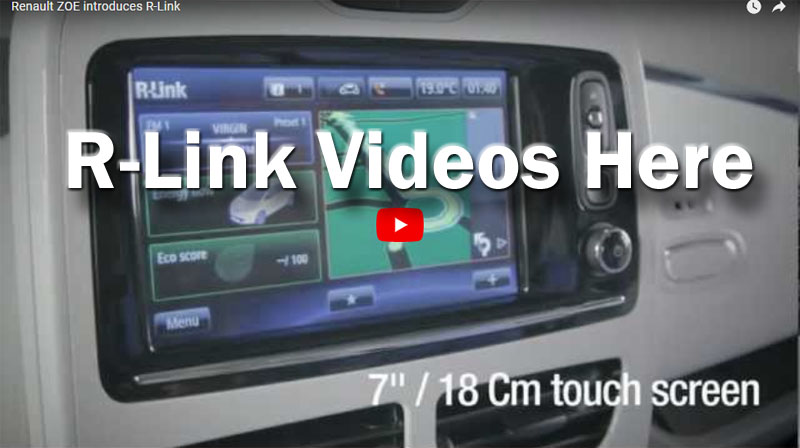 Renault R-Link : TomTom HD Traffic and Coyote Series
R-Link has TomTom navigation including IQ Routes technology. This calculates the ideal itinerary based on a statistical analysis of journey times during the six previous months, taking the day of the week and time of day into account.
It has LIVE services including:
HD Traffic: the market's best traffic information service, including an analysis of traffic flow by cross-referencing different sources of information for sections of road of just a few dozen metres in length. For any given itinerary, HD Traffic will optimise the motorist's journey in order to avoid time loss or save fuel. It also provides precise information about the estimated arrival time as soon as the motorist sets off.
TomTom Places: an online search facility in real time to locate a variety of features and services.
5-day weather forecasts.
Hazard warnings: depending on local legislation.
R-Link also has the Coyote Series (depending on market) driver aid application. This indicates hazardous zones thanks to real-time input from other users. Such zones may or may not include fixed speed checks. Coyote Series also warns of traffic incidents (accidents, items on the road, etc.) to improve everyday road safety by enabling the driver to anticipate the presence of slower-moving vehicles.

Renault R-Link Store
Renault's aim is to make this a benchmark catalogue for automotive applications.
The strength of Renault R-Link lies in the fact that it proposes a store of applications designed for automotive use, without the functional or ergonomic- related shortcomings inherent in smartphones. R-Link Store is the first automotive application store for in-car use. The launches of New Clio and ZOE will coincide with the availability of an Introductory Pack of four pre-installed applications to enable owners to familiarise themselves with the connectivity made possible by R-Link. The free, pre-installed apps will be: e-mail, Weather, Renault Assistance and Renault R-Link Tweet, plus the LIVE services associated with the TomTom and Coyote Series functions (depending on market). The system is fully independent and there is no need to use a phone to access the available services and applications.
Instead, it is possible to consult or download a variety of services directly from the car or from a personal computer (via 'My Renault' where available). There are currently some 20 applications available via R-Link Store, and this choice is poised to expand very quickly as the system is extended to other vehicles of the range.
The apps catalogue will cover a broad spectrum of uses, extending from journey optimisation (TomTom LIVE services, fuel prices, location of parking places) and vehicle information (the monitoring of servicing, etc.), to budget guides ('by-the-kilometre' insurance, Renault tips, etc.), practical help (phone numbers, yellow pages, etc.), communications (e-mails, social networking, R-Tweet app) and entertainment/leisure (travel information, etc.), as well as emergency calls.
Available apps include PagesJaunes, Guides Michelin, Guide Marco Polo, Metro, Euronews, ELLE Astro France, Tourism Radio, Balumpa, Apila, I-Dispo.
R-Link Store Apps
The following fields are covered by R-Link Store apps:
Communication: e-mails, social networking, web navigation, etc.
Journey optimisation: TomTom® LIVE services (HD Traffic®, speed check warnings [where authorised], TomTom Places, weather forecasts, Coyote Series alerts [where available], fuel prices, location of parking places, etc.).
Practical information: personal phone numbers, yellow pages, hotels, restaurants, etc.
Emergencies: emergency help calls in the case of an incident, Renault Assistance.
Mobility: multi-mode journey planning, public transport.
Budget guides: 'by-the-kilometre' insurance, Renault tips, etc.
Vehicle information: monitoring of vehicle servicing, owner manual, etc.
Entertainment and leisure: games, information, travel information, engine sound profile, personalisation, etc.
Professional use: fleet management, journey management, remote diagnostics, working away from base, expenses forms, etc.
R-Link enables motorists to benefit from the information they need as and when it is required. Drivers no longer have to depend on a variety of portable systems or telephones and can stay focused on the road ahead. Strict rules make sure that the apps developed for Renault R-Link are suitable for motorists, either by ensuring that they are easy to use or by restricting access to certain functions while the vehicle is on the move. For example, functions which are deemed to be excessively interactive or long to use may only be called up when the vehicle is at a standstill.
Open Innovation and 'Paris Incubateur'
Renault R-Link will go on to deliver even more services thanks to its original 'open innovation' policy which Renault has favoured in order to enjoy closer bonds with young entrepreneurs. This approach is founded on associations with major partners, development companies and start-ups which are proving particularly fertile when it comes to innovative ideas in the field of connected services and applications for automotive use. This determination to seek out and work with young entrepreneurs has been helped by Renault's association with 'Paris Incubateurs' (which belongs to Paris Region Innovation Lab and has eight 'incubators' in Paris). The 'Mobility and Connected Services' start-up incubator was inaugurated in May 2012.
In order to provide a range of innovative applications for motoring use, Renault has established contacts with more than 100 partners and/or development companies.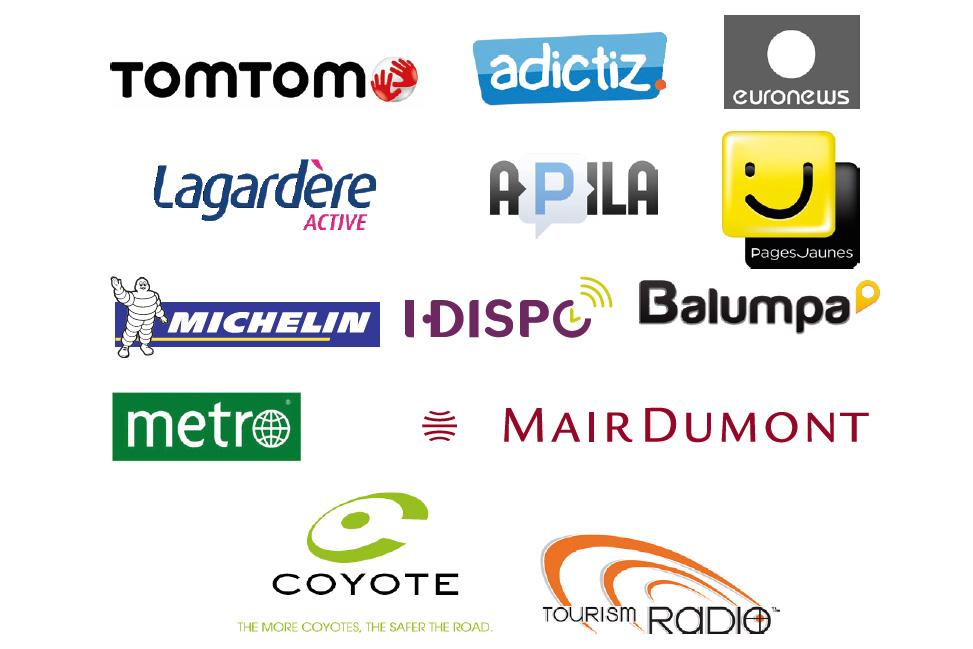 Founding of a 'Connected Mobility' start-up incubator
At the beginning of 2012, Renault and 'Paris Incubateurs' put out a tender with a view to making contact with innovative new businesses working in the field of connected services, information technologies or mobility-related communications. The process resulted in the selection of five companies which were invited to work on their project within the framework of the 'Connected Mobility' incubator set up by the two partners.
This is the first time a major company has teamed up with one of the French capital's incubators to assist and speed up the growth of innovative new businesses. Thanks to this original, 'open innovation' approach, Renault enjoys special ties with the young entrepreneurs involved. For the start-ups themselves, not only does this partnership give them a chance to work within the dynamic framework provided by 'Paris Incubateurs' (availability of premises and a plug&play telecom infrastructure in Paris, personalised, collective business coaching, access to finance through the Paris Innovation Amorçage fund, etc.), but it also allows them to benefit from a special relationship with a big company like Renault.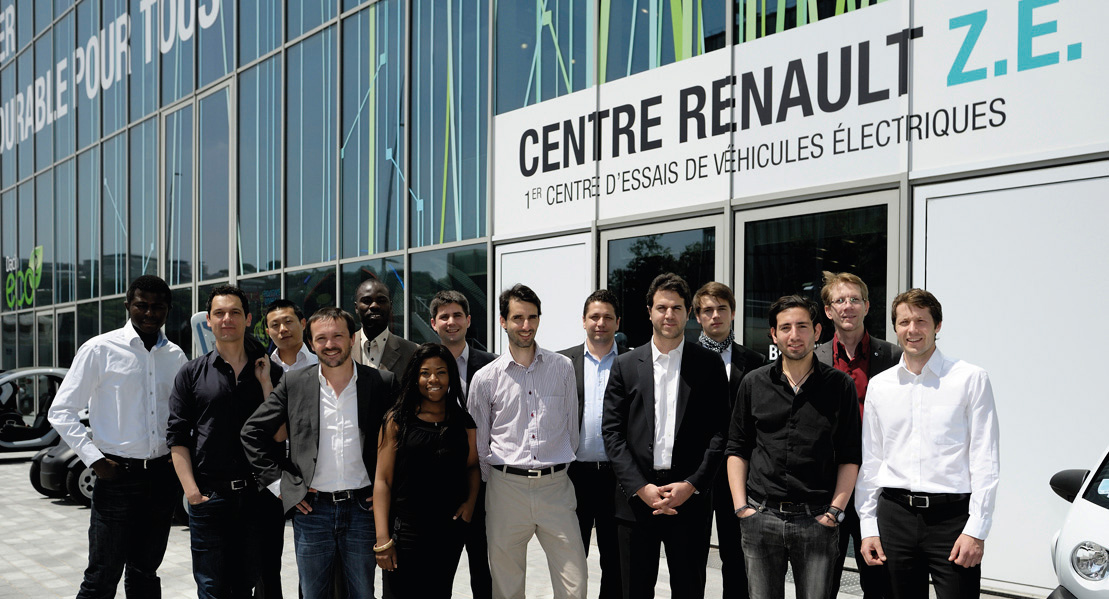 Five innovative start-ups were selected after the selection process:
Apila (smart community parking): this start-up, which was founded by Cyril Hersch, has developed a mobile community app (for iPhone and Android) which seeks to solve the problem of car parking in towns and cities, allowing motorists to be guided to the nearest available parking space in the shortest time possible to take the place of somebody else who is about to leave. The availability of the Apila app for Renault R-Link will help the community and user numbers to grow.
TelePark (delocalised car park payment): like Apila, TelePark proposes a solution to facilitate parking but this app is also of interest to local authorities since it permits payment for parking to be made using a mobile terminal. Founded by Stephan Anescot, this company also enables local authorities to manage its car parks and the issuing of parking tickets automatically.
I-DISPO (virtual concierge): this start-up stems from an idea by Ismaël Nzouetom and helps individuals to organise their appointments efficiently with the help of professionals, allowing them to optimise their diaries. I-DISPO sees Renault as a valuable partner within the framework of the Renault R-Link system.
SoCloz (shopping information): founded by Jérémie Herscovic, SoCloz enables users to check the availability of items spotted on-line in actual shops. This start-up has just raised one million euros from Alven Capital and FA Dièse and already proposes a list of one million products available in 7,000 different sales outlets.
MobiquiThings (universal multi-network, multi-operator SIM card) : run by Cyril Hullin, this company is a Machine to Machine connectivity service provider which enables muliti-operator and multinetwork telecommunications coverage. It seeks to propose its versatile multi-operator SIM card solution to Renault.
There is a mentoring approach to assist the growth of these start-up businesses:
The selected start-ups benefit from the advice of mentors provided by Renault who help to steer the projects thanks to their expertise of the automotive world. Renault also serves as a guarantor for these start-ups with regard to potential investors.
This sort of mentoring allows strong ties to be established with the startups in order to forge durable relationships. The different projects benefit from Renault's experience of project management, while Renault benefits from the young entrepreneurs' flexibility and vitality.
See also Zoe News July 2012 – Crash Testing, Awards, LG Batteries, L'Atelier Renault, Start-Ups, Delay
Return to R-Link Multimedia System