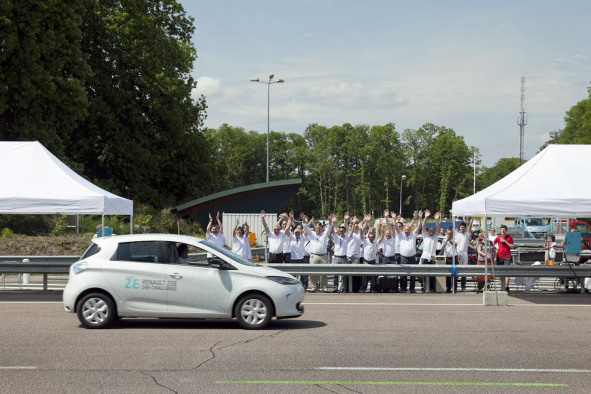 On a fossil fuel car the choice of wheels and tyres is mostly about aesthetics, except for sports cars where grip, handling and performance at speed become crucial. On an electric car, where battery power is typically very limited (at least for the foreseeable future), the choice of wheels and tyres is mostly about enhancing vehicle range, with aesthetics being a secondary consideration and performance at speed being largely irrelevant (the Zoe, for example, is limited to 84mph which is the low end of modern tyre performance).
In April 2012 Michelin announced the results of its work with Renault to develop energy efficient (i.e. low rolling resistance) tyres for the Zoe. This work is also described in a Michelin video:

There are many factors that affect the rolling resistance of wheels but these are the main ones for our purposes:
Wheel radius: The lower the radius the smaller the area exposed to wind drag, plus also the wheel weight is typically reduced.
Wheel width: As radius.
Tyre resistance: The design and materials used in the tyre affect how much rolling resistance it has – this can be reduced significantly but there is a compromise with low resistance resulting in low grip and therefore potentially reduced safety.
Electric cars are typically seen with small wheels and tyres because of the first two factors – however this does impact the look of them. In recent years there has been a move towards taller but narrow wheels (see, for example, GreenCarReports) presumably as a way to improve aesthetics while keeping wind drag down.

Three different wheel and tyre combinations are available when ordering a Zoe:
15" (diameter 381mm, radius 191mm) with Michelin EV tyres (185/65 R15 88Q)
16" (diameter 406mm, radius 203mm) with Michelin EV tyres (195/55 R16 91Q)
17" (diameter 432mm, radius 216mm) with standard/non-EV tyres (205/45 R17 88H)
For full details see Buyer's Guide:Wheels and Tyres. So which one is the best to choose to achieve maximum range?
Decoding the tyre codes leads to:
15" (185/65 R15 88Q): width 185mm, sidewall radius 120mm, maximum loading 560kg at 100mph. Total radius 305mm.
16" (195/55 R16 91Q): width 195mm, sidewall radius 107mm, maximum loading 615kg at 100mph. Total radius 310mm.
17" (205/45 R17 88H): width 205mm, sidewall radius 92mm, maximum loading 560kg at 130mpg. Total radius 308mm.
It is interesting to note that despite the 1 inch (25mm) difference in wheel (hub) sizes between the options, the difference in overall wheel plus tyre size (total radius) is very small because with increasing wheel size goes lower profile tyre size.
Renault has published power consumption figures for the various combinations – these are 146 Wh/km for both the 15" and 16" wheels, and 163 Wh/km for the 17" wheels. These result in NEDC maximum ranges of 210km and 195km respectively.  Given that the overall wheel plus tyre sizes are very similar this likely indicates that the most significant factor in achieving high range is the use of EV tyres.
Does that mean, then, that there is no range benefit in selecting 15" rather than 16" wheels? Not necessarily, just that it is a small enough difference that Renault has not distinguished between them publicly. At the same time, it is of interest to note that when Renault set the Zoe's range record the participating Zoes were fitted with 15" wheels.
For information on the wheel and tyre options available when buying the Zoe see Buyer's Guide: Wheels and Tyres.
For information on the alloy wheel accessories available after purchase see Buyer's Guide: Accessories: Sill, Wheels, Mats, Arm Rests and Seat Covers.